The Emergency Room (ER) at Children's Medical Center Dallas, the flagship hospital at Children's Health℠, was built in 1967 when the population was approximately 570,000. Today, North Texas is home to more than 7 million people. With this incredible growth, we're striving to increase our capabilities and help as many families as possible.
That's why we're undergoing a complete overhaul of our ER and reimagining a better health care experience. With a $30 million fundraising goal, your support is critical in helping us expand our emergency care facility and improve efficiencies.
Today
Only Pediatric Level I Trauma Center in North Texas
The ER at Children's Medical Center Dallas is one of the busiest pediatric ERs in the nation and the only pediatric Level 1 Trauma Center in North Texas. Our multidisciplinary team is specially trained in pediatrics to manage any severe or life-threating injury a child may face – 24 hours a day, 365 days a year.
The future of our ER
Our new ER will boast two stories with an easily accessible, street-level entrance. In addition, the interior will be completely redesigned with the patient and family in mind. As the renovations progress over the next several years in three phases, all patient rooms will be larger, private and have state-of-the-art medical technology and equipment.
Changes that make a difference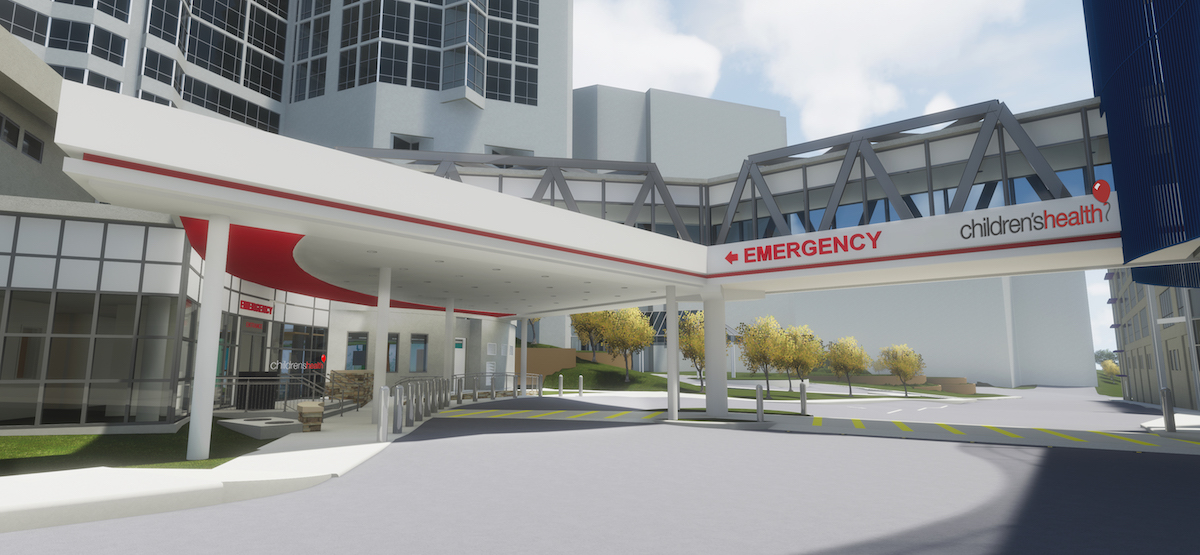 Phase 1 – 2019
Brand-new ER entrance with a convenient circle drive on Medical District Drive
Completely redesigned family waiting room with kid-friendly look and feel
Additional patient exam and treatment rooms with increased privacy
Phase 2 – 2020
Added patient rooms designed with patient safety and privacy features
State-of-the-art technology to handle any complex care case
Phase 3 – 2021
Upgraded ER interior with enhanced overall design and appearance
New specialty exam rooms
Improved technology and patient amenities
Join Our Crew
Support that saves lives
Although we've made significant strides in improving our ER, it's imperative we continue to expand our footprint and capabilities to help more families and save more lives. With your support, we can expand our emergency care facility and improve efficiencies.
As a private, non-for-profit pediatric health system, we depend on the support of the community to make life better for children. Thank you for your continued support as we transform and improve the Emergency Room at Children's Medical Center Dallas.
Kids can do amazing things with a little help. So can we. And your donations of time and money make it possible for us to do what we do best.
Donate

Whether you're looking to make a one-time donation or are considering a major gift, Children's Health makes the process as easy as possible. Every gift helps us provide world-class care for the children who need us.

About Us

As the fundraising arm for Children's Health – the leading not-for-profit pediatric health system in North Texas – we provide philanthropic support through partnerships with individual donors, organizations and corporations.

Volunteer

We could not serve all of our families without help from a generous community of friends and volunteers. Your contributions of time and energy are most appreciated and sure to bring a smile to a young face.