Jul 2, 2021, 8:12:35 AM CDT
Jaxon
(July 2 Update) Jaxon's head fell to the ground as doctors shared news of his latest CT scan results: They had spotted new lung nodules, and he would need to begin cancer treatment again.
"We were taken aback because we were expecting to hear good news," said Jackson's mom, Shay. "But Jaxon took it better than we did. He was disappointed, but he said, 'OK, this is what I have to do.'"
In March, Jaxon began chemotherapy treatment, and at the end of the month, he had surgery to remove the nodules from his right lung. In May, he had a second surgery to remove the nodules from the left lung, followed by additional chemotherapy treatment.
"He's been doing so good. He bounces back quickly," said Shay, adding that Jaxon has since been honing his artistic skills by painting freehand abstract art. They had just returned from buying new art supplies at the store so he could continue painting. Swirling brushes in paint has been a calming distraction from cancer treatment and surgeries.
"Jaxon is very resilient. I'm watching him run up and down steps a couple weeks after two major surgeries and wondering how that is possible," Shay said.
Last year, we introduced you to the story of Jaxon and his journey with osteosarcoma. You also got to know some of the 18 team members at Children's Health who care for him:
The doctors, who broke the news of the diagnosis to his family and monitored his treatment.
The surgeon, who removed two-thirds of his femur and rebuilt his leg with a custom-designed knee replacement.
The nurses, who checked his vitals and gave him hope in their own cancer survival stories.
And the housekeepers, who cleaned his room and distracted his mom by talking about the weather.
"From the very beginning, I knew this is where we were supposed to be," Shay said. "From day one, we have received the best care."
When you give to Children's Health, you're not only supporting our patients, but also the web of team members that surround them, care for them, play with them and keep them safe.
Make a gift today to support patients like Jaxon and his caregivers.
ORIGINAL STORY
The pain in his right leg started as a limp Jaxon thought he could walk off.
He relied on this leg to push him through the finish line in track races, score soccer goals and lead him on explorations for insects.
But by the end of the weekend, he was leaning on the wall to keep from falling. And he was scared.
When his mom brought him to Children's Health℠ shortly before Christmas Day last year, she had to practically carry the 12-year-old into the hospital.
The second youngest of four boys, Jaxon was diagnosed with osteosarcoma, a type of bone cancer most often found in the long bones of your arms and legs. The cancer also had spread to his left and right lungs.
"When the doctor came in to talk to us, I remember Jaxon leaning over and grabbing my hand and just looking at me," his mom, Shay, said. "And I think that's when it hit me. I thought, 'Oh my gosh, this is totally unexpected.' It was a parent's worst nightmare."
***
Support patients like Jaxon for North Texas Giving Day - when you give by the end of the day on Sept. 17, your gift will be doubled by a $250,000 matching grant from Panda Express.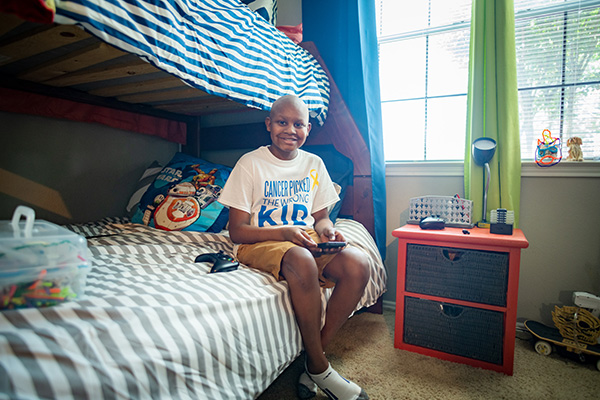 In Jaxon's bedroom at home, little stick figure men dangle from nails in the wall. Twisted out of pipe cleaners, they come in a variety of colors – purple, black, neon green, red and white. There's even one with a purple head and an orange body.
The most affectionate of the family's four boys, his mom said, Jaxon loves exploring the outdoors and crafting. He likes to tinker with his toys and keep his hands busy.
At school last year, he'd sneak trinkets from home to play with at his desk. Then, one of his teachers showed him how he could use pipe cleaners to create different shapes after he'd finished his work.
"All of a sudden, I started seeing these little stick men all over the floor in his room," Shay said.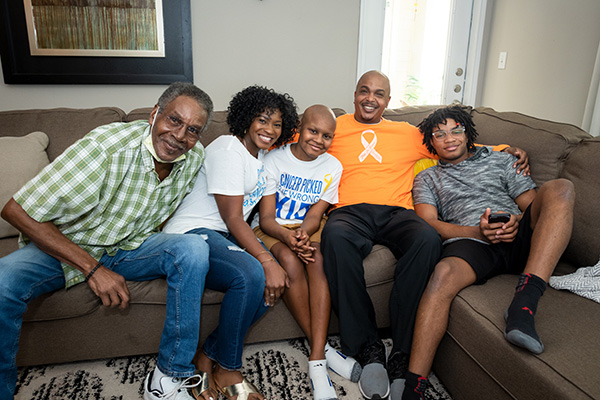 Now, sometimes Jaxon carries these trinkets in a pouch when he visits the hospital as a gift to other kids.
"So they don't feel left out and scared," Jaxon said of why he started handing out his crafts.
When Jaxon began to limp last year, his parents thought it was growing pains.
Or maybe a sore muscle from running track and playing soccer.
"There was a lot of research and trying to figure out exactly what this was," said Jaxon's dad, Jason, of the cancer diagnosis. "Where did it come from? Why Jaxon?"
But there weren't answers to some of those bigger questions.
Instead, the family found hope in other places – their faith, team members at Children's Health and a phrase that's become a household motto: "Trust the process."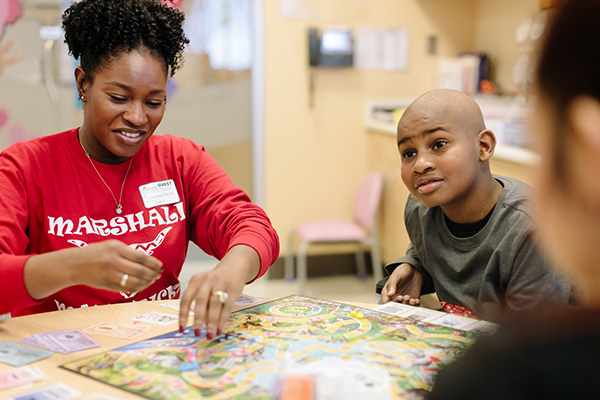 That process has included regular chemotherapy treatments at the Pauline Allen Gill Center for Cancer and Blood Disorders at Children's Health to fight Jaxon's cancer.
Jaxon also underwent full knee replacement surgery on his right leg and lung surgery to remove the cancer.
"The doctors, they were upfront. They let us know exactly what it was, and the situation we were facing. That made it a lot smoother," Jason said. "One of the doctors told us, 'Y'all don't want to be at any other place but here at Children's.' And they were correct."
At Children's Health, Jaxon met a nurse who, as he was listening to Jaxon's heartbeat, told him about how he also battled Osteosarcoma as a kid. The story reminded Jaxon that he wasn't alone and inspired him to keep fighting.
"We think we're strong, but when you see these little, tiny creatures at the hospital pushing their IV poles down the hallway, it's hard to see, but that's strength," Shay said. "That's strength that I don't have."
***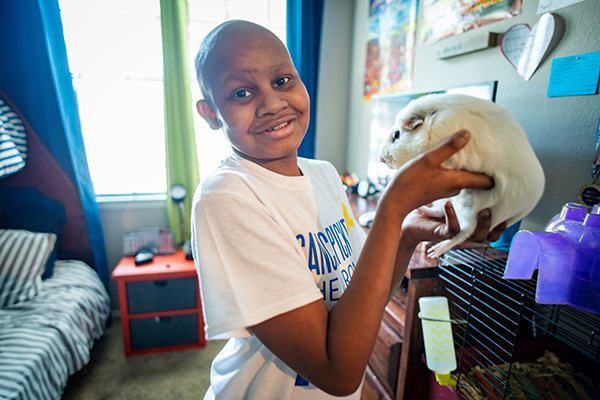 Jaxon stretched out his right leg as he eased himself down onto the shaggy bedroom floor, his pet guinea pig scurrying at his feet on the carpet.
He stretched out her arms and wiggled them up and down for a social media series that features the pet and shows glimpses of his cancer journey.
"Do you want to pet her?" Jaxon asked, holding up the white, fluffy guinea pig named Moon. "Don't be scared. She doesn't bite."
Moon is Jaxon's responsibility. He'll tell you that, too. It's his job to keep her cage clean and filled with fresh food and water.
But he worries about Moon and misses her when he stays overnight at the hospital for cancer treatments.
He wants to run fast again. He wants to score a soccer goal.
He wants to grow up to be an animator and make others smile with his art.
He wants to just be a kid. And sometimes, he still is.
"Just yesterday, he was outside playing in the rain with our neighbors," Jason said. "It's amazing coming from a knee replacement and lung surgery, he's still the same Jaxon."
Support patients like Jaxon on North Texas Giving Day
Gifts made through Sept. 17 will be doubled by a matching gift from Panda Express. Learn more about getting involved and giving to the cause.