December 20, 2018
Children's Health Begins $56 Million Renovation to Children's Medical Dallas Emergency Room
Children's Health℠, the eighth-largest pediatric health care provider in the nation and leading pediatric health care system in North Texas, has begun construction on a $56 million, multi-year renovation to its emergency room at Children's Medical Center Dallas, its flagship hospital. The renovation will take place in three phases over the next several years with completion expected in 2021. During this time, the Charles E. and Sarah M. Seay Emergency Center will remain fully operational with a continued focus on quality patient care and safety.
Children's Medical Center Dallas is home to the only pediatric Level I Trauma Center in North Texas, and its emergency room is the second busiest pediatric emergency department in the nation. It treats approximately 122,000 children annually with around-the-clock board-certified pediatric emergency medicine specialists.
"As one of the largest and most complex pediatric hospitals in the nation, we are fully modernizing and renovating our emergency room at our flagship hospital to meet the needs of our growing patient population," said David Berry, president of system clinical and scientific operations at Children's Health. "We receive and treat a large portion of children within the community, and believe this renovation will enable us to better serve families across the Dallas-Fort Worth metroplex and North Texas."
Following phase one of the renovation, the emergency room will encompass two stories with a new street-level public entrance. In addition, the interior will be completely refreshed and redesigned to include a dedicated street-level waiting room. As the renovation progresses, all emergency room patient rooms will be larger, private and have state-of-the-art medical technology and equipment. It will also include a new triage area, enhanced trauma rooms and specialized procedure rooms. Many patient rooms will function as universal rooms, increasing efficiencies for team members and patient families.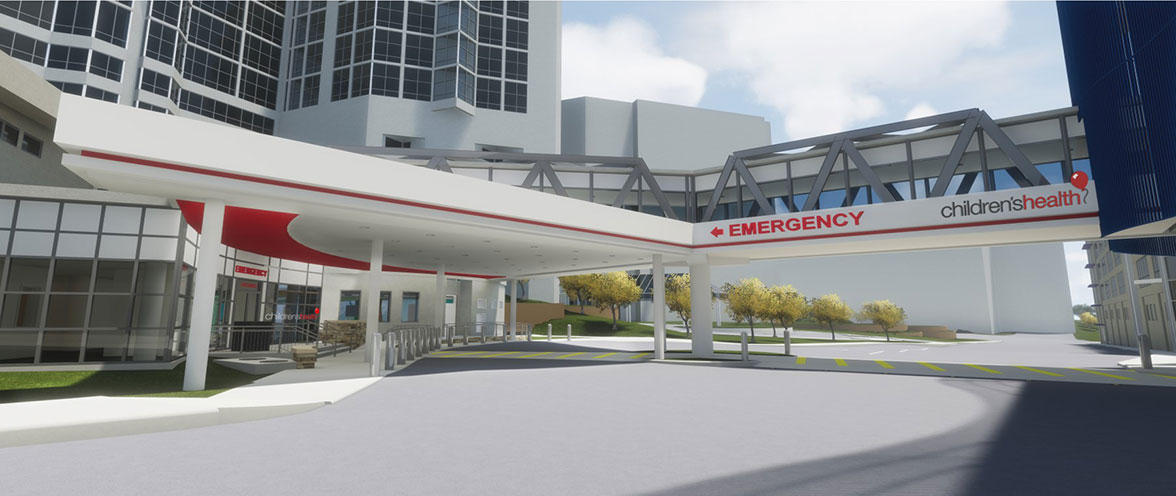 "This renovation is a core component of our ongoing consumer-centric work to transform the patient experience at Children's Health," said Keri Kaiser, senior vice president, chief marketing officer and chief experience officer at Children's Health. "We're reimagining the ER experience for patient families and our team members."
The interior of the emergency room will be redesigned with patients in mind with exciting new landscapes, from the fascinating depths of the ocean to the adventurous setting of the jungle to the brave new heights of the mountains.
"The emergency room is often the 'front door' to our health system," said Matt Davis, executive vice president, Dallas Market at Children's Health. "Every decision for this renovation was carefully analyzed to keep the preferences of our patients and their families in mind while providing them with comfort and the most efficient, high quality care."
Phase one of the renovation is expected to be complete in 2019, phase two in 2020 and the final phase in 2021.
To learn more about our fundraising efforts or make a gift towards the ER Renovation, please give us a call or donate below.