Women's Auxiliary to Children's Medical Center Dallas
The Women's Auxiliary is a non-profit organization established in 1962 by leaders in our community with a mission to render efficient and effective service to all units of Children's Health. Our members have been dedicated ambassadors of Children's Health for the past 60 years.
Join the Women's Auxiliary Dallas
Letter from the President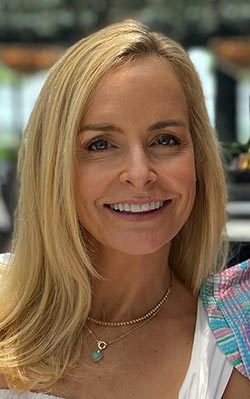 Words cannot describe how truly excited, honored, and humbled I am to serve as President of the Women's Auxiliary to Children's Medical Center Dallas for the 2022-2023 year. My relationship with Children's Health℠ began as a child, with a week-long stay at the hospital. The team of doctors, nurses and staff did an amazing job of calming my fears, holding my hand through the pain, answering countless questions, and accurately diagnosing me and getting me back on the road to recovery. I adored each nurse that cared for me, and I am forever grateful for the skilled physicians who treated me during my hospital stay and for many years to follow.
After college, I signed up as a Children's Medical Center volunteer and I rocked babies there once a week. It was an incredible experience to give back to a place that had given so much to me. Additionally, I was able to further understand how much Children's Health does for our community and how many families benefit from their amazing services and programs they provide.
It feels full circle to be involved in the Women's Auxiliary. Last year we had a record-breaking year, despite COVID challenges, and raised over $1 million for the hospital to help fund a variety of essential hospital services including Pediatric Mental Health, ECMO Program, Spiritual Care, Pet Therapy, and the Employee Care Fund, to name a few. We are especially proud of the funding for the Dallas Women's Auxiliary Endowment Fund for Children's Health that will benefit our patients and families for generations to come.
From my personal experience, I understand that what we do really matters to the families who find themselves at Children's. From "Decking the Halls" with wreaths and trees and serving dinner to the families of hospitalized children on New Year's Eve and Mother's Day, to stocking the Toy Closet and planning staff appreciation events, the Women's Auxiliary makes a difference in so many areas.
My predecessors have set the bar high, and they are also wonderful role models of what it means to give back to Children's Health. They have been steadfast in their commitment and dedication to support hospital programs. I feel grateful to have the opportunity serve in this position, and I could not do it with all the amazing members who contribute to our many projects.
The 2022-2023 year is going to be an exciting one! From North Texas Giving Day (September 22, 2022) to Family Night at Six Flags (April 14, 2023), and everything in between, I know this year will be a success. We are also excited to announce that after a two-year hiatus, Breakfast with Santa Spectacular will be back in person this year, so mark your calendars for December 4, 2022!
Please take a minute to check out our website and find out how you can contribute to the Women's Auxiliary. It is going to be a fantastic year, and we would love to get each of you more involved in helping us make life better for children.
Sincerely,
Courtney Gilbert
2022-2023 President
Women's Auxiliary to Children's Medical Center Dallas
Donate to the Auxiliary

The Women's Auxiliary carries out its mission by raising funds to support high-need areas of the hospital. Thank you for helping us.

Become a Member

Membership is open to all women committed to the Auxiliary's mission of helping Children's Health make life better for children.

Events and Projects

We carry out our mission by raising funds to support high needs areas of the hospital through several annual fundraising projects and events.
2021-22 Women's Auxiliary Dallas Photos and Videos
Leadership

Congratulations to our 2022-2023 officers. Your leadership will help Children's Health fulfill its mission to make life better for children.

President
Courtney Gilbert
President-Elect
Holly Lawrence
Treasurer
Bobbi Shaw
Treasurer-Elect
Brandi Chilian
Recording Secretary
Ginny Searcy
Corresponding Secretary
Arden Ellis
Parliamentarian
Lisa Rocchio
Advisory
Lisa Rocchio
Boo Yard Sign Challenge
Kelsey Coady
Laura Petka
Lauren Schultis
Liz Young
A Season of Giving
Andrea Nayfa
Breakfast with Santa Spectacular
Joanne Gates
Amy McEvoy
Lyle Scovell
Santa Coordinator
Charlotte Savage
Change for Children's
Lindsey Arviso
Meredith Baird
Melissa Gerhauser
Elizabeth Longo
Merritt Quigley
Jessica Rugg
Children's Art Project
Melissa Graham
Nikki Kapioltas
Sarah Kelly
Kara Schlueter
Children's Toy Closet
Joanna Clarke
Annie Fernandez
Communications and Social Media
Lisa Leet
Meredith Noble
Deck the Halls
Suzie Curnes
Audra Hopper
Deck the Halls-Elect
Lara Gaither
Lindsey Miller
Family Night at Six Flags
Lindsay Billingsley
Lucy Burns
Brooke Dowdy
Catalina Gonzalez Jorba
Carly Allen Martin
Meridith Zidell

Family Support
Joanna Clarke
Amy Lobner
Lisa Macaraeg
Shelley Moore
Amy Opsal
Elizabeth Post
Gift Shop
Serena Cole
Holly Scimeca Griggs
Dawn Katterson
Gift Shop Treasurer
Katherine Kaye
Gifts
Lindsey Miller
Kristin Mitchell
Hospitality
Stacy Elliston
Monica Knake
Lauren Swann
Mahjong
Chelsea Duvall
Katherine Lewis
Denise Thayer
Membership
Wynne Brown
Haylie Crouch
Bessie Doffermyre
Missy Finger
Meredith Finney
Jamie Singer
Mother's Day Weekend Dinner
Barrell Jones
Caitlin Stinnett
New Year's Eve Dinner
Lindsey Miller
Nancy Scripps
Nominating
Libby Mason
Special Events
Heidi Pickens
Sponsor Development
Jamie Singer
Staff Appreciation
Monica Christopher
Sally Dutter
Amy Prestidge
Mollie Shelby
Sundaes on Sunday
Ellen Kershaw
Kristin Mitchell
Kelly Morgan

Members-at-Large

Jill C. Bee
Katy Brooks
Megan Brooks
Mary C Corrigan
Marie Crowe
Christina Durovich
Chelsea Duvall
Elle Finney
Mary Catherine Finney
Gini Florer
Brittany Glendenning
Sarah Hall
Becky Lacour

Natalie Lesikar
Katherine Lewis
Katy Miller
Ashely Nowak
Aphrodite Paulos
Carol Piering
Bryanna Roop
Margot Ruebel
Alexa Spears
Madison Strode
Kacy Tolleson
Kirsa Williams

Lifetime Members

Dallas Lifetime Members (as of July 2022)

Carol Aaron
Tracy Gardner Aaron
Tammi Abney
Kamela Aboussie
Kara Adam
Gigi Allen
Carly Allen-Martin
JoAnn Altenau
Nancy Seay Anderson
Marilyn Augur
Julie Bagley
Clara Bahner
Susan Bailey
Betty Baird
Kloe Barcus
Kyra Barnett
Angie Barrett
Courtney Barrow
Cyndi Bassel
Martha Lou Beaird
Meg Beaird
Patricia Beckett
Carrie Becker
Jill C. Bee
Jennifer Berry
Carol Beveridge
Lindsay Billingsley
Kathy Bishop
Laura Blackman
Ragan Blackmon
Sue Blackwell
Ann Blankenship
Dawn M. Blankenship
Cordelia Boone
Tara Bozman
Maura Bradshaw
Peggy Braecklein
Jennifer Bridges
Nancy Briggs
Terri Brittingham
Katy Brooks
Megan Brooks
Angie Clayton Brown
Beth Brown
Susan E. Brown
Tracey Brown
Wynne Brown
Charlotte Browning
Regina Bruce
Paula Bruton
Lucy Burns
Teresa Bryant
Lauren Byrd
Nancy Byrd
Christie Cahoon
Catherine Callahan
Alissa Campbell
Danna Campbell
Ashley Campfield
Mohler Carlson
MacKenzie Carpenter
Sarah Carr
Emily Carrigan
Leslie Carroll
Tonya Carroll
Emily Carruth-Willding
Amanda Cejka
Stephanie Carvell
Laura Chavoya
Tracy Cheatham
Gail Cheney
Monica Christopher
Julie Clark
Sarah Clark
Joanna Clarke
Meredith Clavenna
Brenda Cockerell
Anne Coke
Serena Cole
Libby Collet
Anne-Louise Collins
Judy Collins-Kirkpatrick
Mary Beth Conlon
Lauren G. Conway
Ann Corrigan
Katy Corrigan
Mary C Corrigan
Maura Costello
Carrie Cothrum
Carla Courtwright
Donna Cowman
Erin Nealy Cox
Terri Cox
Martha Crites
Stacy Crouch
Kathy Crow
Kathy C. Crow
Marie Crowe
Sandra Cude
Lucky Cullum
Marty Curtis
Jessica Dalton
Anne Davies
Michelle de la Valdene
Ann Delatour
Jodi DeSerrano
Jennifer Dickerson
Jennifer Dix
Kimberly Dodson
Dana Donahoe
Janie Douglass
Jana Dransfield
Shireen Duck
Christina Durovich
Sally Dutter
Chelsea Duvall
Jennifer Eagle
Diana Edelman
Kathryn Etcheverry
Leigh Fahr
Michelle Fail
Jennifer Farnell
George D. Farr
Wanda B. Farr
Susan Farris
Kay Ferguson
Pamela Field
Elizabeth Figari
Megan Filgo
Mary Catherine Finney
Mary Clare Finney
Meredith Finney
Anne Fisher
Michelle Fitzenhagen
Christine Flanagan
Gini Florer
Stephanie Arnold Floyd
Martha Fordyce
Lisa Fosmark
Amanda Francis
Christine K. Frary
Dana French
Denise Fuller
Heather Furniss
Mary Lou Gibbons
Judy Gibbs
Courtney Gilbert
Jenney Gillikin
Janie Means Gilmore
Kristi Gittins
Lori Glanzer
Carol Glasgow
Brittany Glendenning
Betty Godwin
Martina Goff
Shelby Goff
Carol Goglia
Linda Golden
Lori Golin-Kerner
Toppy Goolsby

Afton. R Gordeuk
Nancy Gottsacker
Brandi Jane Graham
Bunnie Graham
Melissa Graham
Ursula Graham
Rathna Gray
Jane Greene
Shelley Gregg
Susan Grier
Holly Scimeca Griggs
Jayne Grimes
Amy Grissen
Whitney Williams Grogan
Dawn Grove
Gina Grove
Lyndsey Grover
Patricia Gum
Jennifer Gunnin
Leah Haberer
MaryAnna Hall
Randi Halsell
Janie Hamner
Sally Hanna
Elaine Harman
Linda Harris
Lauren Harrison
Holly Hassmann
Dianne Hawkins
M.T. Helland
Liz Helton
Cheryl Henry
Ann Henson
Rose Heppner
Allison Hicks
Luann Hicks
Isabell Novakov Higginbotham
Tracy R. Hill
Lyda Hill
Emily Hobin
Amy Hofland
Sally Holmes
Audra Hopper
Michelle Hopper
Kamm Howie
Carol Huckin
Mary Huddleston
Anne Hudson
Cindy Huey
Cindy Hughes
Caroline Hunt
Kyle Hunt
Tavia Hunt
Heidi Imhof
Lauren Jackson
Margaret Jackson
Melanie Jackson
Laurie I. Johansen
Amanda Johnson
Beth Johnson
Ann Jones
Tiffany Jones
Carole Jordan
Trish Judson
Kate Juett
Tricia Kanewske
Nikki Kapioltas
Cary Kell
Cayce W. Kemp
Deanie Kepler
Kathleen Kirby
Jennifer Kirksey
Jennifer Knox
Megan Kobler
Susan Kohler
Amy Kovac
Tracey Kozmetsky
Lisa Kroencke
Carol Kula
Kara Kull
Peggy La Font
Becky Lacour
Caitlin Laughlin
Linda Laughlin
Holly Lawrence
Merriellin Lehner
Christi Leinart
Muffin Lemak
Allison Lent
Katherine Lewis
Jenny Lichty
Melanie Lillard
Elaine Lindh
Jean Liu
Amy Lobner
Michelle Lockhart
Vivian Lombardi
Sarah Losinger
Insha Luthra
Rebecca Lutz
Dawn Lynn
Sandye Mailandt
Charlene C. Marsh
Christina Marshall
Carol Mason
Eleanor Maxwell
Meredith McBee
Becky McCamey
Erin McClung
Laura McCoy
Rosemary McCoy
Pleasant McCulloch
Paige McDaniel
Cindy McGeoch
Mary Elise McGowan
Polly McKeithen
Lois McKown
Elizabeth McMillan
Jodi McShan
Margharita Mercado
Leslie Merrick
Deborah Michel
Carolyn Miller
Jennifer Miller
Katy Miller
Lindsey Miller
Melanie Miller
Paula Miltenberger
Paige Mims
Alice Mitchell
Josephine Mitchell
Kristin Mitchell
Liz Modory
Nancy Monning
Mary Montgomery
Dian Moore
Lisa Moore
Shelley Moore
Cherry Morris
Anna Head Moss
Kate Mote
Susan Muller
Florence Mullins
Hillary Murff
Kay Murphy
Jan Myers
Kathleen Neely
Laura Neely
Maggie Neely
Devon Nelson
Amy Newman
Shirley Newsom
Jennifer Niccol
Lynn Nikaidoh
Meredith J. Noble
Tammy Novak
Taryn Novak
Ashley Nowak
Jessica Nowitzki
Lauri L. Nye

Nancy O'Neil
Connie O'Neill
Laran O'Neill
Valerie L. Orgera-Phillips
Honey Owens
Lori Anne Page
Betty Park
Allison Parks
Marisa Partin
Aphrodite Paulos
Monica Peng
Pam Dealey Petty
Heidi Pickens
Kenney Pickens
Kacy Pierce
Carol Piering
Laurie Platt
Donna Plunket
Peggy Pollock
Becky Pond
Sandra Porter
Lindy Pottinger
Michal Powell
Pat Prestidge
Ruth Price
Diane Purnell
Kim Quinn
Devin Rambie
Robbie Raphael
Angie Ratliff
Kim Raymond
Debbie Raynor
Chris Redden
Carol Reeder
Christie Reniger
Suzy Rhodes
Sharon Richards
Carol M. Riddick
Melissa Rieman
Gwen Robertson
Lisa Rocchio
Diana Rodgers
Sonya Rodrigue
Frances Rogers
Carol Ronchetti
Bryanna Roop
Kristy Rorschach
Jill Rowlett
Jennifer Royall
Margot Ruebel
Missy Ryan
Emily Sacher
Katie F. Samler
Karee Sampson
Sue Sandford
Susie Sandstrom
Jenny Saphier
Charlotte Savage
Bernadette Schaeffler
Lee Schaufele
Myrna D. Schlegel
Kara Schlueter
Karen Schoellkopf
Penny Schmidt
Marsha Scimo
Diane K. Scovell
Deborah Scott
Debbie Scripps
Nancy Scripps
Ginny Searcy
Lynn Sears
Deedee Selner
Maureen Shafer
Melanie Shaffer
Bonnie Shelby
Brooke L. Shelby
Mollie Shelby
Mary Kay Sheldon
Amy Sherman
Karen Shuttee
Connie D. Sigel
Jamie Singer
Sandye Silvera
Susan Simmons
Alisha Sinacola
Alicia Slay
Anna Small
Nicole Small
Beth Hull Smith
Cameron Y. Smith
Waverly Smith
Debbie Snell
Michelle Sosnoskie
Cissie Sparkman
Alexa Spears
Marianne Staubach
Salle Stemmons
Caitlin Stinnett
Stacey C. Stoller
Diana Strauss
Venise Stuart
Mersina P. Stubbs
Samantha Suchala
Heather Sudbury
Laura Sullivan
Peggy Sutcliffe
Lauren Swann
Kara Swanson
Jane L. Switzer
Mindy Taylor
Kathryne Tessem
Jessica Thackston
Callie Thomas
Cathy Thompson
Debbie Tolleson
Kacy Tolleson
Marilyn Toomey
Carol Touchstone
Bebe C. Triplett
Karla Adam Trusler
Kimberly Trykoski
Tamareh Tuma
Amy Turner
Courtney Underwood
Melissa Utley
Angie Vaughan
Kerensa Vest
Jessica Wadkins
Sherwood Wagner
Donese Walker
Beth Wallace
Joan Walne
Libby Walter
Mi Jung Warner
Heather H. Washburne
Susie Watson
Wanda Webb
Marilyn Weber
Sarah Weinberg
Jimmy Westcott
Brenda White
Michelle White
Sally Wightman
Beth Williams
Kirsa A. Williams
Stacey Williams
Alise Wilson
Kendall B. Wilson
Candace Winslow
Susan Wolcott
Cayla Woodruff
Nina Works
Samantha Wortley
Angie Worthen
Brianna Wright-Guay
Kimberly Yamanouchi
Liz Young
Amy Zicarelli
Denise Zulick

Hospital Support

The Women's Auxiliary supports Children's Health in many ways:

Staff Support

Throughout the year, teams of Auxiliary members express their appreciation to the staff at Children's for their commitment to the hospital, our patients and their families. Baskets of treats are provided to show our support and gratitude for their hard work and dedication to those in the greatest of need.


Patient Support

Holiday Meals

A nourishing meal, a welcoming smile and encouraging words bring the gift of comfort to moms, dads, brothers and sisters on New Year's Eve and Mother's Day Weekend. The Auxiliary hosts dinner at the hospital for families whose children are patients in Critical Care Units on these holiday occasions.

Family Support Baskets

Every other week, Auxiliary volunteers provide snack baskets for family members of patients who are in Critical Care Units at Children's Medical Center Dallas. These treats allow families to have some nourishment since most cannot or do not want to leave their child to grab a meal or a snack. For more information about this program, contact patientsupport.dallas@childrensauxiliary.org.

In-Kind Donations

Our Social Work department caters to the needs of patients and their families during their stay at Children's. Often, patient families come unprepared for a night's stay, and are in need of the comforts of home. The below is a list of items needed throughout the year:

Toiletry Items (all items must be travel-sized)

Shampoo
Conditioner
Toothbrush
Toothpaste
Body wash
Bars of soap
Lotion
Deodorant (men and women)
Women's sanitary items

Clothing and Pajamas (child and adult sizes welcome)

Onesies
T-shirts
Hoodies
Athletic Pants
Socks
Underwear
Pajamas

To donate books and magazines, visit The Family Resource Library to view a list of preferred titles.

Please contact patientsupport.dallas@childrensauxiliary.org for drop-off information.

History of Giving

Since 1962, the Auxiliary has continued its tradition and rich history of service to Children's Medical Center by raising funds for hospital priorities through annual fundraising events and special projects. Through the incredible generosity and countless volunteer hours of its members and a community of friends and supporters, the Auxiliary has gifted more than $22 million to Children's.

The following is a list of gifts made by the Women's Auxiliary to Children's Medical Center Dallas and Plano chapters:

Construction and Renovation

12th Floor Critical Care Unit at Children's Dallas (wePromise Campaign gift)
Center of Excellence in Godly Play
Children's Garden
Children's Medical Center Plano expansion
Emergency Department renovation
Gift Shop and Admitting area renovations
The Heart Center
ICU Room in honor of George Farr
ICU Room in honor of Linda Harris
Krissi Holman Family Resource Library and Children's Collection
Neurology EEG room
Nourishment Room - Children's Medical Center Plano
Pauline Allen Gill Center for Cancer and Blood Disorders
Pediatric Intensive Care Unit renovations
Renovations to the Psychiatric Unit and Intensive Care Unit waiting rooms
School classroom for the patient education program
Team Work Station - Children's Medical Center Plano
Three operating suites at CHildren's Dallas (Diamond Jubilee Campaign gift)
Transfusion service improvements and outpatient phlebotomy lab
Transport services communications system improvement
Women's Auxiliary Playground expansion

Education

Asthma education pilot program
Bilingual services initiative education and evaluation
Clinical Research
Diabetes nurse educator
Home health care teaching guides
Management and staff development
Pathology/lab multimedia computer systems
Patient preparation materials
Plating distracting module for plastic surgery
Sepsis simulation equipment and training software
Toughbooks with charging stations

Equipment

Angel Eye Cameras for Neonatal Intensive Care Unit
Audiovisual carts for Pediatric Trauma
Beds and cribs
C-Arm portable X-ray for Pediatric Trauma
Children's Corner Gift Shop Systems Improvement
Diagnostic equipment for the Fetal Neonatal Program
DVD players and movies
External pacemakers for Cardiovascular Intensive Care Unit
ICU televisions and VCRs
Infant immobilization chair
iPads and customized stands
Laerdal SimBaby for Respiratory Care
Laerdal SimKid and Glidescope
Life-support equipment
Monitor and warmers for the Seay Emergency Center
Neonatal patient room equipment and crib
NOMAD Pro handheld X-ray Systems
Orthodontic Scanner
Ottobock Kima Strollers
Oxygen blenders and ECMO equipment
Pagers for ICU families and parent amenity kits
Picture Archiving and Communication System (PACS)
Playground at Children's Plano
Portable defibrillator/oximeter for Children's Transport Service
Portable X-ray machine
Pro Pac Monitor for Transport Service
Rehabilitation and Therapy Services
Relay Robot
Security safes for patient rooms
Sleep-monitoring equipment
Stryker cribs for operating rooms and operating room microscopes
Surgical robotic arms and cameras
Volunteer Management software
Wheelchairs for the Seay Emergency Center
Wheelchairs for teen population
Women's Auxiliary Playground at Children's Medical Center Plano
Virtual Reality Equipment for Chronic Pain Rehabilitation
Zoll X Series Monitors for Children's Transport Services

Programs

Arts & Humanities
Art Therapy Program
Bear Hugs
Beads of Courage
Bereavement Care
Camp Moss
Car Seat Safety
Center for Cancer and Blood Disorders
Center for Pediatric Eating Disorders
Child Life
Child Life - Funnyatricks ProgramTM
Children's Centennial History Book
Children's Health Andrews Institute for Orthopaedics & Sports Medicine
Children's Health Response Fund
Children's Plano 10-Year Carnival Celebration
Children's Research Institute
Comprehensive Gait and Mobility Program
Earn Nose and Throat (ENT) Program
Electronics package for patient infusion rooms at CCBD
Employee Care Fund
Endoscopy Lab/Omegaven Trial
Extracorporeal Membranous Oxygenation (ECMO) Program
Food Pantry in Partnership with North Texas Food Bank
Foster Care
The Heart Center - Neurodevelopmental Program
Indigent Care
Language Access Services
Music Therapy
Neonatal parent education
Pastoral Care
Patient and patient-family snack baskets for infusion rooms at Gill Center
Patient Family Support Services
Patient education program
Pediatric Intensive Care Unit (PICU) - Child Life Specialist
Pediatric Mental Health
Pediatric Stroke Project
Pet Therapy Program
Prenatal Dental Program
Recreational Art Program
Referral and Evaluation of At-Risk Children (REACH)
School-based Telebehavioral Health
School-based Telehealth program
Seay Emergency Center - Nitrous Oxide Program
Senior Nursing Student Day
Sensory integration assessment/treatment
Suicide Prevention and Resilience at Children's Program (SPARC)
Summer teen volunteers
Teen Recovery Program
TeleNICU Services

Scholarships and Seminars

Huvelle Memorial Loan Fund for Residents
James Farnsworth Health Careers Scholarship Endowment
Kenneth C. Haltalin Pediatric Seminar
Pastoral Care Seminar
Women's Auxiliary Scholarship Fund