Aug 11, 2021, 3:06:32 PM CDT
Meet the Red Balloon League fighting for Carlos
We tracked down 10 team members, whose faces represent the web of support surrounding one heart transplant patient's journey at Children's Health.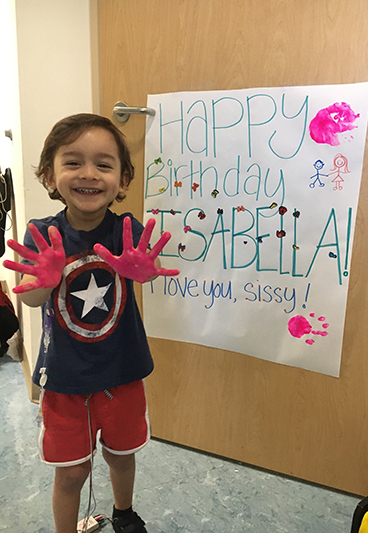 Earlier this year, Karla and her husband, Johnny, planted a peach tree in their backyard in honor of the donor family who saved their son's life.
Now growing and green, the fruit-bearing tree that their 4-year-old son, Carlos, runs laps around is a daily reminder of their son's resilience.
Because since his heart transplant, Carlos hasn't stopped running.
In June, Carlos and his family celebrated the one-year anniversary of his life-saving transplant, after he was diagnosed with restrictive cardiomyopathy in March 2020 and told he needed to be listed for a heart transplant.
And for the last year, he's been cared for by dozens of team members in the Pediatric Advanced Cardiac Care unit at Children's Health.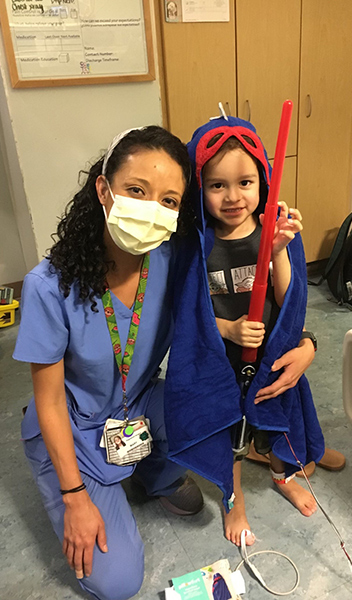 Because of the support of generous donors, these team members are able to provide holistic and innovative care to patients like Carlos every day.
We tracked down 10 of these team members, whose faces represent the web of support that surrounds one heart transplant patient's journey at Children's Health.
The doctors, who broke news of the diagnosis and made the joyful call that Carlos' new heart had arrived.
The nurses, who checked his vitals and comforted Karla at night, when she cried while Carlos was asleep.
And the physical therapist and Child Life specialist, who worked together to find ways for Carlos to play, even at his sickest.
"Sometimes, I would forget that we were in the hospital waiting on a heart because everyone was so nice and caring," Karla said. "We met so many people who are now our best friends."
These are their stories.
CAROLINE BROWN, Child Life Specialist
I typically describe Child Life as a teacher for the hospital. We help children learn about their diagnosis and the hospital environment, as well as develop healthy coping strategies. I also provide play-based interventions to ensure kids can truly be kids, even in the hospital.
For Carlos, he had never been hospitalized before, so this was a very new environment for him, but he was quickly responsive to any opportunity to play. We spent a lot of time going to the playroom and playing at the bedside. I have so many memories of us playing superheroes in the hallway. Usually, Carlos would pretend to be Spiderman, and we would shoot pretend webs at each other. Carlos and I also often did medical play to familiarize him with the hospital environment and help him understand the equipment he saw daily being used to help his body.
When he got the call for his new heart, I was excited for his family, particularly his older sister, who was 9 years old at the time. Carlos was diagnosed at the peak of COVID-19 safety precautions, when siblings couldn't visit the hospital. I had the opportunity to virtually support Carlos' sister through that time, and I was hopeful for them to be reunited as soon as possible.
KIRSTIN BROWN, Social Worker and handler to Pet Therapy dog, Badger
I've been the handler for one of our Pet Therapy dogs, Badger, for the last five years. He's a fluffy, cream Goldendoodle who shares his time at work with our solid organ transplant and cardiology patients.
During these long hospitalizations, patients and parents meet a lot of different team members, but Badger certainly sticks out and helps staff members build a rapport with families. Dogs give us this commonality and are a great conversation starter with families. A typical discussion may easily begin with, "Oh, you love dogs? We love dogs, too. Tell me more about your dog at home..."
As social workers, we are often part of difficult conversations with patients and family members. But, with Badger, families are able to engage in the tactile experience of petting an animal, which we've found makes it easier to feel comfortable and talk about hard things.
I remember Carlos was so happy and excited to meet Badger. He looked forward to Badger visiting him in his hospital room, and staff enjoyed observing these interactions, too. His mom, Karla, shared that she also loves dogs, so Badger was able to be a comfort to her as well.
Our growing Pet Therapy program has been made possible because of community support and donations. Because of continued funding, Badger and his furry friends are able to provide uplifting and therapeutic intervention for our brave patients like Carlos and their family members.
MONIQUE BULETTE, Physical Therapist
Before I became a physical therapist, I was working a corporate job in Seattle and wasn't feeling fulfilled. I wasn't able to connect with people the way I wanted to.
I happened to be teaching Pilates as a hobby, and I really liked the physical aspect of connecting with my clients. I started looking into physical therapy, never imagining that I would end up working at a pediatric hospital in acute care.
A lot of times, your patients are in this really vulnerable place, and sometimes it can be hard to open up and let people in during that scary moment. So, when I'm able to connect with my patients and make a difference in their lives, it feels incredibly rewarding.
Many times, I'm pushing them to do things that are hard, uncomfortable, painful or scary. One of the hardest things for me was figuring out how to find that balance between empathy and not being too easy on them and pushing them so they have the best outcome.
NATHANYA BAEZ HERNANDEZ, M.D., Transplant Cardiologist at Children's Health; Assistant Professor at UT Southwestern Medical Center
It's amazing to see patients like Carlos and how he looks today.
We come into their lives during such a scary time and go on this journey with them -- from a new diagnosis to the heart transplant surgery and then when they go home.
Carlos was a previously healthy boy who had been having some complaints about his breathing for over a year. Doctors initially thought it was asthma, which is one of the most common diagnoses. You don't often think about what is less common.
But an echocardiogram performed as part of his initial evaluation was consistent with restrictive cardiomyopathy. I remember Karla and Johnny were so frightened and shocked with this new diagnosis and wondered what the implications would be for Carlos moving forward.
After further testing, we realized that his disease was very advanced, and we moved quickly toward transplant evaluation and putting him on the list.
To me, making the call to families to let them know that a heart is available continues to be one of the most rewarding moments as a transplant cardiologist. That part of the job never gets old.
It's a great joy to deliver that news to the family.
ALLISON MCGILL, Social Worker
I wanted to be a social worker because I love working with people and helping them become their version of better.
We took in a family member when he was young and helped raise him, and that got me interested in social services and caring for people who need help.
Pediatric hospitals provide a lot of support for children, but the responsibility of social workers is to support the parents. We are an emotional support and a resource connector. We provide clinical intervention during hard moments and are the go-to people for parents for whatever they need.
To be listed for a transplant, you go through meetings with 10 to 15 members of our team. You have to be a good candidate medically and psychosocially.
I met Carlos and his family when I was evaluating them for transplant. They were quite tearful and really overwhelmed with all of the new information they were receiving. It's an additional set of challenges when you have a then 3-year-old who was previously healthy and all of a sudden needs a heart transplant.
Suddenly, these families have to become the expert on cardiac care for their child, and they do. They're pretty phenomenal in that way.
MARY PACHECO, Registered Nurse, Night Shift
I love working the night shift. I love the people and being able to connect with babies at bath time or before bed.
It's usually quieter at night, and I'm able to have conversations with families and talk to them about their day.
Cardiac diseases are different from other diseases because it's not always as evident from the outside how sick these kids are. They don't lose their hair. They don't go bald. But they can be so sick.
Hope is what I rely on most as a nurse. You learn to appreciate the small things like brushing your child's hair or letting Carlos pick out his superhero pajamas before he goes to bed.
But always, there is hope.
BRITTANY PHILLIPS, Registered Nurse
I was Carlos' nurse the day his family got the call that he was going to receive his heart transplant.
It was a really exciting and an overwhelming moment. I remember I gave his parents a big hug. They were crying, and Carlos asked them why they were sad. We had to explain to him that these were happy tears, and that he was going to get a new heart.
Getting to be a part of that moment and see them receive something they had been waiting for, it was really special to witness.
A lot of people don't realize that whenever a patient or family is going through a hard or difficult moment, we might look like we're keeping it together on the outside, but as nurses, we're going through those moments with them.
TIMOTHY PIROLLI, M.D., Pediatric Cardiothoracic Surgeon at Children's Health; Faculty Associate at UT Southwestern Medical Center
There's a surreal feeling of doing a transplant and holding a heart that's not beating from somebody else and then being able to give someone else life by sewing it in.
A heart transplant surgery takes a whole team of people – it's not just me. And almost everything we do has to be perfect. I don't consider myself a perfectionist, but that side of me comes out in the operating room.
I trained in the institution at Stanford University, where the surgical technique for heart transplantation was developed in the 1960s.
And now, it's a procedure that can be done all over the world because of those doctors at Stanford. I'm proud of that lineage and connection.
Certainly, the most fun part of surgery is going out afterward and saying first to the family, "He or she is doing great." You see their whole face relax, as they let out a sigh of relief.
After all the work that goes into a transplant, that's the best part of the day.
JILL POCIUS, Music Therapist
As someone who grew up playing the guitar and piano, I like how music is transformative. I can listen to something, and it takes me to a memory, feeling or emotion.
Music is a universal language. It's very non-threatening for kids and a way they can more easily open up and discuss how they're feeling. It's a brief escape from the hospital. Suddenly, they're singing songs they love, playing and dancing.
I also run our Therapeutic Arts Program, and that's how I met Carlos. He and his dad would come almost every day to hang out and play with the drums. Carlos' dad also plays the guitar, and I was able to loan him an instrument to take back to their hospital room.
For parents who are musical, it means a lot to them when they're able to play music directly to their child, and it makes the hospital seem more like home.
That's always our goal: How can we make your life seem as normal as possible, despite being in the hospital?
His dad also is really good at playing the guitar!
CASSIDY WOHLFARTH, Chaplain, Spiritual Care and Education
As a chaplain, I often meet heart transplant patients during the transplant evaluation process. I'm part of the pre-transplant assessment, and that's my favorite time because I get a dedicated 30 minutes with families.
It's common for parents and patients to become tearful during our discussions because I create space for them to consider questions such as, "I wonder how I'm feeling about transplant? And I wonder what is most helpful when I'm scared or worried?"
I remember Karla, Carlos' mom, started to cry during our meeting, and Carlos came over to comfort her. I always find moments like that really sweet. Kids have such a capacity to know that something serious is going on. They just don't have the language yet, and that sometimes is discounted.
I'm glad that I'm a safe space for people to wonder with and to help make meaning from those big life questions like "why my heart?".
Support our caregivers on North Texas Giving Day
Gifts made from Sept. 1 through Sept. 23 will be doubled by a matching gift from Ace Hardware. Learn more about getting involved and giving to the cause.