Dec 17, 2021, 12:05:51 PM CST
2021 Red Balloon League Members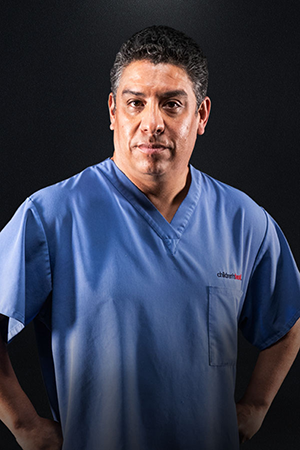 TEAM MEMBER: JOSEPH CANTU, RN, Children's Medical Center Plano
SUPERPOWER: Compassion and the ability to pivot in real-time based on patient and family needs
He called himself the popsicle specialist.
A volunteer in the Post- Anesthesia Care Unit at Children's Health, Joseph toted icy cherry and orange pops to kids after they woke up from surgery.
The sweet treat was to make sure they were able to swallow after being under anesthesia.
But Joseph didn't know that at the time.
He was a businessman working at a tech company who wanted to donate some of his time to help kids.
He hadn't yet dreamed of going back to school to become a nurse and pursuing a major career change.
"I just thought, 'I love this job,'" Joseph said, of volunteering at the hospital. "And then I started to get really interested in nursing. I've always had that loving nature for helping others and the change felt right."
Now, he's a floater nurse at Children's Medical Center Plano – part of the Clinical Resource Team – and clinically trained to treat patients in all areas of the hospital.
Joseph loves working with patients and their families and helping distract children from the pain of their illness and boredom in a hospital room.
Last year, he was pre-assigned to treat patients who tested positive or presumptive positive for the virus that causes COVID-19.
"I felt prepared and trained by the hospital for this," Joseph said. "As nurses, this is what we signed up for, and I was ready and proud to be part of the team."
For the last several years, he has led his team in fundraising efforts for Children's Health. It's important to him to support the patients that he sees fight for their lives every day.
"I love this place, and I really believe in what we do," Joseph said. "Nursing has completely changed my life. It's honestly made me a better man."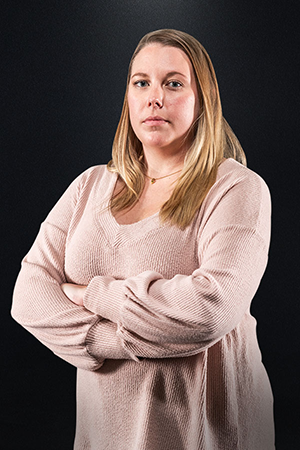 PARENT ADVOCATE: GABRIELLE MCDOWELL, mom to 4-year-old heart transplant patient, Harrison
SUPERPOWER: My intuition. A mother knows when her child is not OK.
Gabrielle climbed into her son's hospital bed, stroking his curly blonde hair that she'd trimmed herself earlier that day.
She held him close as they began to drift to sleep, amid beeping monitors and dozens of stuffed dinosaurs (Harrison's favorite!), including an oversized T-Rex tucked by his side.
Day No. 64 at Children's Health.
"I'm so proud of you, Harrison," she told her son, as his eyes fought to stay open.
"I'm proud of you, too, mommy," he replied.
Gabrielle reached for her phone and typed a quick post to update friends and family.
"This boy melts me every day," she wrote of her son who loves to wiggle his eyebrows up and down and roar like a dinosaur.
"I'd live in this hospital until the end of time to keep him if I had to."
Because as she typed this, Harrison's heart was failing.
When Harrison and Gabrielle left their home for an appointment at Children's Medical Center Dallas in January 2020, Gabrielle packed an overnight bag. She suspected her son was in heart failure and that they wouldn't be coming home that night.
And she braced herself for news she'd spent the last two years anticipating since Harrison received his cardiomyopathy diagnosis: He would need a new heart.
Harrison has been under the care of our team members since 2018, when his parents, Gabrielle and Bobby, relocated from their home in North Carolina to Dallas for Harrison to be treated at the Heart Center.
In April 2020 – two days after the two-year anniversary of Harrison's cardiomyopathy diagnosis – Harrison was placed on the heart transplant list.
About a week later, Gabrielle received the call that Harrison's new heart was here.
"We've never doubted for a second that we made the right decision coming to Children's Health. We're really comfortable here," Gabrielle said.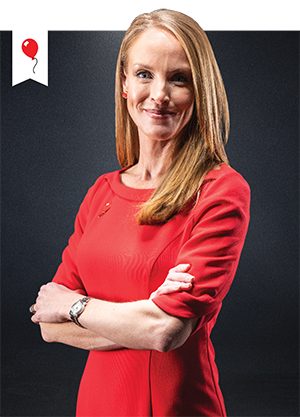 CORPORATE PARTNER: MANDY AUSTIN, Dallas Market President, Bank of Texas
SUPERPOWER: Kindness – You can change somebody's day with a little bit of kindness.
Ever since her nephew was diagnosed with cancer in his abdomen last summer, Mandy Austin has been driving to the roof of the parking garage at Children's Medical Center Dallas.
She makes the one-hour roundtrip drive from her home so she can wave to her sister and 2-year-old nephew from outside their hospital room. Because of COVID-19 safety restrictions, Mandy -- like most patient families -- hasn't been able to visit her family in the hospital for the last year.
And even though she can't be there in-person, she knows her nephew is in good hands at Children's Health.
For many years, Mandy and Bank of Texas have been supporters of the hospital system, most recently as the inaugural presenting sponsor for Cape Day, which launched in 2018.
Bank of Texas returns as the presenting sponsor for Cape Day on April 28th, which encourages community members to help provide capes to our superhero patients as part of our Red Balloon League campaign. The campaign recognizes the band of team members, volunteers, donors, families and researchers fighting for and raising funds for patients at Children's Health.
"Bank of Texas was a supporter of Children's Health before this happened to my family," Mandy said. "But after living the experience firsthand, I see the critical importance of financial support to ensure Children's Health continues helping families going through some of the scariest moments in their lives."
Now, Mandy's family understands the impact of the life-saving treatments and procedures happening at Children's Health.
After six weeks of radiation and chemotherapy to reduce the softball-size tumor in her nephew's abdomen, a recent PET scan showed no signs of disease.
"We couldn't have asked for a better clinical team," Mandy said. "Children's Health has a very holistic approach of treating the entire family."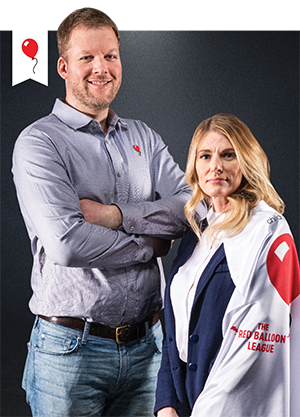 GRATEFUL PATIENT FAMILY: DOUG AND KASEY
SUPERPOWER: Hope. We survive on hope.
Doug and Kasey sat at a conference table as a team of doctors broke the news: Their then 18-month-old son had a rare disease that was causing him to fall and be unable to get up.
A few days earlier, Kasey had rushed their son, Will, to the Emergency Room at Children's Medical Center Plano after one of these falls, knowing in her gut something wasn't right.
Doctors told the couple that the rare disease -- called Leigh syndrome, which impacts only a few thousand people in the world -- was progressive, had no cure and many patients didn't live past the age of 10.
And ever since then, for the last seven years, Doug and Kasey have been trying to save their son's life.
"I don't think any parent could accept that there's no cure for your child," Doug said. "We had to do what we could to try to find an answer."
They emailed academic researchers in the United States and internationally. They called drug companies. They drove to different cities in hope of an experimental treatment.
But every answer was the same: "There's nothing we can do to help you."
Kasey and Doug have watched their now 9-year-old son lose the ability to walk, lose the ability to swallow and eat food and lose the ability to speak. They monitor his various medications and feeding tubes, while also caring for their youngest child, Lauren. And every night, one of them sleeps in a twin bed in Will's room.
The family found hope in 2018 when their neurologist told them about the development of a Gene Therapy program starting at UT Southwestern in collaboration with Children's Health.
"We had reached out to many top medical institutions, hospitals and researchers throughout the country, but Children's Health was the one that was willing to say, 'Yes, we can help you,'" Doug said.
But the couple would need to raise hundreds of thousands of dollars to launch the experiments and another $1 million for human trials.
It wasn't a cure – only an experiment. They don't know if it will work. And they don't know if it will manifest in time to help their son.
But they had to try.
"To go from being diagnosed with this ultra-rare disease, where we thought, 'How unlucky can we be?'" Doug said. "To having this potential miracle breakthrough presented to us right in our own backyard in Dallas, it feels like we hit the lottery."
Kasey and Doug are fundraising not only to save their son's life, but for the lives of other children and families like them navigating a rare disease diagnosis.
So far, the family – joined by other rare diagnosis families – have raised more than $1 million and hope to have a clinical trial launch soon.
"We tell Will about this therapy that we're fundraising for. We tell him that we don't know what the results are going to be. But he knows there's hope," Kasey said.
"We survive on hope."

TEAM MEMBER: CATRENA GILBERT, Housekeeping, Environmental Services

SUPERPOWER: I always have a smile on my face and laugh with everyone.


TEAM MEMBER: TRACEY KILLGORE, Intake Coordinator, Our Children's House

SUPERPOWER: Kindness – You can change somebody's day with a little bit of kindness.


RESEARCHER: DR. DIANA CASTRO

SUPERPOWER: Being a good listener and trusting my families.


TEAM MEMBER: SUZETTE RIVERA, Concierge, Children's Medical Center Dallas

SUPERPOWER: Helping patient families and visitors feel welcomed with my smile and personal customer service.

TEAM MEMBER: OFFICER CHRISTOPHER COLLINS, Security, Children's Medical Center Plano

SUPERPOWER: Kindness – You can change somebody's day with a little bit of kindness.


TEAM MEMBER: ROBYN KIDD, Food Services, Children's Medical Center Dallas

SUPERPOWER: Mind reading – I know some frequent families' and team members' orders before they even ask.


VOLUNTEERS: RANDY AND DEBBIE JACOBS, Volunteer Services, Children's Medical Center Plano

DEBBIE'S SUPERPOWER: Encouragement through fun

RANDY'S SUPERPOWER: Making kids' days better for our having been there.