Sep 17, 2020, 2:42:19 PM CDT
Wendell
Security Officer Wendell Muhammad pressed his hand over his ear, focusing on the static radio call coming through his earpiece.
"Hold on for a minute," he said, pausing his patrol down a hallway at Children's Medical Center Dallas. "I need to take this."
Nearby, a woman in scrubs waited at a pair of elevators. Wendell smiled and waved.
"You on your way out?" he asked, as she nodded in reply.
"Be careful out there."
A security officer at Children's Health℠, Wendell has built a more than three-decade career dedicated to keeping team members and patients at the hospital safe.
He's the guy you'll often see posted in the main lobby, smiling and waving to families and team members when they enter the hospital.
Sometimes, you'll find him patrolling a hallway or circling the nooks and crannies of parking garages.
When Wendell came to Children's Health in the late 1980s, it was a smaller community hospital. Since then, he's watched it grow into a regional hospital, then a national hospital and now an international hospital that treats patients from around the world.
"One of the reasons I stayed for so long is because this place kept growing, and I wanted to be a part of that," Wendell said. "I've always wanted to be a part of something bigger than who I am."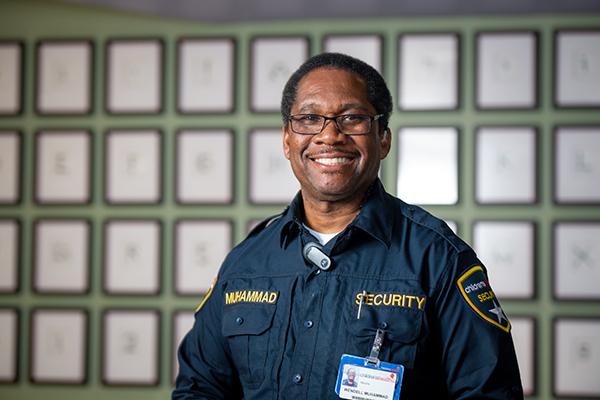 And as Children's Health grew, there was more area to patrol and more people to keep safe. Over the years, security became more than just a job for Wendell.
"When I got trained years ago, the officer who trained me, after it was over, he said that he had given me what I needed to become a good security officer, but he told me something was missing," Wendell said. "He told me he couldn't make me care, so I learned to allow myself to open up and think of this as more than just a job."
That compassion is what propels Wendell when he races to meet a CareFlite and escort a patient family into the hospital. It's what gives him the empathy to calm a psychiatry patient who wanted to find his mother.
Since the virus that causes COVID-19 entered our world, Wendell misses being closer to patients as social distancing and extra safety measures at the hospital were put in place.
Wendell isn't providing direct patient care, but he also can't perform his job patrolling the hallways and responding to calls from home.
He said during this uncertain time, it's now even more important for him to provide an atmosphere where people feel safe -- whether that's a hello or a wave from afar and a smile with his eyes – with that same compassion and empathy.
"The impact I want to have – and have always wanted to provide – is an atmosphere where people could come in here and be safe," Wendell said.
He said the security team has a particularly important service to provide during this time when much is unknown, and that's why he supports the work of his team members with his time and dollars.
"It's important because it comes from the heart. And in financial crisis, it's even more important because there are not as many people that are willing to give that can," Wendell said. "When you're contributing monetarily to what it is that we're trying to accomplish, it's just awesome."
If you'd like to give back to Children's Health in support of patients, family members or your fellow team members, visit wechoosechildrens.com to make a one-time or recurring gift to a department or program of your choice.