December 20, 2019
Clara and Dianne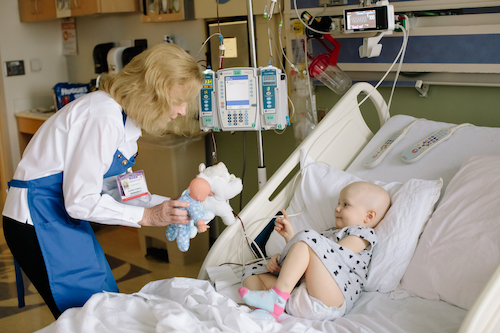 "Oh my goodness," Dianne Howell silently mouthed, as she shut the hospital room door gently behind her. She closed her eyes for a minute, savoring the moment like a decadent chocolatey dessert.
"Clara, Clara," she whispered excitedly, as she gently squeezed her friend's arm -- a signal to her compadre to peek at the sleeping baby in the hospital crib one room over.
"You just can't help but fall in love," Dianne said, as she searched through a cart overflowing with toys for a knitted blanket and plastic rattle.
She dug past the dangling stuffed animal monkeys that Clara pushes like a shoe salesman. She scooted aside the plastic frog that records your voice when you push a button. And she reminded a curious parent "not to touch" the disinfected, clean toys as they reached for a book on the toy cart.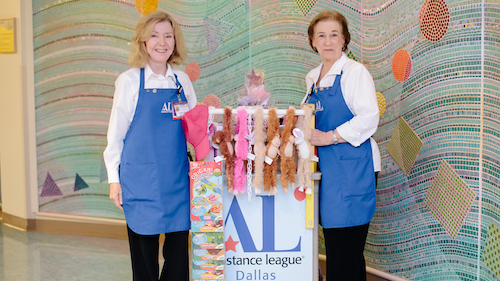 Clara Calhoun and Dianne have been peddling this wheeling "fun cart" – as they call it – up and down the hallways of Children's Medical Center Dallas for more than two decades through volunteer work with the Assistance League of Dallas. The organization has supported Children's Health through its Volunteer Services department for 50 years.
"We help take kids' minds off of their pain, and it gives them that break they need from the needles and the IVs," Clara said. "Amidst everything they're going through, this is a bright spot."
Strangers before they joined the assistance league, these monthly volunteers shifts (followed by lunches of Mexican food) bonded a friendship between Clara and Dianne that has withstood decades and sent them and their husbands on adventures to Europe, Antarctica and South Africa – where the duo got into their first fight over whose turn it was to eat the last barbecue potato chip.
"We're more like sisters," Dianne said. "Sisters that love each other."
Choose Children's Health
Clara and Dianne have volunteered with Children's Health for two decades to give patients a bright spot during their treatment journeys.
Join Clara and Dianne in choosing Children's Health by donating, advocating or volunteering.