Dec 13, 2021, 9:53:59 AM CST
Valeria
Valeria peered through the blinds from a hospital break room at the sparkly tree, aglow in multi-colored string lights in a courtyard at Children's Medical Center Dallas.
Clad in Christmas pajamas with reindeer antlers on her head, she was ready for a visit from the "Big Guy" himself.
Valeria spent most of last year under the care of team members at Children's Health℠, after she was diagnosed with acute lymphoblastic leukemia in January 2020.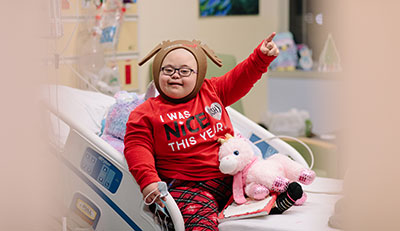 And that meant the holidays looked different for the then-8-year-old and her mother, Claudia.
There were chemotherapy treatments that caused her thick, dark hair to fall out. There were steroids that made her too tired to leave bed. And there were many nights apart from her dad and two-year-old little brother.
But there also were costumes and prizes for her and other patients at Halloween. Christmas wreaths that adorned hospital hallways from Women's Auxiliary volunteers. And even a virtual visit with Santa from her hospital room.
"To this day, Valeria believes she talked with Santa Claus," Claudia said, laughing. "And for a moment, they made us feel like we weren't in the hospital, and that we weren't alone."
Born with Down syndrome, Valeria already saw a number of specialists at Children's Health for asthma and sleep apnea before she was diagnosed with leukemia.
And still she loved life, especially singing, dancing and teaching her little brother to walk.
In January 2020, Valeria had adenoid surgery, but she struggled to recover. Claudia also noticed that she was pale — too pale. Valeria was rushed to the emergency room at Children's Health, and that same month diagnosed with leukemia.
The news "came out of the blue" for Claudia and her husband.
"But at Children's Health, we didn't find only doctors and nurses. We found another family," Claudia said. "They didn't just treat Valeria — they made her feel special."
Nurses hid printed photos of bears on the oncology floor and went on a pretend bear hunt with Valeria. Music therapists played songs that made her dance. Child Life specialists came to play, bringing surprise toys and games.
And last Christmas, the family was nominated by social workers to participate in the Adopt-A-Family program, where anonymous donors help fulfill a patient family's Christmas wish list.
On Christmas morning, there was a play kitchen and a dollhouse for Valeria; a push car for her little brother; and a tea set for Claudia.
"We were so surprised at their thoughtfulness," Claudia said. "We had never received so many gifts. It was very special."