February 28, 2020
Giving Back In Many Ways, Terry Finds Meaning at Children's Health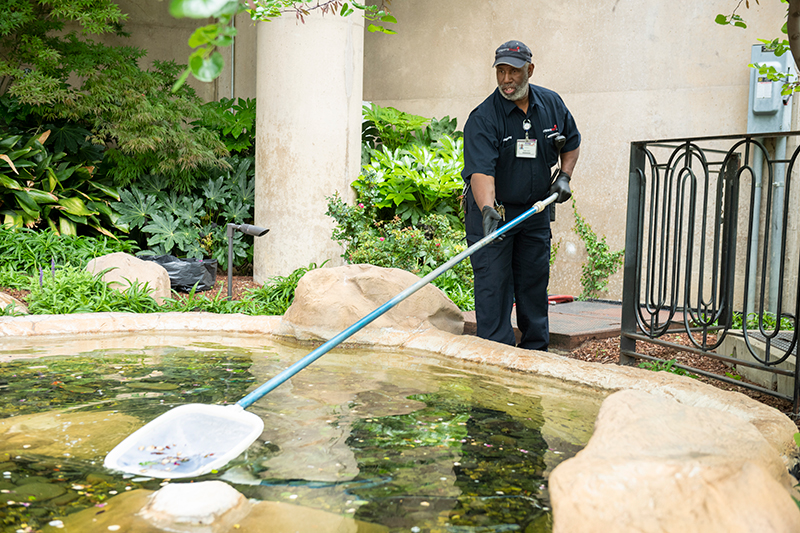 Most mornings, you will find Terry Pate, Maintenance Mechanic, Engineering, cleaning a fountain in a secluded courtyard at Children's Medical Center Dallas, past the Butterfly Atrium and outside through a pair of glass doors.
The Children's Garden Waterfall and Streambed with rainbow-colored glass fish swimming below is a quiet space in an otherwise busy hospital.
Terry cleans this fountain every day – regardless of the weather forecast.
Here, he fishes leaves from the water with a pool net and balances on stones as he leans down to wiggle free soaked receipts wedged between the rocks.
"The kids, they come out here and they look at the fountain," he said, explaining why it's important to him to keep it clean.
"One time, I was throwing shocks in the fountain to clean it, and one of the kids thought I was feeding the fish," he said, chuckling. "He didn't know they were glass."
Terry has worked various construction jobs since he was a teenager. His seven uncles, who were electricians, framers and masons, taught him the business.
But his favorite uncle to work alongside was a plumber, a guy who also was funny. He'd play jokes on Terry, asking him to remove something stuck in a pipe and then turn the water on to soak him.
"We had fun all day. It didn't feel like I was working," Terry said. "I thought, 'Maybe I can have fun as a plumber.' So, I started doing plumbing work. And now I am having fun."
Previously, Terry was a plumber at a large, national company, leaving for a job at Children's Health a few years ago. He'd been searching for a place where his work could make a bigger difference.
Terry isn't saving lives or treating kids. He's not a physician or a nurse. But his job is critical to ensuring clinicians can do what they do best – make life better for children.
"If something is broke, I get to fix it. If the water's not running, I get to turn it back on," Terry said. "It feels good to know that somebody needs me to do something."
Last year, Terry was one of 170 team members to support Children's Health on North Texas Giving Day, an 18-hour online giving event that benefits more than 2,000 local nonprofits, including the hospital system.
He also recruited about a dozen of his team members to give as well.
"I went upstairs and said, 'Hey guys, we're trying to help these children. I gave this much. You need to come down and give at least that much. If I can give that much, you can give that much,'" Terry said. "It makes you feel good to give. It made them feel better."
Terry grew up in a family with a culture of giving back. He watched his mom, while working two jobs, help others in need. The family didn't have a lot of money, but she taught her children to give what they could – in time and money.
When someone was sick, the family would visit their home and help with their chores. They'd mow the yard, chop wood and pull weeds from the garden. At school, Terry would give the family's hand-me-downs to other students who didn't have enough money to buy gym clothes.
If you'd like to give back in support of patients, family members or your fellow team members, visit wechoosechildrens.com to make a one-time or recurring gift to a department or program of your choice. ​