Jul 11, 2022, 10:13:00 AM CDT
Our team members caring for Tanner and Caleb
We tracked down 13 team members, whose faces represent the web of support surrounding two brothers with cystic fibrosis at Children's Health.
Tanner stood in the exam room and placed a clip over his nose, readying himself for the pulmonary function test.
"Have you done this before?" a man asked.
"Multiple times," Tanner said, as he took the mouthpiece from the respiratory therapist. The quarterly test measures how well his lungs are working and how much oxygen is in his blood. If the numbers dip too low, he could be admitted to the hospital.
"Ready?" the respiratory therapist asked.
Tanner took a deep inhale and breathed as hard as he could – as if he was blowing up a balloon -- into the mouthpiece.
"Push, push, push, push," the respiratory therapist encouraged. His mom, Kiri, stood next to the machine, watching the numbers and holding her breath.
Today was Tanner's 15th birthday, and she didn't want him to spend it in the hospital.
She let out a sigh of relief. The numbers weren't his best, but they were good enough to keep him home.
Meanwhile, a crowd of care team members had quietly gathered in the hallway, holding a banner in hand drawn block letters that read "Happy Birthday, Tanner." Clad in gowns, masks and gloves, they entered his exam room singing and clapping.
Tanner – a self-described artsy nerd, who loves rollerblading, gaming and anime – couldn't hold back a grin.
This small group of team members is among the dozens in the Claude Prestidge Cystic Fibrosis Center at Children's Health who have cared for Tanner and his 12-year-old brother, Caleb, for the last decade, after the family moved to North Texas from another hospital looking for a miracle for their sons with cystic fibrosis.
"Knowing that people love my kids enough to go above and beyond is pretty cool," Kiri said. "Children's Health is different from a lot of hospitals. They really care about our kids. It's more than just health care."
A leader in treating pediatric cystic fibrosis patients, these team members care for more than 300 children each year in North Texas. And because of the support of generous donors, they provide comprehensive and innovative treatment to patients like Tanner and Caleb from birth until adulthood.
We tracked down 13 team members who care for the brothers and patients just like them.
The doctors, who a decade ago offered hope and an alternative treatment, after another hospital said the family had exhausted their options.
The nurses, who decorate the boys' hospital rooms and IV poles, comfort them at their bedside and sing to them on their birthdays.
And the Child Life specialists, music therapists and team members in Seacrest Studios, who encourage the boys' creativity and distract hospital stays with games, music and laughter.
"It shows they care about us, and they know who we are," Caleb said.
"That we're not strangers," Tanner added. "They go out of their way to take care of us. They do more than their job."
These are their stories.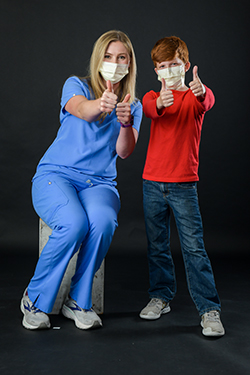 Hope Bostrom, Pulmonology RN
As a nurse on the pulmonology floor, I like that we're able to help people and be a light during some of their darkest days.
These diseases are isolating for kids. From the outside, they appear very healthy some of the time. But they do treatments multiple times a day that range from 15 to 30 minutes. They have to get help with their nutrition and take dozens of pills to help their body process their food. And they have to come to the hospital several times a year.
I took care of Caleb on his birthday one year, and I remember he was really sad that he had to be in the hospital. I waited until he and his family had left the hospital room and snuck in and hung streamers everywhere. I just went over the top decorating the place. When they came back, they were so surprised. It made me feel like I made one of his days better, which is why I wanted to be a nurse.
Nursing is so much more than tasks. A good nurse cares about the patient as a person and how they're doing emotionally, as well as physically. To be able to make days better for patients like Tanner and Caleb and to make them laugh, those are my favorite things.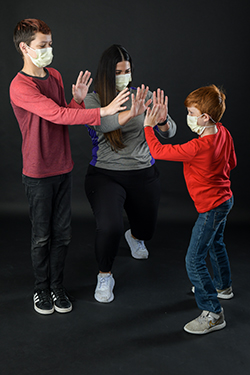 Lauren Hemmerling, Physical Therapist Assistant
A lot of the times when we're doing our exercises, kids don't even realize we're doing physical therapy. We use a lot of fun toys and games that we have in our therapy gym, and then we use innovative technology such as virtual reality. Because of donors and their generosity, we have a cool VR system that I used with Tanner and Caleb to work on to their range of motion, strength, coordination, endurance, flexibility and postural mechanics. They're doing physical therapy the whole time, but they don't even realize that they're doing exercises.
I'm kind of like a coach. I have to be a source of motivation to patients. I'm their cheerleader who is pumping them up and telling them that they can do this. They need somebody in their corner, fighting for them and advocating for them.
A good day for me is every day that I'm here. These kids are a force that wake me up to come in and work my hardest. They are a reminder to stay humble, stay hardworking and stay dedicated.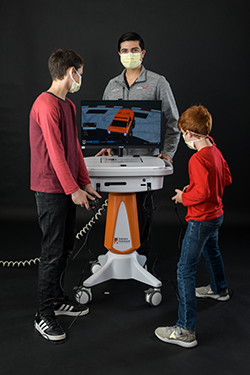 Alec Hernandez, Child Life Technology Assistant
A lot of patients play video games at home in their downtime for fun, so we offer them here to help normalize the hospital environment and to help them feel better.
We want to be able to increase how many game systems we have. We purchased some of the equipment, but it's very expensive. Most of what we utilize comes from donors. And the more game systems we have, the more patients we're able to reach. Fundraising helps our department purchase the latest and greatest equipment for our patients.
When we play games with patients, it allows us to build a rapport with them, and they realize that we're here to offer them something fun and therapeutic.
Kids will banter and trash talk, and then I'll trash talk back with them. It's like a patient is hanging out with one of the guys, instead of being in the hospital. It helps them escape for just a little bit, and it's nice to be able to do that. You're making a kid's day.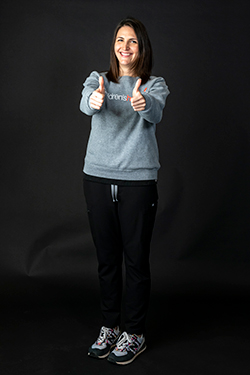 Stacie Hunter, Dietician
Food is a lot about feelings, and I'm not sure I understood that until I became a dietitian. Before this job, I worked in media relations for two years and quickly realized that I didn't want to do that forever.
As I looked at several different health careers, becoming a dietitian seemed like a perfect choice for me, because food has always played an important role in my life. Food brings people together, and that is something that I love.
As a dietitian, most of the work I do is with kids who have CF, both inpatient and outpatient. Nutrition plays a big role for my patients, because there are a lot of growth needs that are addressed.
Cystic fibrosis affects all the ducts in the body, including those in the GI tract, the liver and the pancreas, which all impact nutrition. Because of this, these kids don't have the ability to absorb all the food they eat, so we talk a lot about proper nutrition.
Nutrition is a sensitive topic for parents because even kids without CF can be a challenge to feed, and in CF, nutrition plays a big role in medical outcomes, especially for the liver and the lung. The pressure to get kids to eat in CF care is a double whammy for parents, as it is not only part of parenting but also part of their medical care.
Developing good relationships with families is important, especially when you need to have difficult conversations with them about putting a feeding tube in their child so they can grow properly. I try to help parents understand this is not a failure on their part, but a tool to help them overcome the challenges of the disease.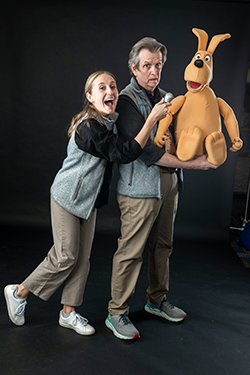 Abbie Kreider and Shawn Patrello, Seacrest Studios
Abbie: This is a full-functioning TV station that we broadcast on the Red Balloon Network. Patients can call in and talk to us, or they can use our iPads and through Zoom be on TV from their hospital room. We also always have the door wide open, so they can walk in and experience the space in-person.
Shawn: We're kind of like grandparents. Parents have rules for their kids, but grandparents get to give them sweets. This whole place is about fun. We still have structure and things we have to do, but our job is for kids to enjoy themselves and engage with them.
Abbie: We tend to form a special bond with families because we're an escape. Recently, we had a patient pass away, and the family invited us to speak at the memorial and share the beauty of his life here. That really spoke to us about the impact of what we do.
Shawn: Every day when I wake up, I'm happy to come to work. The No. 1 reason is the person I'm sitting next to, this place and these kids.
Abbie: As a nonprofit, every team member here works to make life better for children. We're all connected. We're a mission-drive place, and you feel it when you're in these walls. It's magical.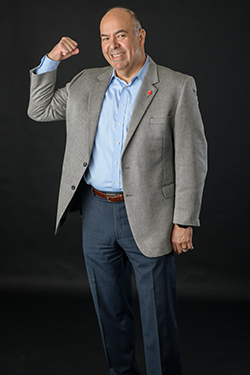 Ben Retta, Senior Director, Social Work
I've worked at Children's Health for 23 years. I was a high school intern in the social work department from 1979-1980. And then, I worked here on the weekends when I was in graduate school in the mid-1990s.
I've seen a lot of evolution in the social work department, but it's always been about helping families cope with new diagnoses, unexpected accidents and unexpected hospitalizations. It is the social worker's responsibility to understand who the family is and anticipate their current and future needs. Our work is about the entire wellness of the family, not just the physical wellbeing of the child.
When I was a high school intern, I didn't know about cystic fibrosis. I met the CF social worker at the time, and one of the things she explained to me was that CF patients didn't live beyond 13 years old, and it was important for her to build a relationship with the family to help them through that journey.
Now, in 40 short years, that is not the story for CF patients today. They are living well into adulthood. But they still need someone there to tell them what to expect and to tell them that it's OK if they don't understand everything. The need is still there to support the parents and let them know that it doesn't all fall on them to solve the problems. We are here alongside these families until patients transition to adult programs.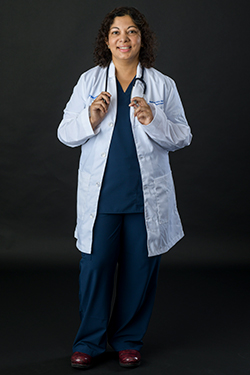 Meghana Sathe, M.D., Pediatric Gastroenterologist and Co-Medical Director of the Claude Prestidge Cystic Fibrosis Foundation Clinic at Children's Health
I love helping kids grow and thrive. Pediatric GI is very different from adult GI. It's more focused on growth and nutrition.
For patients with cystic fibrosis, the mutation in the gene that produces the cystic fibrosis transmembrane conductance regulator (CFTR) protein is in every duct of the body. The GI tract is a whole big duct system, so for patients with CF, the CFTR mutation is in the stomach, intestine, colon and pancreas.
One of the biggest challenges children with CF face is pancreatic insufficiency, which means their pancreas doesn't make any and/or enough enzymes needed to digest food. To treat this, we give our patients pancreatic enzymes orally to replace what their bodies are unable to make. They have to take pancreatic enzymes with every meal and every snack.
Most people think of the lungs when it comes to CF, but a big part of treating CF care is optimizing nutrition. Several studies have shown that patients with a body mass index in the 50th percentile have improved lung health and overall longevity.
In the last 10 years, new drugs called highly effective modulator therapies have been developed to help fix the protein defect for patients with CF, not only treat the symptoms. This is allowing our patients with CF to live longer and healthier lives.
There are so many new and exciting therapies coming up in CF care. I tell parents and children that I'm not aiming for them to live to be 20 or 30 years old but for them to be grandparents. I'm honored to help walk our patients and families through the incredible evolving journey of CF care.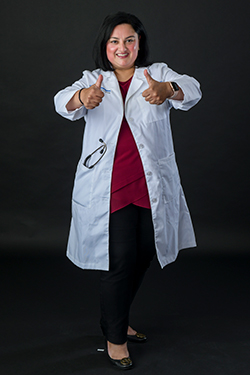 Preeti Sharma, M.D., Pediatric Pulmonologist and Co-Medical Director of the Claude Prestidge Cystic Fibrosis Foundation Clinic at Children's Health
Whether it's asthma or cystic fibrosis, my job is to help kids breathe easier and to help their families breathe easier as well.
Cystic fibrosis is a genetic disease that causes a chloride channel in the body to not function properly, so you end up with thick and sticky mucus in various parts of your body. That mucus in the lungs leads to persistent cough, recurrent lung infections and digestive problems when it builds up in various digestive organs.
Our clinic calls CF care a team sport. We have made it our mission to provide multidisciplinary and holistic care to patients in one location. Our center is one of the only ones in the country led by both a pediatric pulmonologist and a pediatric gastroenterologist. This co-directorship also allows us to have collaborative research projects, where we work together to advance GI care and pulmonary care for CF patients.
The last 10 years of my career in cystic fibrosis have been exciting. With the use of highly effective modulator therapies, we are getting to the source of problems for patients with CF that is changing the day-to-day life for our kids. They've seen a dramatic improvement in their lung function and GI symptoms. They have more energy. They feel better. They don't miss as many days of school. It's also altered the life expectancy for people with CF, so they are living longer and healthier lives.
Kids with CF live to hopefully to be in their mid-thirties. And now we're seeing life expectancy across the board being closer to the late fifties. That's a big difference.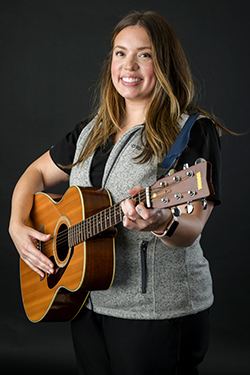 Candace Szymanski, Music Therapist
Growing up, I was a drummer and was surrounded by music, which led me to pursue an undergraduate degree in music education. While I knew I loved working with kids, I didn't feel the same spark to become a teacher that my peers did. Later on, I connected with a family that had a child with special needs, and they introduced me to music therapy.
As a music therapist, I use music to help kids process what's going on through playing instruments and writing songs. It's non-threatening and a creative way for kids to express what is happening in their lives and during their hospitalization.
I first met Caleb while he was in-patient for a lengthy stay. He'd experienced so many things taken away from his normal environment and needed opportunities to express himself. He'd play around on instruments, and we wrote songs together. Many of the songs were funny or silly ones that allowed us to laugh, while also giving him a sense of normalcy.
One of the best parts of my day is seeing patients experience breakthrough moments. After a session, families will tell me how that was the first time they've seen their child smile or the first time their child has wanted to get out of bed. It's very powerful.
Our music therapy services are expanding, and I recently transitioned to Children's Medical Center Plano to begin providing music therapy. Right now, it's only me, but soon we hope to have a full music therapy program there. Donations are essential because it allows us to grow our program and reach more patients and families.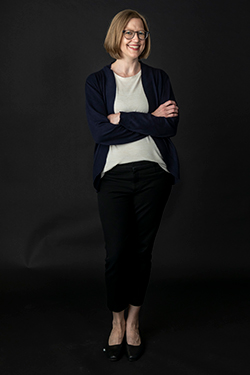 Reann Tiemann, Chaplain, Spiritual Care and Education
Kids have a very unique way of expressing themselves. They have deep and emotional experiences about the way they feel about their hospitalization or their disease. Being able to come alongside them and hear them express those feelings felt like really meaningful work.
At Children's Health, I am assigned to work with pulmonology patients, which includes a large population of kids with CF. For these patients, they know they will have this illness for the rest of their lives, and that there's no cure. As chaplains, we're quite comfortable with talking about how their life will be shortened because of this disease.
I'm always careful not to tell a child what it is that they feel. Instead, I help them process their own feelings and experiences. I tell them that while the clinical team is taking care of their medical needs, my role is to care about what's happening on the inside with their emotions. A lot of times I'll ask a wondering question and explore with them, getting curious rather than assuming how they feel.
My best days in the hospital are when a patient I'm working with feels seen, heard and valued. That is our deepest need as humans, and it is my job as a chaplain to help them experience that.
Sometimes I just tell people that I'm a good professional listener.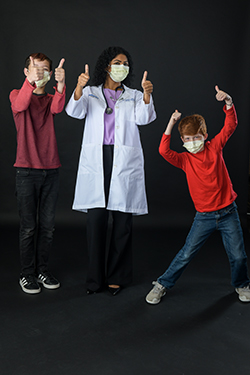 Prigi Varghese, Nurse Practitioner
Cystic fibrosis does not have a cure, and we require all our patients to do hours of medical therapy. Being a kid with CF is like having a second job. They have to manage school. They have to manage being a kid. And they have to manage their CF.
It's helpful that Tanner and Caleb have each other to keep one another motivated, especially through the hard times. They've had some struggles in the past, and their lung function has taken a hit. Both fall into this category of advanced lung disease, and they're being considered for lung transplantation. That's one of the more difficult conversations.
The other hard part of my job is CF is now detected through newborn screenings, and I am the one who gets those results and makes the call to the parents. It's difficult because you have a new parent with a beautiful baby, and now, you're telling them that their child has a chronic illness that doesn't have a cure.
But that's why we work together as a team. We bring the family in as soon as possible, and we have a group of multidisciplinary clinicians there to help and stand alongside them through this journey. We're there to watch them grow up.
But because there is no cure for CF, research is critical, and funding is so important. That's where we're making the advances that are changing patients' lives, and that's where we're going to come up with better treatments.