October 28, 2020
Stacey
Five days before Thanksgiving last year, there wasn't anything abnormal about Stacey Pulley's early morning drive to work at Children's Medical Center Plano.
She had breakfast in tow for she and her son -- a security officer at the hospital.
She passed it along to him in the parking lot at their regular meeting spot.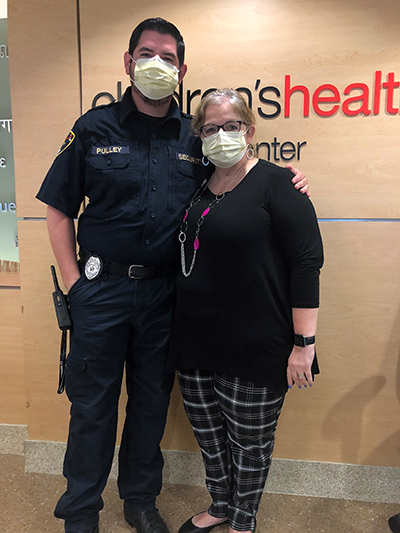 She clocked in and went into the Emergency Room breakroom to eat before her shift.
She chatted with a nurse -- they talked about how they both were tired.
And then mid-sentence, Stacey collapsed.
She was having a massive heart attack at work. Suddenly, she was a 47-year-old patient in a children's hospital.
Children's Health team members performed CPR on her for almost an hour and stabilized her with medication before transferring her to an adult hospital.
Stacey, a Health Unit Coordinator in the ER at the time, doesn't remember any of this rush by her colleagues to save her life.
She doesn't remember the woman who drove her in the ambulance from Children's Medical Center Plano to an adult hospital and told her how happy she was to see her when Stacey returned to work in May.
"She told me, 'Girl, when I dropped you off, I didn't know if you were going to make it. You're a miracle,'" Stacey recalled. "I told her, 'I know. My surgeon, my cardiologist, all the nurses tell me that every day.'"
Stacey was in a coma for a week before she woke up in a different hospital. At one point, her kidneys shut down, and she was on dialysis. She couldn't breathe on her own and had a breathing tube for a month. She also had quadruple bypass surgery that left a long scar down her chest.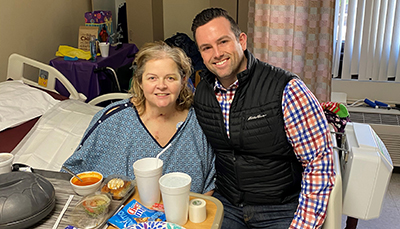 "I used to cry when I'd see my scars on my neck and chest and would try to find shirts that would cover them," Stacey said. "Now, I look at them as my battle wounds. They're my shield."
While in the hospital, team members at Children's Health visited her regularly, including the doctors and nurses who performed her life-saving care. They explained the medical terminology to her family and quizzed her medical team on her treatments.
As part of her recovery, Stacey had to learn how to walk, talk and feed herself again. She still attends physical therapy to help improve her walking.
Now a year since the incident, Stacey said she's grateful for her life. She doesn't worry about keeping her house neat and tidy – that can wait. She'd rather spend time with her family and friends, sit outside in her garden and tell her team members at Children's Health thank you.
"I love going to work at Children's every day because all my friends are there," Stacey said. "They're my heroes."