May 1, 2019
Social Workers in the Emergency Department Shine a Light for Families During Their Darkest Days
Nancy Belt, LCSW, has known she wanted to be a hospital social worker since she was in high school.
"My mother is a nurse, and one of her close friends was a social worker at the nearby hospital," she said. "After hearing about her work, I knew that's what I wanted to do too, and from then on, that was my goal."
Nancy went on to earn a bachelor's and master's degree in social work and started her career in the Emergency Department at Children's Medical Center Dallas in 1998. She's been there ever since.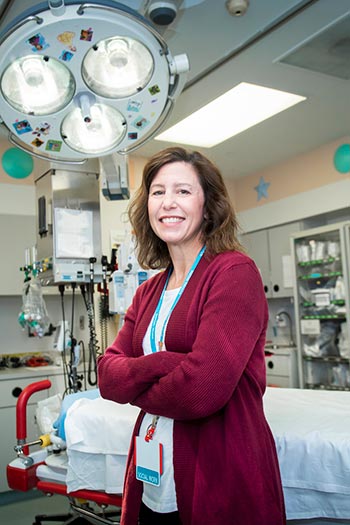 With 122,000 average yearly visits, the Children's Medical Center Dallas Emergency Room is one of the busiest pediatric emergency rooms in the nation and the only pediatric Level I trauma center in North Texas. For Nancy, that means she and her team members have thousands of opportunities each year to support children and their families on what may be some of the hardest days of their life.
"In trauma situations, typically only one parent is allowed to accompany the patient during transport – whether it's by air or via ambulance," said Nancy. "So once they arrive at the hospital, while our medical team is providing life-saving care to their child, these parents are often waiting on their own until additional family members arrive. That's when we step in. When we're standing by those parents' sides, comforting them until their support system arrives, there's no question in my mind that we're making a difference in that moment."
Social workers are available 24/7 on both the Dallas and Plano campuses, responding during crisis situations such as child abuse cases, behavioral and mental health incidents and trauma cases, as well as helping families gain access to appropriate resources – both in and outside of the hospital – and advocating for family members to their child's care team, when needed.
"Social workers often are the first to provide a behavioral or psychological assessment for our patients and are equipped to make recommendations for that patient's next steps, whether that be inpatient care or connecting them with the right resources to support the child and their family safely at home," said Nancy. "We're also able to help support families with the logistical and financial issues that may arise during their child's unplanned hospitalization such as helping with food, lodging or even extra clothing."
There's no question that social workers play an invaluable role in providing compassionate and comprehensive care for some of our most vulnerable patients and their families, especially those who come through the Emergency Room. And they are just one of the many teams who continue to provide insightful feedback as we move forward with the recently-launched $56 Million Emergency Room Renovation Project.
One of the aspects of the renovation project Thresa Belcher, Director, Child Life and Social Work, is most excited about is the addition of a Social Work office located right in the middle of the Emergency Room.
"Because the Social Work team plays such an important role in caring for the whole family while their child is in the Emergency Room, the new Social Work office, which will be easily accessible to all patient care areas, will further support our ability to care for these children and their families by enabling us to allocate our resources where they are most needed," said Thresa.
Our community has already shown tremendous support for the Emergency Room Renovation project, contributing $16 million toward our $30 million philanthropic goal to ensure we are able to expand our resources to meet the needs of children in the North Texas region and beyond.
"Thanks to charitable gifts from our donors, when a family brings their child to the new Emergency Room at Children's Health, not only are they going to get the best medical care possible for their child, they will also find several members of our Family Support Services team," said Thresa. "Social workers, child life specialists, chaplains and our concierges are ready to assess how their visit to the ER is affecting the entire family and to step in to provide support and guidance in the best way possible."