January 18, 2020
Celebrating 20 Years at Children's Health, Shahenaaz Found A Way To Give Back
Shahenaaz Sunderji, Clinical Research Coordinator, didn't anticipate the power of one email when she clicked send.
Only $20.
That's all she was asking of friends and family in the mass email she sent this year commemorating her 20th anniversary at Children's Health℠.
"I am on a personal mission," she wrote in the email. "And this is where I need your help."
She hoped to raise at least $2,000 to support the Pauline Allen Gill Center for Cancer and Blood Disorders at Children's Health, where she works as a research coordinator.
"I just wanted to in some way give back to this incredible hospital that has done so much for so many people," Shahenaaz said.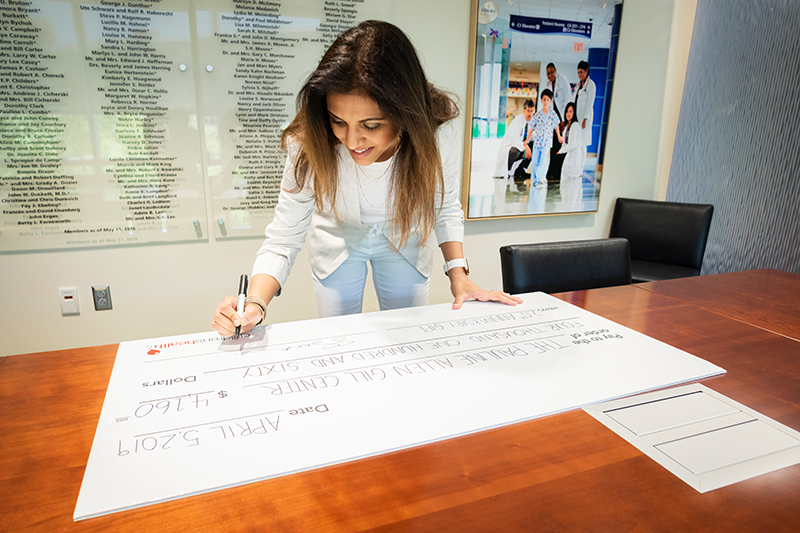 But she surpassed the mark in a couple of weeks, raising a total of $5,060 in monetary donations and gift cards to give to teenage cancer patients who aren't as drawn to stuffed animals and toys. Her younger daughter even got involved and set up a sidewalk lemonade stand on the weekend, explaining to people walking by that it wasn't for money but donations.
"My daughter knows the impact she can make, just being 10 years old," Shahenaaz said. "That's the starting point for her realizing that she can make a difference and she can help others."
In the spring, Shahenaaz signed her name on one of those big checks at Children's Medical Center Dallas surrounded by her friends, family and team members. She presented the money to Children's Health, along with the 99 gift cards that totaled $2,020 (completely by accident!) to Child Life.
Shortly after, she received a thank you card signed by the Child Life team.
"And I thought it was kind of funny that they were thanking me because I didn't do that much. I was just the vehicle. All of us can be that," Shahenaaz said. "It was everybody else who contributed to the fundraiser and made it happen."
As a college student, Shahenaaz always loved science and thought she would work in the medical field. After she finished school, she started working at Children's Healthcare of Atlanta also researching childhood cancer – a job she didn't set out to get but landed by chance, she said.
And when a nearly identical job opened at Children's Health, she accepted it to move closer to her now-husband. Since then, she's spent two decades working in the Pauline Allen Gill Center for Cancer and Blood Disorders where currently she coordinates the regulatory aspect of opening clinical trials to ensure the research is safe for patients.
Shahenaaz isn't on the frontlines in directly treating kids. But her work is still impactful. She said cancer research wouldn't be where it is today without research coordinators to organize trials and studies.
"I always feel good when I leave work because I feel like I'm making a difference," she said. "And I've already seen the impact of my work because there's been so many advances in childhood cancer, and I feel like I've been a part of that."
If you'd like to give back to Children's Health in support of patients, family members or your fellow team members, visit wechoosechildrens.com to make a one-time or recurring gift to a department or program of your choice.