Jul 30, 2021, 12:26:52 PM CDT
Robbie and Lynore Robinson
Anthea had thick blonde hair and bangs that skimmed above her eyebrows. She was outgoing and spoke her mind.
She was her father's daughter, friends said.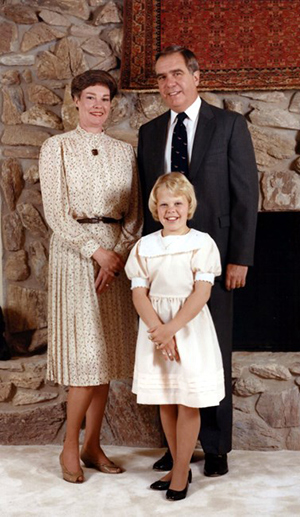 She also was the driving force behind her parents' giving and involvement in the North Texas community, as they continued to support education, the arts and Children's Health for decades after she passed away.
Adopted as an infant by longtime Plano residents Robbie and Lynore Robinson, Anthea was 14 years old when she died in the late 1980s, after a two-year cancer battle.
Grateful for the critical care their daughter received at Children's Health, Robbie and Lynore committed a $1 million bequest in their wills to endow the Child Life department -- an essential offering in the hospital that receives no external support aside from philanthropy.
"For families who have spent time in the hospital, you appreciate services like Child Life that help normalize the experience for patients," said Carol Schauer, retired Vice President of Development for Collin County at Children's Medical Center Foundation and former relationship manager for the Robinsons. "Robbie and Lynore understood the importance of Child Life to help families through difficulty and tragedy."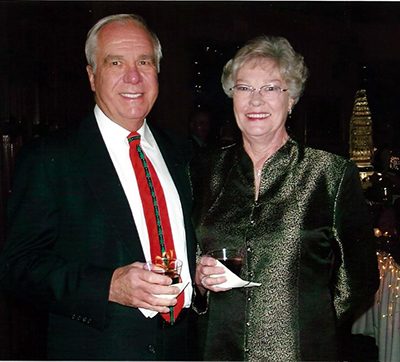 The estate gift – which was pledged in the late 1990s and is now being realized after the passing of Lynore and Robbie, who died most recently in October 2020 – is an example of the couple's trust in Children's Health to honor the commitment made more than two decades ago.
As part of the agreement, Susan Lakey, Director of Family Support Services at Children's Health, will hold the first endowed Child Life directorship – named the George "Robbie" and Lynore Robinson Family Director for Child Life. Team members in the Child Life department—which include child life specialists, child life assistants and music therapists— work alongside medical staff to ensure a positive hospital experience for Children's Health patients and families.
"What an honor to be a part of the Robinson family's story. Though I never had the opportunity to meet them, I am forever grateful for the generous support they have extended to the community and specifically to Children's Health," Susan said. "Because of them, patients at Children's Health will continue to receive much needed and deserved support from our child life specialists, child life assistants and music therapists."
Leaving a legacy
For Robbie and Lynore, the Collin County community was their family.
Both only children, they dedicated their lives to serving others and establishing a legacy that would benefit future generations.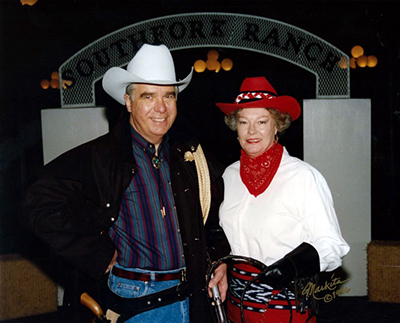 In addition to endowing the Child Life department at Children's Health, they are the namesakes of Plano ISD's new fine arts center – named the Robbie and Lynore Fine Arts Center and scheduled to open this summer. There also is a scholarship at Trinity Christian Academy named in Anthea's honor.
"One of the things that struck me over the years as I got to know Robbie and Lynore is how most of their giving and involvement in the community linked back to Anthea," said Rebecca Caso, Chair of the Board of Directors of Children's Medical Center Foundation and longtime friend of the Robinsons.
"They always felt like it was important to do what they could do to help. Obviously, none of their children or grandchildren would be impacted by these gifts, but they knew it was what the community needed and what the future children of North Texas needed."
Supporting Children's Health
The couple, who met on a blind date in London, spent the first two decades of their marriage traveling the country during Robbie's 20-year career with the U.S. Navy as a Civil Engineer Corps Officer.
They explored California, Hawaii and Washington, D.C., where Robbie worked in the White House as a White House Fellow. While in Washington, the couple also adopted Anthea.
When Robbie retired from the Navy, the family moved to Plano in the 1980s for Robbie to work for Ross Perot and Electronic Data Corporation.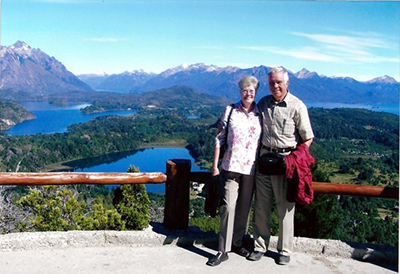 While there, he was charged with the development of what is now Legacy Business Park – the commercial development that includes and surrounds Children's Medical Center Plano.
Robbie served on the steering committee that shaped the fundraising to build the Plano hospital, which opened more than 10 years ago. An amateur photographer, images from his and Lynore's travel adventures – pictures of an Arabian Oryx in a dusty African desert and a leopard napping in a tree – decorate the hallways of the hospital.
"It was important to Robbie that the community supported that hospital, and he was always very proud of the Plano campus," Rebecca said.
A broad shady oak tree on the hospital grounds – nicknamed the Story Tree because the outstretched limbs are where children a century earlier gathered for story time when the land was only farmland – is dedicated to Anthea.
"Robbie and Lynore believed strongly in the mission of Children's Health and how important it was to the community," Carol said.
"They established an endowment because they understood that you need that support, not just today but for tomorrow because you never know what the future will bring."
Interested in leaving a legacy? Add Children's Health as a beneficiary in your will today.