September 11, 2019
Meet Rebecca Egelston Caso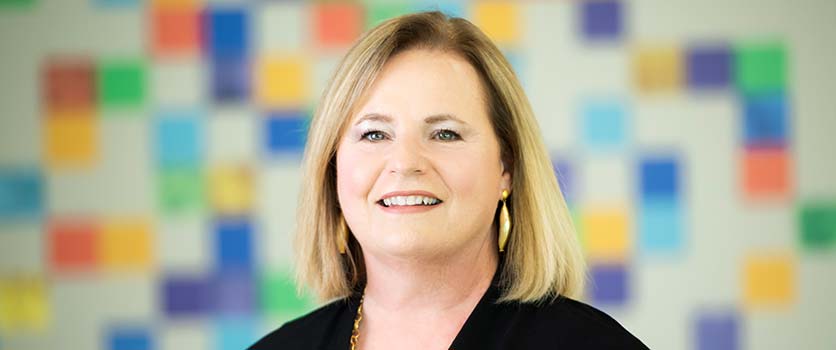 As a teen volunteer at Children's Medical Center Dallas, Rebecca Egelston Caso didn't imagine that one day there would be a second hospital in Plano – or that she would be instrumental to its opening and operation. A lifelong community leader and attorney, Rebecca has maintained strong ties to Children's Health through leadership on its Board of Directors and as Past President of the Women's Auxiliary in Plano. In May, she took the helm as Chair of the Foundation Board to raise awareness, advocacy and philanthropy for Children's Health.
Why did you first choose Children's Health to volunteer?
I grew up in a family where volunteerism was a responsibility, not an option. My mother was involved with the Dallas County Medical Society and my father was a surgeon. They were impressed with Children's Health and encouraged me to join its established volunteer program. I loved doing whatever was necessary to help our patients, and I organized bake sales and holiday toy drives in my high school. Serving Children's Health has always been a part of my life.
What was it like when Children's Health expanded to Plano?
I was President of the Junior League of Collin County when Children's Health decided to expand into Collin County. It gathered community leaders, service providers, local government and law enforcement to talk about the issues facing kids in Collin County and conduct the first comprehensive needs assessment for children in the area. Children's Health went beyond just opening a local hospital; it was a catalyst that helped add programs and resources for kids in Collin County.
How has Children's Health transformed over the years?
I am impressed with its continued innovation and deep commitment to helping the community. It is always looking to be on the cutting edge to improve pediatric medicine and community health. As a nonprofit health system, Children's Health has grown in the last century with the support of generous donors and volunteers. We can help Children's Health reach more families where they live and make life better for our growing youth population.
Rebecca and her husband, Christopher, live in Plano and have two grown children. She is proud to help make life better for children. To connect with Rebecca, email giving@childrens.com.