August 9, 2019
Obie
Elaine Carson leaned back against the green couch in her living room and cradled her 1-year-old son in her arms.
The baby sucked on her finger, bearing his new front teeth when he grinned. "Ow! You hurt, buddy," Elaine, 33, said teasingly at her home in Lindale, about an hour and a half east of Dallas.
The mother of four doesn't take for granted the chance to rock her youngest, Obie Carson, this way.
For almost the first two months of life, Elaine couldn't hold him. An incubator at Children's Health℠ was his crib.
Born at 24 weeks on Dec. 31, 2017 in Tyler, Obie weighed 1 pound, 10 ounces – small enough for Elaine's wedding rings to dangle around his ankles.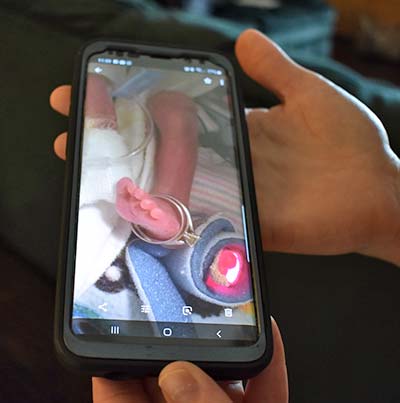 Obie developed Stage III necrotizing enterocolitis, a common life-threatening gastrointestinal emergency in premature infants.
At six days old, he was flown from Tyler in a jet with Elaine by his side to the Level IV Neonatal Intensive Care Unit at Children's Medical Center Dallas in need of emergency surgery to remove 13 centimeters of his intestines.
Because he was so small, Elaine was told the anesthesia alone could kill him.
"I was extremely intimidated because we came from such a small hospital, and we arrived at such a large hospital," Elaine said. "But we were encouraged to be involved from the very start. We were given facts so that we knew exactly what we were dealing with."
For weeks, Obie's young life was dependent on a breathing machine, blood pressure medicine and antibiotics to fight the intestinal infection. He also spent his first month fighting a fungal infection and septic shock.
The wide, blue-eyed baby nicknamed Obi-Wan Kenobi struggled to digest food and gain weight. Breathing on his own was a challenge because of chronic lung disease.
"For like the first month, all I heard was, 'You understand how sick he is?'" Elaine said.
One day, as Elaine was driving to Dallas to visit Obie, a neonatologist called, telling her that Obie's carbon dioxide levels were off the charts and he wasn't going to make it through the night.
"We prayed a lot," Elaine said. "A lot, a lot."
Room No. 18 in the NICU at the Dallas campus was Obie's home for six months. Here, among tubes and beeping monitors, Elaine posted milestone cards around his room like most new moms would when their baby smiled for the first time, rolled over or crawled.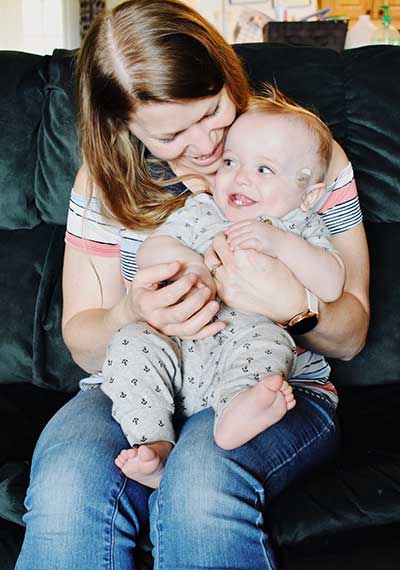 But Elaine tracked when Obie was taken off the ventilator, when he had his last central line and when surgeries were performed to remove an additional four centimeters of his small intestine, his appendix and a small section of his colon.
And finally, when he was discharged in June last year.
"There were other hospitals Obie could have gone to, but by the grace of God, it worked out the way it did," Elaine said. "It was just perfect. He was exactly where he needed to be with exactly the doctors he needed to be with at every single moment."
The Carson family marked the end of the exhausting hospital stretch with a trip to the beach at Port Aransas on July 4 with frozen breast milk, Obie's feeding supplies and oxygen tank in tow.
"It was insane, but we were committed," Elaine said. "It was well needed to get away."
At home in Lindale, Obie – now almost 20 pounds and no longer with a feeding tube -- scoots around in a walker, crashing into the TV stand and couch as he babbles to himself. He's learned how to sit and crawl.
In March, Children's conducted a sleep study and determined Obie no longer needs nighttime oxygen.
The family still travels the one-and-a-half-hour drive every three months to the hospital system's specialty centers for his check-up appointments.
As Obie squirmed to escape Elaine's hold on the couch on a recent Friday afternoon, she turned him to face her, staring into his deep blue eyes.
"Obie is …," she said, pausing. "Resilient. He just bounces back."