Apr 24, 2020, 10:34:30 AM CDT
Mitchell
His friends and family ran behind him in a uniform of blue T-shirts, cheering his name as he raced toward the finish line.
"Go, Mitchell! You're almost there, buddy!" his mom, Tonya, shouted into the shaky cellphone video, as her feet hit the pavement behind her son during the first Red Balloon Run & Ride race.
The event has become an annual tradition for the family, who lead team Mitchell's Magic to raise funds for Children's Health℠ physical and occupational therapists.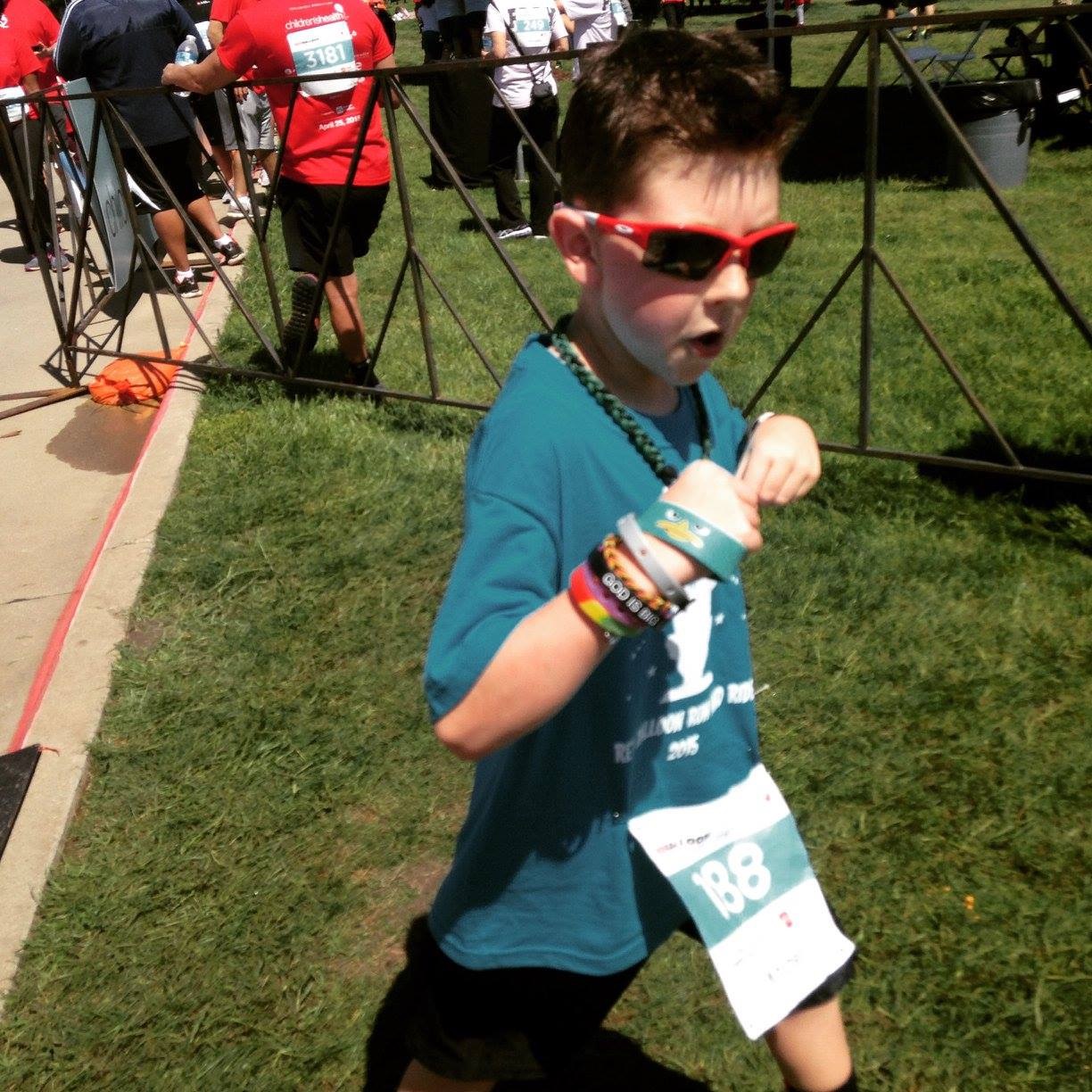 And each year, Mitchell crosses the finish line in what has become his trademark arms-raised-above-his-head pose.
"I've done it now for so many years that every time I cross it, I feel like I can keep doing this, keep pushing myself, keep finishing," Mitchell said.
The moment is always emotional for Tonya, who wasn't sure when Mitchell was born with a congenital brain tumor that he would live.
And she certainly didn't know if he'd be able to run.
***
Mitchell was six days old when he had a craniotomy to remove his brain tumor.
But intracranial bleeding weakened his mobility on his left side. Since he was four months old, he's received physical therapy at Children's Health to help him run, kick a soccer ball and jump rope with his friends.
"For day-to-day life, not having that left side work as efficiently as the right really presents some challenges," Tonya said.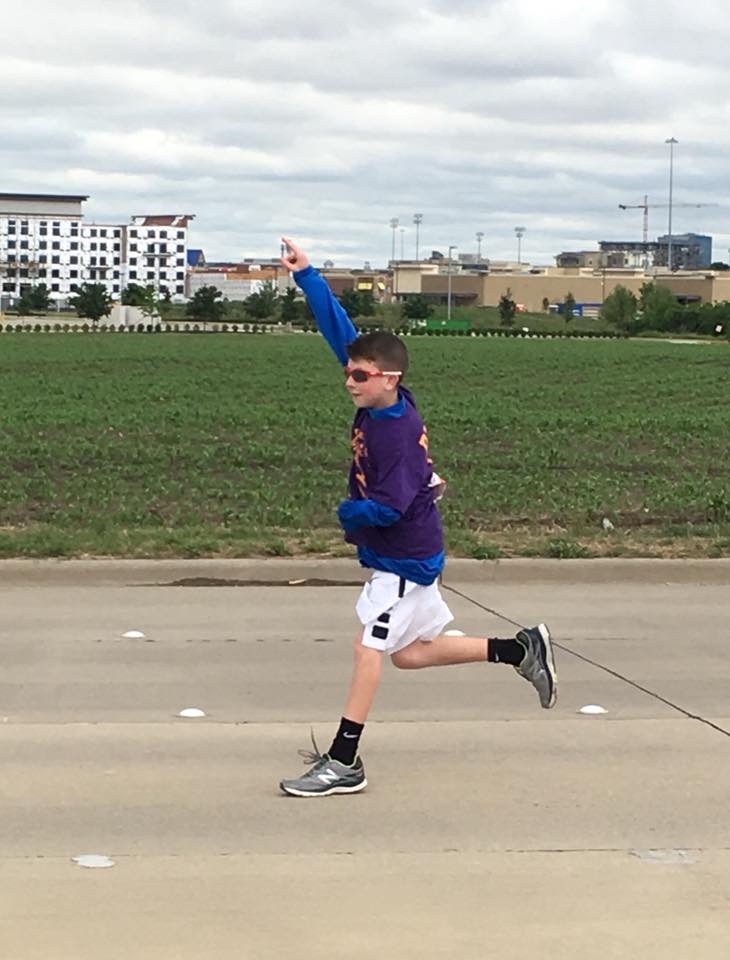 For years, Mitchell wore leg braces. Walking was difficult, and he frequently fell.
Scratching his nose, picking up items with his left hand and cutting his food also was a challenge. And it took years of dedicated practice to ride a bike without training wheels.
By elementary school, the falling had become worse. He would trip in the classroom, in the hallways, everywhere. He couldn't keep up when he ran with his friends.
"His teachers were so sweet. They would act like the rug was bent up or something," Tonya said.
When he was seven years old, Mitchell had surgery to release the contractures in his leg muscles and give him more mobility.
But before the surgery, he was scared.
Would the procedure hurt? And afterward, would he really be able to run?
"I said, 'Buddy, if you do this surgery, you can run just like your friends,'" Tonya said. "And he said, 'Just like my friends?'"
"I said, 'You can run in a race. You can have your own team.' And that's how it began."
***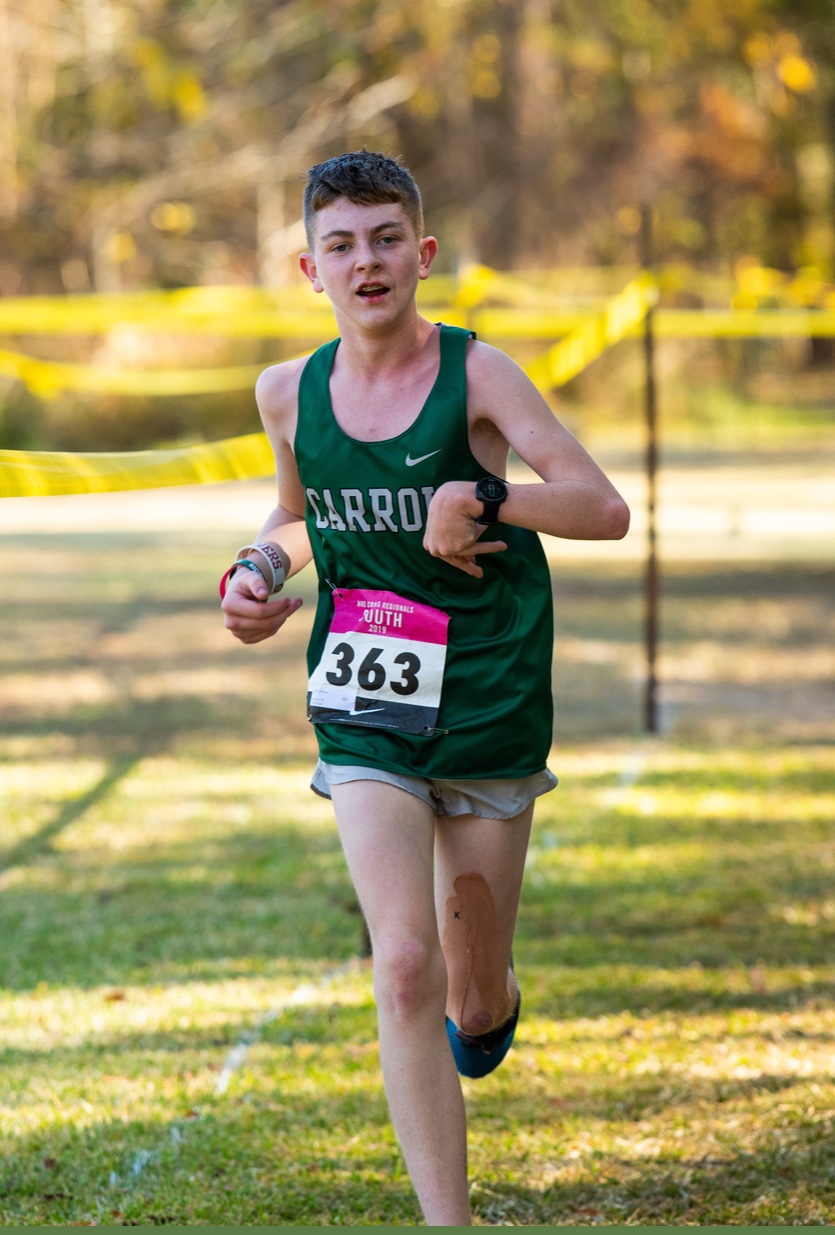 Mitchell and his mom – who admittedly "doesn't run" – trained together for the first Red Balloon Run & Ride, going on regular runs through their Southlake neighborhood.
The event, six months after Mitchell's surgery, was his first race. Children's Health physical and occupational therapists also worked with Mitchell to coordinate and increase mobility in his left leg so he could make it to the finish line.
"Children's Health is his second home," Tonya said. "The physical and occupational therapists there are like family. They've just lived life with us."
Now a high school freshman, Mitchell runs on his school's cross country team, running up to eight miles some days. He pushes himself to keep going farther, keep going faster. And he continues to receive weekly therapy sessions at Children's Health.
"How he continues to run – and on purpose, not because he's being chased – amazes me," Tonya said. "Because it's so much easier to just not do it."
Join Mitchell and his family on April 25 for the reimagined virtual Red Balloon Run & Ride as they take a family run through their neighborhood.