Jun 1, 2020, 10:02:32 AM CDT
Lylah
The neurologist rubbed her hands together, warning Lylah that her hands were cold as she leaned close to tap the palms of the 5-year-old's hot pink-polished hands.
"What about this one?" said Dr. Diana Castro, tapping each of Lylah's fingers on her left hand. "Can you feel this?"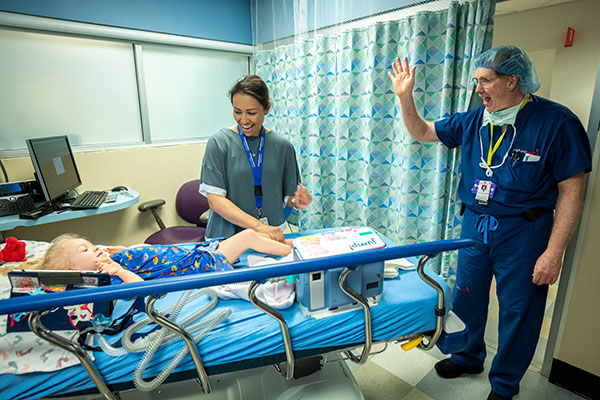 Lylah silently nodded, her eyes locked on the doctor as she rested on a hospital bed.
"What about this one?" Dr. Castro asked again, this time tapping the fingers on Lylah's right hand.
She nodded once more. Lylah knows this pre-operation routine.
She and her parents, Holly and Don, have spent most of her life making the trek from their Michigan home to Children's Health℠ -- at first every other week, now every four months – for a new drug treatment to be injected into her spine.
Diagnosed with Spinal Muscular Atrophy as a baby -- a rare neuromuscular disorder -- Lylah's muscles are weak. She relies on a wheelchair and walker to move. She's had to work to be able to hold her head up, sit on the edge of a bed and wiggle her hands and feet.
Her parents largely credit the research treatment and the clinical team at Children's Health for giving their daughter a chance at life.
For Holly, Lylah's survival depended on this drug research trial.
And the treatment came at a time when the family was desperate for a glimmer of hope.
"I knew it was the only way she was going to live," Holly said. "And I knew if we didn't get in, then that was it."
***
March 21, 2014. Diagnosis day.
Holly and Don don't talk much about it anymore.
"I kept feeling like it was a dream for the first couple of days," Holly said. "It was like I was living in a nightmare -- wake up, this isn't real."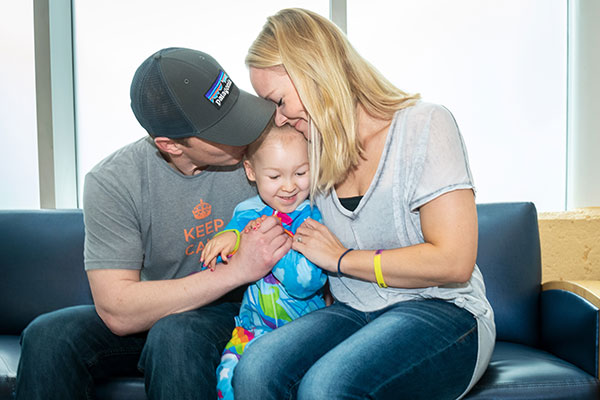 Spinal Muscular Atrophy is caused by a loss of specialized nerve cells – called motor neurons – located throughout the spinal cord and in the part of the brain that is connected to the brainstem. The loss of motor neurons causes weakness and wasting of the muscles that children use for many activities like crawling, walking, sitting up and controlling their heads.
Initially, doctors estimated Lylah had another six months to a year to live.
The severity of the condition shocked Don and Holly.
They had suspected something was wrong when Lylah was about four months old and still weak, barely rolling her head from side to side and struggling to reach her arms up for her toys. She had difficulty sitting up and didn't want to put any weight on her legs.
"She was just limp," Holly said. "We would call her a noodle."
But they never suspected a disease that could be fatal, in some cases.
"We would not accept the diagnosis they gave us," Don said.
The family traveled across the country to other hospitals, hoping for a different opinion and for better news.
Holly joined Spinal Muscular Atrophy groups on social media, which eventually led her to a website with a list of clinical trials and a new study that was accepting babies older than six months for the drug treatment Spinraza (Nusinersen), which is now FDA-approved.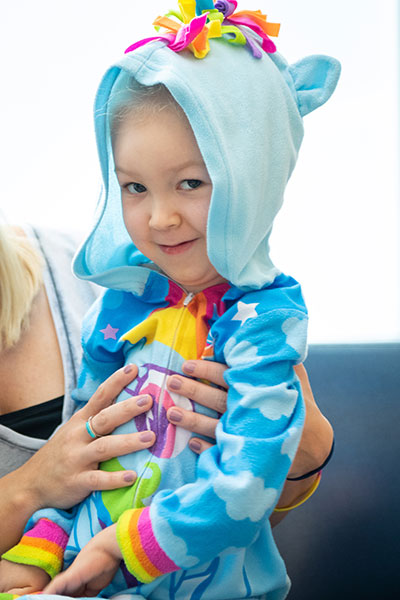 The drug contains a molecule that increases the body's ability to produce a protein called survival motor neuron, which spinal muscular atrophy patients don't produce enough of and is essential for motor neuron health.
Research Coordinator Tammy Ramm currently oversees the studies more than a dozen patients at Children's Health on this drug.
"When we first opened the study, it wasn't FDA-approved. Families from all over were calling, wanting to be able to participate in this treatment for their child," Tammy said. "This is providing therapy for this rare disease when there was none before."
In the last several years, Tammy has seen babies like Lylah, whose arms and legs could barely move, be able to sit up, play and talk.
"We love Lylah the way she is, but this gives her a chance," Don said of the research trial.
In the last several years, Don and Holly have seen Lylah hit milestones they didn't think would be possible after her diagnosis.
Last year, she performed in her first ballet recital and played on a baseball team (the Detroit Tigers is her favorite). She also started kindergarten. And earlier this year, with the help of a new walker, she skated on the ice for the first time like her older brother.
"Children's Health gave us hope for our child when we had no hope," Holly said. "Coming here has changed her life."
***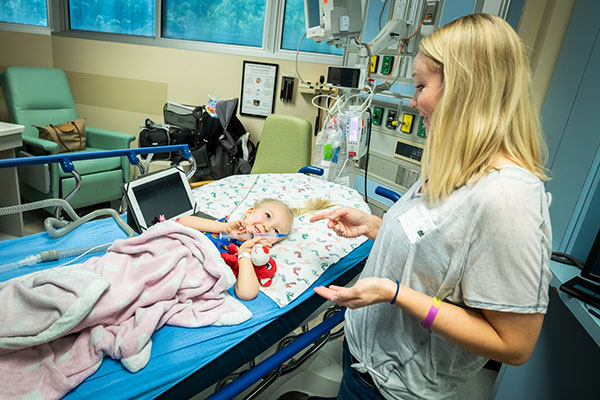 A nurse with a blue cap covering her hair wheeled Lylah down the hallway toward a set of double doors that led to the operating room, pausing by Don and Holly for a quick goodbye.
Time for the next drug treatment dosage.
Don rubbed Lylah's arm, reassuring her the procedure would be quick.
And Holly leaned over for a kiss on the cheek.
"Bye, sweetie. We'll see you soon," she said, stroking Lylah's silky blonde hair swept in a ponytail.
The nurse gave Holly a reassuring smile as she wheeled the bed through the double doors.
"We'll take good care of her."
WHAT YOU NEED TO KNOW ABOUT CLINICAL RESEARCH:
Children's Medical Center Foundation is pursuing vital funding for clinical research by securing gifts to create a permanent endowment. Donations to clinical research help fund ground-breaking discoveries through the Children's Health Clinical Research Program as physicians and scientists seek to better understand the basis of diseases like cancers, and how to best treat them.
In 2019, the Clinical Research Program had more than 1,150 active studies that involved more than 11,500 children – a 55% increase since 2015. In the last five years, donors have given more than $9.7 million to help fund research efforts at Children's Health, but the need continues to grow as operational funds available to support clinical research have continued to decrease.