December 16, 2019
Using Past Experiences, Lori Helps Patients Feel Understood and Cared For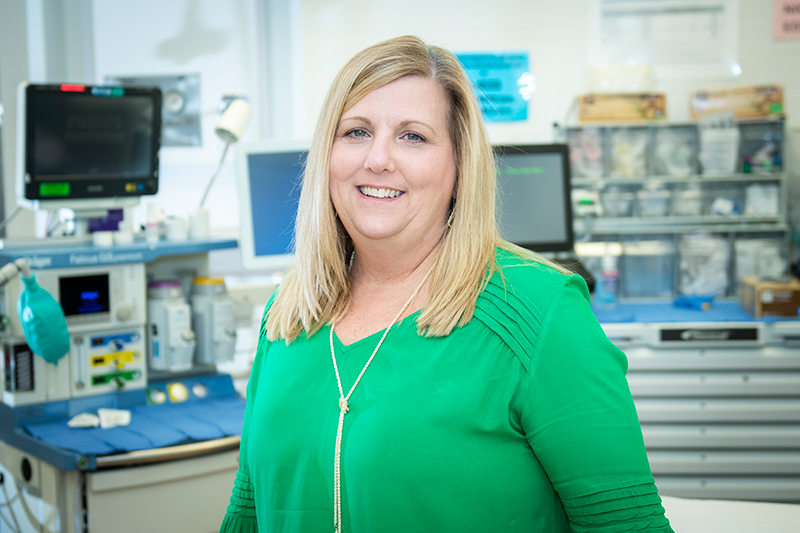 You'll need to jog if you want to keep up with Lori Strohla.
"Are you still with me?" she asked as she raced through a maze of hallways and automatic double doors -- her flats hitting the slick tile with each step -- on route to her office at Children's Medical Center Dallas.
Lori, Senior Director, Perioperative Services, walks like she's running out of time. Because she literally feels like she is when children's lives are on the line.
Clinical teams and their surgical patients count on her to make sure the operating room process runs smoothly from when children arrive to when they are wheeled to recovery. She spends most of her time overseeing contracts for equipment and supplies in the operating room and implementing policies and procedures to ensure the hospital is providing quality care to patients.
"We're in the health care environment, and things don't always go the way we want them to because we're dealing with human beings," Lori said. "But Children's Health goes above and beyond for quality and safety. Out of all the places I've worked, this one does a really good job at it."
Formerly a nurse in the pediatric intensive care unit at another children's hospital, Lori started at Children's Health as a nurse in Acute Care Services at Children's Medical Center Plano. She had taken a year off to work as a school nurse at Frisco ISD while recovering from a yearlong battle with breast cancer.
Within three months, she was promoted to Administrative Supervisor of the Pediatric Intensive Care Unit in Plano.
"I gravitate to leadership. I have a hard time sitting by and not fixing things," Lori said. "Leadership gives me the opportunity to grow and mentor my staff. It's a different aspect than bedside nursing, but it's equally as important."
A mother of five children, her breast cancer diagnosis two decades ago was a "hit in the gut" at the time. But she rallied with her family through a year of chemotherapy treatment that wore her out and a dozen surgeries, including several to remove the tumor and a hysterectomy.
The scar on her chest is her reminder of her strength and continues to impact the way she approaches her job and interact with patients. When a teenage girl, for example, was concerned about her port being visible while wearing her drill team uniform, Lori visited the patient in her hospital room and assured her they could place it somewhere discreet. She showed the girl her own scar left behind from her port decades earlier.
"Having gone through that experience and the surgeries and the chemotherapy and dealing with nurses and physicians, I understand the perspective of the families much better than I did before," she said. "I know exactly what they're going through. I know the fears. I know all of that because I've experienced it firsthand."
The help she and her family received when she was fighting cancer, in addition to her Catholic faith, is a large part of what drives her giving to Children's Health.
She remembers how friends brought meals to their home, mowed their lawn, picked her children up from school and drove her to treatment – after her husband, who is in the military, was transferred out of town.
Now, she's paying it forward.
"By giving, you always receive more than you give," she said. "Through my cancer treatment, I was on the receiving end for so much. I believe in Children's Health. This is the best place that I've ever worked, and I want to support it."
If you'd like to give back to Children's Health in support of patients, family members or your fellow team members, visit wechoosechildrens.com to make a one-time or recurring gift to a department or program of your choice.