Mar 24, 2022, 11:02:12 AM CDT
Leone
There's a trio of superheroes walking around Children's Medical Center Dallas.
They come as Superman, striking tough muscle poses as they wait for their son's chemotherapy appointment.
Sometimes, they come as Captain America. Other times, they're the Incredibles.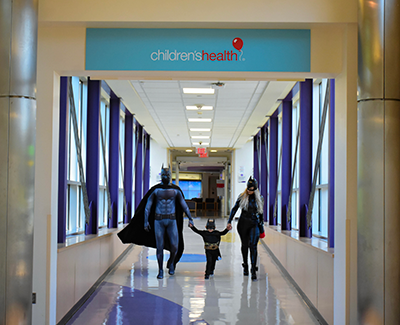 These superhero costumes are the armor Natalia and Dario wear during their youngest son's appointments at the Gill Center for Cancer and Blood Disorders at Children's Health, after he was diagnosed with acute lymphocytic leukemia last summer.
The outfits remind their son, 3-year-old Leone – who they call Leo and loves to play soccer, jump on the couch to music and race down the sidewalk on his scooter – that he's strong and brave, just like a superhero. They also remind him that he's not alone because he has a league of superheroes by his side.
And the outfits remind his parents – Dario and Natalia, a restaurant director at Mi Cocina – that they're strong, too.
At Children's Health, we depend on a league of support to defend and protect our patients. Inspired by the story of Dario and Natalia, all DFW locations of Mi Cocina will be offering a giveback opportunity to Children's Health from April 28 to May 1 to help patients like Leone.
Tell us about your journey. What led you to Children's Health?
Leone was having frequent nosebleeds. At first, we thought it was because of a fall he had while playing, and we took him to the doctor. The doctor told us there wasn't anything to worry about, but the nosebleeds didn't stop. We returned to the pediatrician and were referred to Children's Health.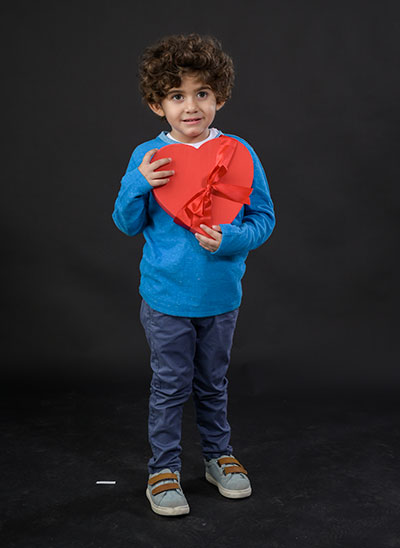 We rode by ambulance to Children's Medical Center Dallas. Once we arrived, everything began to move very fast. We were in shock. Leo was given an IV, and we met a lot of people.
After Leo was diagnosed with leukemia, we couldn't accept it. You never expect something like this will happen to your family.
We couldn't understand why this was happening to him, to us.
Leo had to have surgery to have a port inserted for his chemotherapy treatments. Watching him be wheeled away into surgery was the first time my husband and I felt like our heart was taken from the inside. Letting him go like that and watching the doors close, we knew at that moment that this was our story, and that our circumstances weren't going to change, despite how much we wanted them to.
We call this God's Project because this is something that was given to us, and as much as we don't want it, we knew we had to face it and band together as a family to pull through.
How did the idea to dress up like superheroes for appointments start? What kind of impact has this had on Leone?
The idea came from my husband because he thought it would be a way to make Leo comfortable at his appointments. One day, he came home with one costume and then another. My husband buys all the costumes. So far, we have 10!
The first time, I said to my husband, "Do I really have to wear this? I don't know about this." But he insisted that it would help Leo. Now, Leo feels powerful and strong as he walks into the hospital. Most of the people at the front desk know us as "the dress up people" and will offer to take our photo.
The costumes helped turnaround Leo's outlook on the situation. And they make other kids in the hospital smile, too. We'll hear them say, "Look, mom, that's Superman!" The patients at Children's Health are so brave.
How would you describe the care that your family has received at Children's Health?
Children's Health is one of the best places we have ever been to because of the people who work there. They are very personable, and they want to know you well. From the people at the concierge desk to the doctors and nurses, they care for people's hearts. They really care about how all of us feel – not just Leo.
The nurses will change Leo's diaper, while I'm sleeping next to him. Others will offer to take our photo in our superhero costumes. And sometimes, they dress up like superheroes, too.
That makes a big impact when your child is sick.
How has your experience at Children's Health impacted your lives?
This has been one of the toughest battles that we've experienced, but Leo has shown us that he is very resilient and brave. It's made us learn how to be there for him, and we have grown stronger as a family.
Our lives are not the same anymore. We have grown emotionally and mentally stronger to fight any obstacles. And all of this is because of Leo.
He showed us that he's more capable than we think. He's still running and jumping. Leo showed us that despite cancer, you still can have a life.