Mar 24, 2022, 11:02:12 AM CDT
Leone
Diagnosis: Acute Lymphocytic Leukemia
There's a trio of superheroes walking around Children's Medical Center Dallas.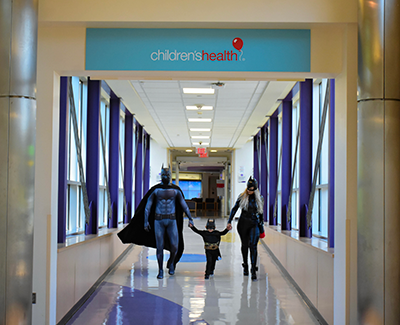 They come as Superman, striking tough muscle poses as they wait for their son's chemotherapy appointment.
Sometimes, they come as Captain America. Other times, they're the Incredibles.
These superhero costumes are the armor Natalia and Dario wear during their middle son's appointments at the Pauline Gill Center for Cancer and Blood Disorders at Children's Health, after he was diagnosed with acute lymphocytic leukemia in 2021.
The outfits remind 4-year-old Leone – who they call Leo and loves to play soccer, jump on the couch to music and race down the sidewalk on his scooter – that he's strong and brave, just like a superhero. They also remind him that he's not alone because he has a league of superheroes by his side.
And the outfits remind his parents that they're strong, too.
"Leo feels powerful and strong as he walks into the hospital in his superhero costume. Most of the people at the front desk know us as "the dress up people" and will offer to take our photo," Natalia said. "The costumes help turnaround Leo's outlook on the situation. And they make other kids in the hospital smile, too. We'll hear them say, 'Look, mom, that's Superman!'"
***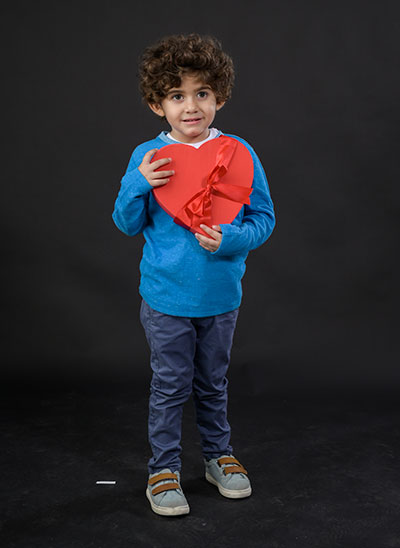 For Leo, it started with nosebleeds that came and went. His parents thought it was from a fall he had while playing.
But they didn't go away.
In July 2021, his pediatrician referred them to Children's Health, where Leo's leukemia diagnosis was confirmed, and his care at the Gill Center began.
"Watching him wheeled away into surgery was the first time my husband and I felt like our heart was taken from the inside," Natalia said. "Letting him go like that and watching the doors close, we knew at that moment that this was our story, and that our circumstances weren't going to change, despite how much we wanted them to."
A leader in patient care, treatment, research and training in pediatric oncology and hematology, the Gill Center brings national and international expertise through its affiliation with UT Southwestern and the Harold C. Simmons Cancer Center, setting it apart from other sites for pediatric cancer care in the region.
From common blood disorders, such as sickle cell anemia, to the rarest forms of cancer, the Gill Center continues to offer comprehensive evaluations, innovative treatments, long-term care and access to the latest clinical trials.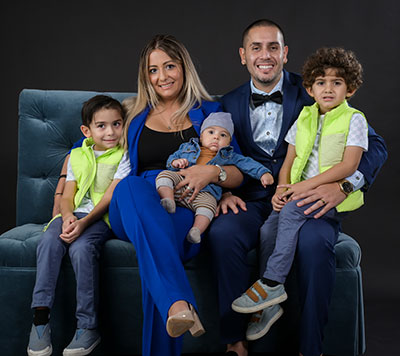 "After Leo was diagnosed with leukemia, we couldn't accept it. You never expect something like this will happen to your family," Natalia said. "But Children's Health is one of the best places because of the people who work there. From the people at the concierge desk to the doctors and nurses, they care for people's hearts. They really care about how all of us feel – not just Leo."
Nurses consoled Leo, while Natalia slept next to him in his hospital bed. They decorated Leo's room and put cheerful stickers on the windows. And when Leo was feeling well enough, they kicked a soccer ball back and forth. Others took photos of the family in their superhero costumes. And some even dressed up like superheroes, too.
"Those little things make a big impact when your child is sick," Dario said. "And while they're caring for his body, we're helping care for his mind. Now, Leo knows that he's strong. That's why he makes the muscle poses."
Patients, like Leo, and their families continue to receive incredible psychosocial support through dedicated programs like child life, social work, spiritual care, language interpretation and more, made possible thanks to philanthropic support. These programs -- which provide coping strategies and help make life easier for those experiencing the unthinkable -- come at no cost to our families. And that's because of philanthropic efforts that sustain and grow these special programs.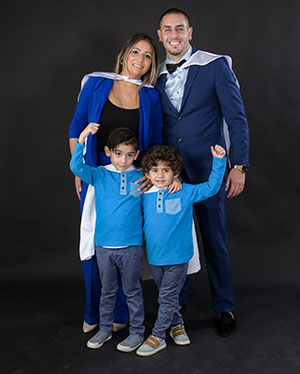 Philanthropic gifts and resources have been and will continue to be crucial to the advancement of the Gill Center, supporting clinical and research excellence, along with top-notch support programs for our patients and families.
"Leo has shown us that he is very resilient and brave, and this experience has made us learn how to be there for him," Natalia said. "Leo is winning his battle, but we're also winning the battle with him."
***
More than a year into his cancer journey, Leo continues to visit Children's Health regularly for appointments, and he takes daily chemotherapy treatments at home.
While his journey is not over, he has a head of curly hair that has grown back. He's still running, jumping and playing soccer. And now, he has a new baby brother named Maximo.
And the family continues to dress up as superheroes, counting almost a dozen different costumes.
"Our lives are not the same anymore. We have grown emotionally and mentally stronger as a family to fight any obstacles. And all of this is because of Leo," Natalia said. "Leo has shown us that despite cancer, you can still have a life."