Mar 25, 2020, 10:47:14 AM CDT
Kepley
They couldn't hold or see her immediately after she was born.
Arriving at 24 weeks and five days, Kepley James entered the world at 1 pound and 10 ounces. Still so small that you could see her lungs through the skin on her chest.
She was rushed to an isolette, where a Neonatal Intensive Care Unit team was waiting to intubate her. A tangle of tubes and cords covered her tiny face.
Her parents held their breathes as a nurse in a mask and cap approached, a vision of only eyelashes and bangs.
"You have a beautiful baby girl," she said as they wheeled Kepley to the NICU.
It would be several hours before Hollis and Courtney would see their baby for the first time and another eight days until one of them could hold her.
"I just kept thinking, 'She has to make it,'" Hollis said. "We'd worked so hard for her. I just had a good feeling about it."
***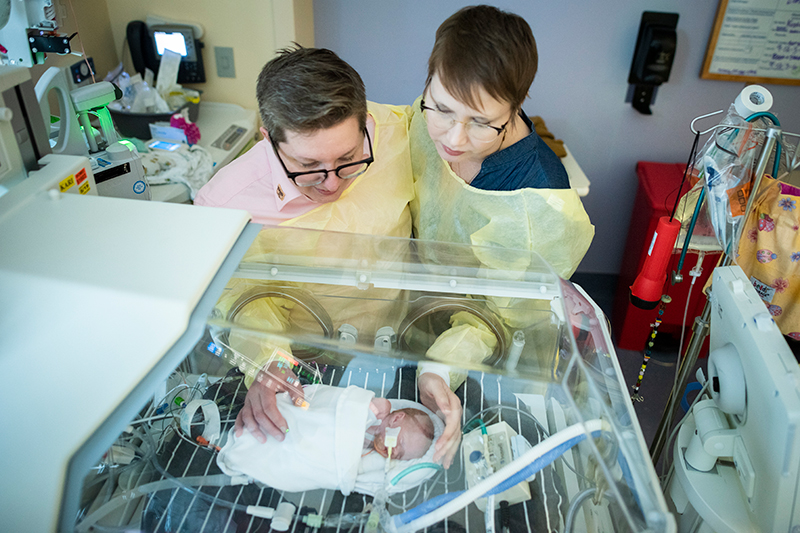 Before she met Courtney, Hollis planned to have a baby on her own.
She'd already picked out the perfect name: Kepley, after the first woman in her family to graduate from college.
Hollis and Courtney began trying to get pregnant before their wedding on Dec. 31, 2016.
But the journey was a bumpy rollercoaster ride of doctor appointments and hormones – followed by two disappointing rounds of intrauterine Insemination and another two unsuccessful rounds of in vitro fertilization (IVF).
"It's costly financially, but it's also costly emotionally," Courtney said. "And then we switched to my eggs after a while because we were wasting time."
A 39-year-old cervical cancer survivor, Hollis knew her pregnancy would be high risk. She and Courtney planned for an early delivery, but they didn't anticipate their baby would come so soon.
And when Hollis noticed bleeding at 21 weeks, she wasn't worried. She was put on bedrest, and at 24 weeks into her pregnancy, typed out a victorious Facebook post: "We made it to viability. Hallelujah. We're so excited."
And then late that night, Hollis began leaking amniotic fluid, putting she and the baby at risk for infection.
Five days later, Kepley was born at a local hospital and later transferred to a higher level NICU at Children's Medical Center Dallas, the flagship hospital of Children's HealthSM.
***
Hollis and Courtney received the call in the middle of the night: Clinicians at a local hospital had been struggling to insert a central venous line in Kepley, and she would need to be transferred to Children's Health for emergency surgery.
When team members of the Children's Health transport team arrived, they were quickly able to place an intravenous line in Kepley's forehead.
She looked like a little unicorn.
"The Children's Health transport team was amazing," Courtney said. "They were calm and confident, but they weren't dismissive of us. They really helped calm us down. That's a skill."
And as they wheeled Kepley off into the ambulance to Children's Medical Center Dallas, Hollis noticed a tiny purple pacifier in Kepley's mouth.
"And I remember thinking, 'It was her first pacifier, and I didn't get to be there to give it to her,'" Hollis said. "Those firsts were always really special. I didn't even know she was able to suck on a pacifier."
***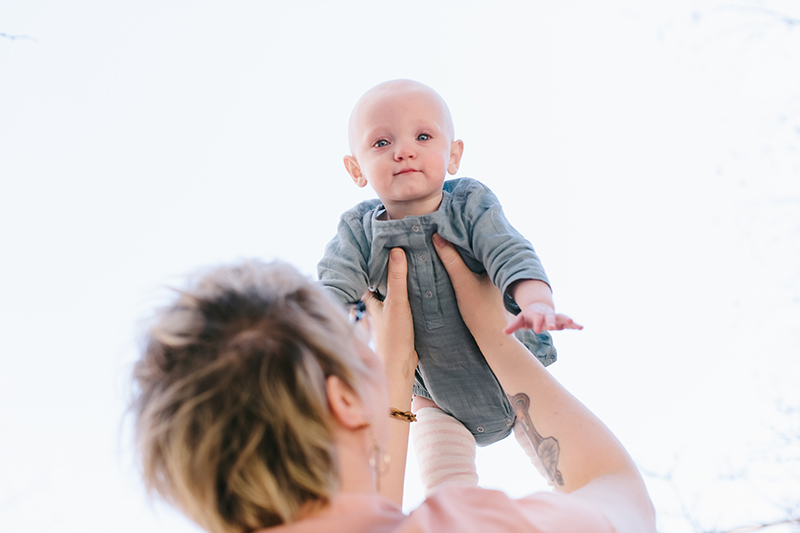 About four months after she was born, Kepley was discharged from Children's Health.
But their little girl with big blue eyes and curious stare was still tiny, weighing less than five pounds. She also required supplemental oxygen and came home with a beeping monitor that regularly false-alarmed.
"Going home, people think it's over, and it's so not over," Hollis said. "All of a sudden, we're doing it on our own, and it's scary. The ride home is scary. It's scary for any parent, but when you're thinking, is this alarm for my baby's heart real? Do we need to pull over? Is she turning blue? It was hard to get used to that."
A year later, Kepley is crawling and exploring the world around her, knocking over desk trashcans to peek at their contents and putting a leaf teasingly close to her mouth until Courtney takes it away.
But Hollis and Courtney haven't forgotten where Kepley's story began, and the hospital and people who became close friends.
This is what drives their giving to Children's Health and support of the NICU and team that cared for their daughter during her first months of life.
"It's like this triumph because Kepley can be outside, and she's not on oxygen," Courtney said. "We can get out and about with her, and that's because of the work that was done at Children's Health."