August 1, 2019
Jacob
Friends and neighbors of PGA golfer John Senden used to ask when they'd see him how to improve their golf game.

Now, they want to know how his son is doing.
Jacob – who dreams of becoming a golfer like his dad, a fashion designer or an aerospace engineer – lives with an inoperable tumor lodged in his brain.
Two years ago, doctors at Children's Health℠ diagnosed Jacob with an aggressive, malignant brain tumor.
The pain started as a headache. Jacob, then 13, was tired and lethargic. When it throbbed, he'd lay his head on his desk at school.
But the faint headache grew to a pounding one so severe it weakened his balance and curtailed his appetite.
Jacob couldn't stand. He couldn't eat. He couldn't talk.
His mom, Jackie, rushed him to the emergency room at Children's Medical Center Plano.
A PET scan revealed a tumor about the size of a golf ball lodged in the center of Jacob's brain near his optic nerve, blocking fluid to the rest of his body.
"When we first got the news, I thought, 'No way, that can't be right,'" John said at their home in North Texas. "I was upset because it wasn't me, it wasn't Jackie, it was our son. And I remember thinking that was unfair."
Clinicians sped Jacob in an ambulance to Children's Medical Center of Dallas with Jackie riding alongside him and John following behind.
A neurosurgeon met the family at the hospital and explained he would need to drain the fluid from Jacob's brain. He estimated their son had about two hours to live.
And every minute was critical.
"The neurosurgeon made us feel calm because he had a plan. He told us what he was going to do, and then he said, 'We've got this,'" John said. "That made us feel better right away."
In late April 2017, Jacob began treatment – which included six months of chemotherapy and six weeks of radiation – at Children's Health to shrink the tumor from golf ball-sized to smaller than a pea.
"The hospital was almost a safeguard for us because the nurses were so comforting and the doctors were so comforting," John said. "The whole experience made us feel good, even though it was traumatic."
While at the hospital, Jacob distracted himself by visiting Seacrest Studios to play interactive games such as bingo or watching the model train chug by a replica of the Dallas skyline.
But most of the time, he was too sick to leave his hospital room. The family would stare at the traffic piling up along Interstate 35 from the window, thankful Jacob's body was responding to the treatment.
"It hasn't been easy, but there are plenty of kids worse off than Jacob you discover sitting in the hospital," Jackie said.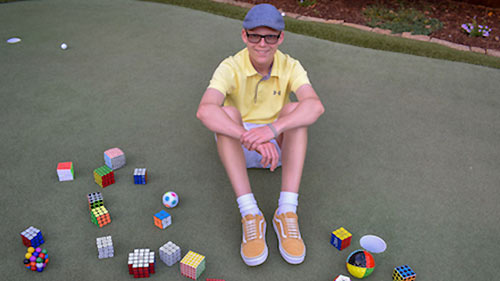 In his bed, Jacob would fiddle with a drawstring backpack filled with Rubix's cubes, quickly sliding the toy without looking at his hands from left to right and up and down as he talked.
He can solve the puzzles in a matter of seconds, clocking 27 seconds as his fastest time.
Friends and family mailed Rubix's cubes to his hospital room in various shapes, sizes and colors – from one shaped like a panda bear to others that were round and one in the form of a pyramid.
Golf players at the 2017 AT&T Byron Nelson tournament, which John skipped that year to help care for Jacob, wore Rubix's Cube patches on their caps in support of the Senden family.
"Even though they're always difficult, they're also entertaining. It's a challenge to figure them out," Jacob said of the Rubix's Cubes.
Jacob will have to continue to monitor the tumor for the rest of his life.
Currently, he visits clinicians at Children's Health every three months to ensure the tumor isn't growing. Eventually, that will drop to six months, then once a year and later every two years.
"It was a scary time, but Children's was a good place to be because everyone was so positive," Jackie said.
Choose Children's Health
Jacob and his family continue to live their lives to the fullest as ambassadors and supporters of Children's Health through their involvement with Children's Miracle Network.
During this season of giving, join Jacob in choosing Children's Health by donating, advocating or volunteering.