Apr 21, 2020, 10:47:24 AM CDT
Harrison
Gabrielle climbed into her son's hospital bed, stroking his curly blonde hair that she'd trimmed herself earlier that day.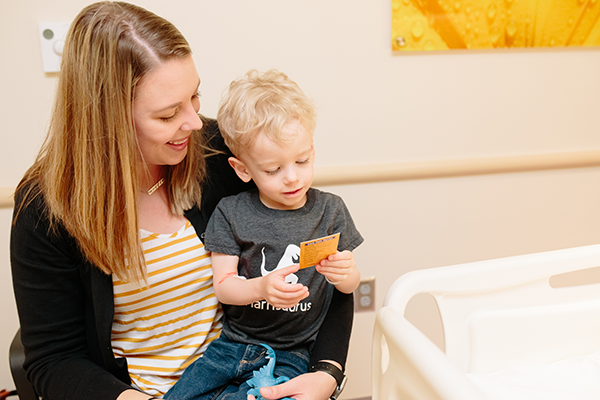 She held him close as they began to drift to sleep, amid beeping monitors and dozens of stuffed dinosaurs (Harrison's favorite!), including an oversized T-Rex tucked by his side.
Day No. 64 at Children's Health.
"I'm so proud of you, Harrison," she told her 3-year-old son, as his eyes fought to stay open.
"I'm proud of you, too, mommy," he replied.
Gabrielle reached for her phone and typed a quick post to update friends and family, finishing the message with a photo of Harrison cross-legged in the oversized hospital bed at Children's Health℠ with his fresh haircut.
"This boy melts me every day," she wrote of her son who loves to wiggle his eyebrows up and down and roar like a dinosaur.
"I'd live in this hospital until the end of time to keep him if I had to."
Because as she typed this, Harrison's heart was failing.
And this room, with its cold, tile floor and fluorescent lighting, had become the family's temporary home during a global pandemic as Harrison waited for a heart.
***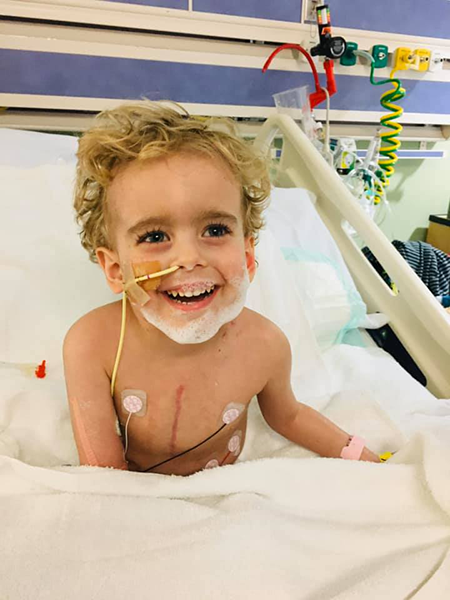 The wheezing started a couple months after Harrison's first birthday.
Concerned, Gabrielle took him to his pediatrician in their then-home of North Carolina. He diagnosed Harrison with a virus and prescribed an inhaler.
But Harrison's wheezing worsened, eventually developing into grunting. Harrison's lungs were filled with fluid, and he had to hold his breath to clear them.
He was rushed to the emergency room, where a test confirmed he was in heart failure and was airlifted to a hospital more than two hours away.
Harrison was admitted to the pediatric intensive care unit and eventually diagnosed with dilated cardiomyopathy – a disease that affects the heart's ability to pump blood to the rest of the body.
His parents, Gabrielle and Bobby, watched for almost a month as their son fought for his life.
"We discussed medicines, transplant and the possibility of death," Gabrielle said. "My husband and I took turns showering at the Ronald McDonald House. We slept in the ICU each night, and we attended rounds each morning.
But we knew we had to do everything we could to get closer to a great hospital."
Gabrielle and Bobby wanted Harrison to have a chance with his own heart and preferred that he not immediately be listed for transplant. They researched hospitals around the country and other treatment plans, advocating for Harrison to participate in a clinical research study to see if a drug that was already FDA-approved to treat adults with cardiomyopathy could successfully help kids. (The study has now ended, and the drug has been FDA approved for children 1 year and older.)
In September 2018, they moved to Dallas for treatment at the Children's Health Heart Center. They were impressed with the level of care offered by the clinical team and were prepared to list Harrison for transplant if necessary, but everyone agreed he deserved a chance with his own heart.
They also were given the option to enroll Harrison in the research drug study.
"We agreed this drug could not only be a life-saver for him, but for other children suffering from cardiomyopathy," Gabrielle said. "And we knew we had to take advantage of the opportunity to improve his heart function before transplant was his only option."
Research Coordinator Maria Martinez, who helped oversee the study, has been with the family since the beginning, accompanying them on their hospital visits, bringing a toy for Harrison to receive after his blood draw and playing with him and his plastic sharks and dinosaurs while they waited in the hospital room for the doctor.
"We've never doubted for a second that we made the right decision coming to Children's Health. We're really comfortable here," Gabrielle said in an interview last year.
"We know it could be tomorrow that Harrison wakes up and is in active heart failure again and could have to be listed for transplant. But we wanted to give him a chance."
***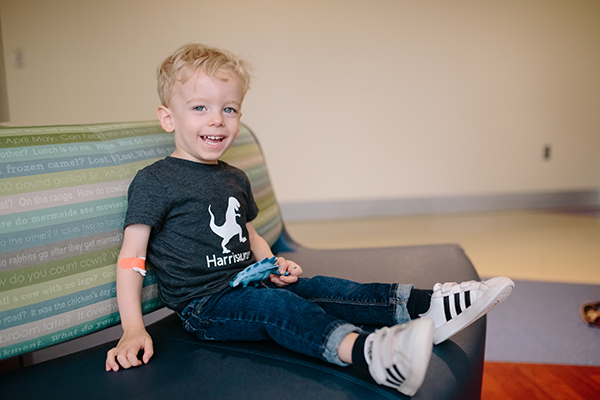 In April – one day after the two-year anniversary of Harrison's cardiomyopathy diagnosis – Harrison was placed on the heart transplant list.
"We have a lot of emotions," Gabrielle wrote in a Facebook post on April 7. "It's wonderful that he is listed again, but I can't help feeling a pit in my stomach knowing another child has to die so mine can live."
Harrison was already admitted to Children's Medical Center Dallas, the flagship hospital of Children's Health, before the early onset of the COVID-19 virus in North Texas.
In January, before his last hospital visit for the research drug study, Gabrielle suspected Harrison was in heart failure again.
She packed a bag before driving to his appointment -- knowing they might not be coming home that day -- and braced herself for the news she'd spent the last two years preparing for and fighting against:
Harrison would need a new heart.
And as the outside world began to change, so did her family's world.
A left ventricular assist device the size of an AA battery was implanted in Harrison's heart to help pump blood to the rest of his body. He's been intubated and sedated. At one point, he went into kidney failure.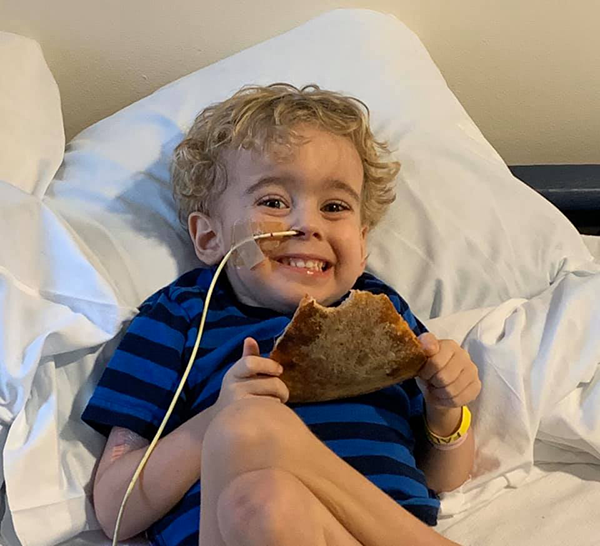 One day in the Intensive Care Unit, Gabrielle snapped a photo of Harrison surrounded by his army of machines. Tubes covered his face and chest. The outline of his ribs poked through his skin. The photo makes her sick to look at.
And that night, he coded.
"It's a scary, scary time," Gabrielle said. "It's really weird right now. I feel safe at Children's, but yes, I'm worried about this virus. You would be too if your kid was sick like this."
For the last two months, the family has watched the hospital shift as it's implemented additional safety precautions, and people began to self-isolate to slow the spread of COVID-19.
The hallways are quieter as elective procedures are postponed. Signs are posted in hallways and by the elevators reminding people to stay six feet apart and wash their hands. Red tape markers spaced out on the cafeteria floor keep people separated while waiting in line. Pet therapy dogs that often provide emotional support to patients are temporarily at home.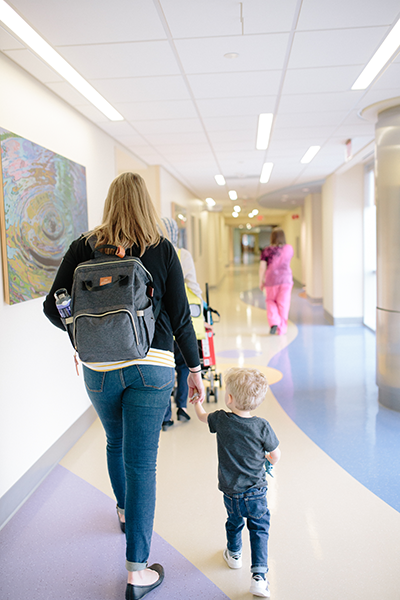 Sometimes, Maria comes by Harrison's room and waves, but she doesn't come in.
"It's overwhelming. All we can do is limit his exposure to unnecessary people and keep ourselves clean," Gabrielle said. "But when you're living in the hospital, you're just trying to survive."
And right now, survival is the little things.
Gabrielle is grateful for nights when she can take a warm bath at home while the rain outside hits the windows.
She's grateful for a little boy who is now eating pizza, roaring like a dinosaur again and saying his usual silly things like "I'm fine" and "that was a close one."
She's grateful for boring days.
And she was grateful when her phone rang from a number she didn't recognize on a recent Thursday as she was getting ready for bed.
Harrison's heart was here.