Jan 30, 2020, 2:41:02 PM CST
Elli
Elli was theirs. Officially theirs.
Almost a year of waiting weighed on these minutes beneath fluorescent lights in a Dallas County courtroom.
With their right hands raised, Jennifer and Angie promised to protect this baby and care for this baby.
They promised to love her.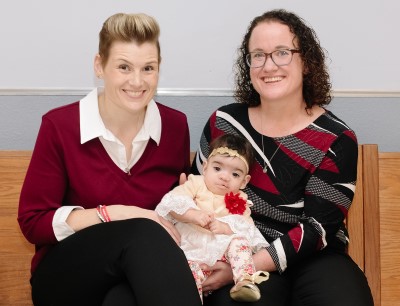 "Congratulations," the judge said, as Jennifer, holding a wiggly Elli in a gold headband and lacy dress, discreetly wiped tears from her eyes. Not one to typically show her emotions publicly, she said this day was equivalent to the Christmas of her childhood.
The three turned to face the courtroom for their first family photo.
The camera shutter snapped.
Click, click.
"You got it?" the bailiff asked.
***
Elli was two days old when Jennifer and Angie met her on Nov. 17, 2018. She weighed four pounds, five ounces and had a head of wispy dark hair.
The call announcing she had arrived came one day earlier as the couple sat in a movie theater watching previews before the showing of "Instant Family," a comedy-drama about foster care adoption.
"Our adoption counselor said, 'The birth mom wants to meet you tomorrow. This doesn't normally happen,'" Jennifer said, replaying the conversation almost a year later.
Jennifer and Angie had waited five months for this call, but they had waited years for a baby.
Together for about a decade, after meeting when they played on opposing softball teams, Jennifer and Angie first tried to have a child four years ago via intrauterine insemination. But the procedure wasn't successful.
Jennifer is adopted and Angie's brother also is adopted, so the couple was open to bringing a child who wasn't biologically related to them into their family. And they were open to almost any child, checking all the boxes for race and nearly all of them for medical conditions.
They wanted a kid to love.
But they were nervous as they walked into the neonatal intensive care unit with the birth mother to meet Elli for the first time.
"What if I don't connect with her?" Jennifer remembers thinking. "Or what if I'm not sure?"
As they peered over the isolette in the NICU, they saw past the crooked smile of Elli's cleft lip and the congenital heart defect that doctors initially thought wasn't severe.
"She was beautiful to us despite her medical issues. Once we met her, we were done," Angie said.
"It was instant love."
***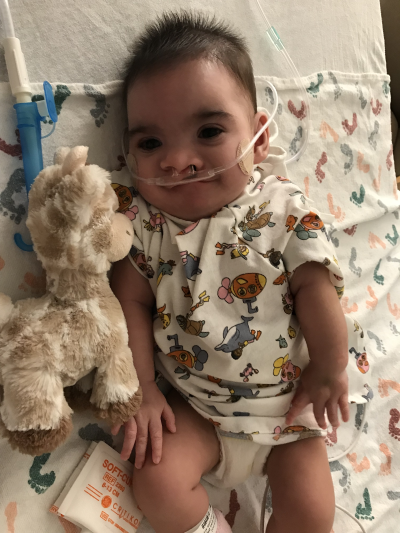 Elli was almost two months old when Jennifer and Angie took her home for the first time.
About a month later, they noticed signs of heart failure.
Elli was gaining weight slowly, had a heart rate of 160 and a high respiratory rate.
But the biggest clue was the sweating when she ate.
"I said, 'Oh gosh, do you think she has diabetes, too?'" Angie said. But Jennifer, a nurse and former high school teacher, feared it was her heart and called the cardiologist.
After receiving numerous recommendations, the couple first came to Children's Health℠ for Elli's heart catherization -- a minimally invasive diagnostic treatment that involves passing a catheter through the vessels supplying blood to the heart to test her heart function.
"Based on that experience, we moved all of her medical care to Children's Health," said Angie, who serves on the board of the Texas Chapter of the Pediatric Congenital Heart Association. That included care for gastrointestinal issues and cleft lip and palate. "The doctors were amazing. They sat down and talked to us and were very empathetic to the kind of news they had to share."
Elli had a small ventricular septal defect -- a hole in the wall separating the ventricles of her heart that doctors expect to eventually close.
But she also had an atrial septal defect -- a hole in the wall between the two upper chambers of her heart. And for Elli, it meant practically her whole wall was missing.
The only option was open heart surgery at almost six months old.
And the procedure needed to happen quickly because Elli wasn't gaining weight.
A complication during the surgery with her pulmonary artery kept her on oxygen at Children's Medical Center Dallas for three weeks.
During that time, a Children's Health music therapist came to visit Elli in her room, playing a ukulele and soothing her with a lullaby. The baby kicked her feet and wiggled her arms as the therapist leaned over her crib, smiling softly.
And Elli smiled back for the first time since surgery.
"There is a level of true care at Children's Health," Angie said. "The doctors, nurses and all the staff truly care about the patients, which is really comforting and makes it feel more like a family."
***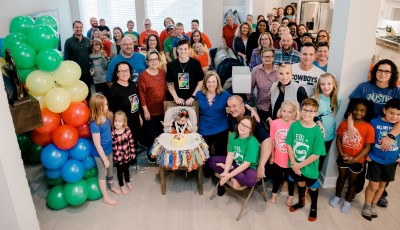 Jennifer and Angie took deep breaths and leaned in to blow out the candle.
One candle for one little baby's first birthday.
Jennifer dabbed a bit of yellow frosting on Elli's lips for her first taste of sugar.
That Sunday in early November was Elli's first birthday party. But it was also a celebration for Jennifer, Angie and everyone in their circle.
The table of little sandwiches, chips and sherbet punch celebrated an adoption ceremony that legally made Elli their daughter. The party also marked a year of lawyers, legal proceedings, doctor visits and surgeries, which aren't over for Elli.
A month earlier, the couple had waited at the Specialty Center at Children's Medical Center Dallas for a check-up following a surgery to repair Elli's cleft lip.
There, Angie bounced a cooing Elli on her knee as Jennifer leaned in to give her a kiss on the cheek.
"Hi, goose!" Jennifer said. "Can you say mamma?"
This spring, Elli will have another surgery to repair her cleft palate. And she'll continue to have surgeries throughout the course of her life to repair her palate and treat her congenital heart defect.
At the top of the stairs in Angie and Jennifer's home hangs a giant portrait of Elli before her lip repair surgery – shirtless, with a crown of flowers on her head, proudly displaying their daughter's cleft lip and wide smile.
Angie's dad, Ed, points to the photo as he hugs friends entering the birthday party.
"The people at Children's Health have been amazing," he said. "I really thought I was going to miss that crooked smile, but she looks incredible."
***