September 29, 2021
Eli
Story Update - October 2021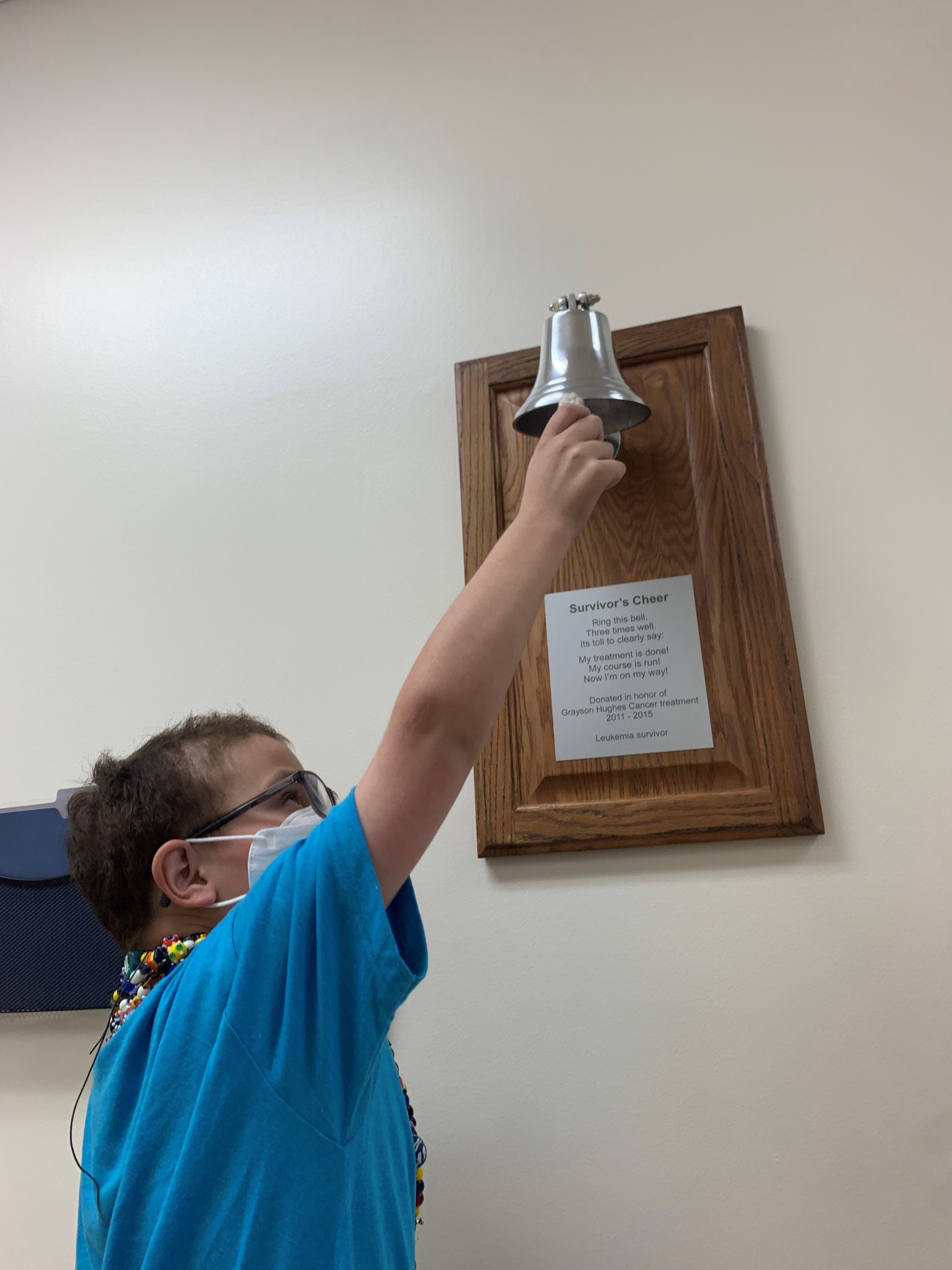 Eli stood on his toes, reaching for the silver bell on the wall.
"Are you ready?" a nurse asked him.
Eli grabbed the rope hanging from the bell's center and swung it back and forth, as a crowd of doctors and nurses cheered at Children's Medical Center Plano in late June.
The bell's chimes echoed down the hallway, signaling the long-awaited end of Eli's cancer treatment.
His parents, Phil and Susan, snapped photos and video, and they thought about how many years they had waited for this moment.
"Early on, when we were still kind of deer in headlights after his diagnosis, we saw a young boy ring the bell at one of our first clinic appointments," Phil said. "We were happy for him, but at the same time, it felt like such a long way off for us."
Eli was six years old when he was diagnosed with acute lymphoblastic leukemia, after he woke up crying one morning in February 2018 with a sore arm. For more than three years, he's endured aggressive rounds of chemotherapy treatments, steroids and monthly spinal taps at Children's Health℠.
In August, doctors removed his heart port, and his parents let out a sigh of relief.
"That really signaled that everything was done because he couldn't remember a time when that port wasn't in his chest," Phil said.
Eli, now 10 years old, will continue to be monitored monthly by Children's Health team members, with visits becoming less frequent as his scans remain positive. In August, he started fourth-grade in-person, after years of remote learning, and he has dreams of being a video game designer when he grows up.
"He feels like a regular kid now," Phil said.
And in the meantime, Phil has been scheduling all the family vacations they missed over the last three years -- including a trip to Disney Land Park in October, Walt Disney World Resort in November and Disneyland Paris in the spring.
"We're so thankful to the team at Children's Health, who treated Eli with such empathy, compassion and love," Phil said. "You can tell this is not just a job to them. They're making a difference, and they're heroes to us."
Original Story - December 2019
"I want Eli to have a normal life," Eli's dad said. "And the only thing I want to be different about him is the scar on his chest, which is a badge of honor for going through what he did."
Eli Jacobson hadn't eaten a corn dog in years.
But in the middle of the night one year ago, the then-6-year-old woke up craving one.
And he needed the hot, crispy junk food right then.
"He marched into our bedroom and said, 'I want corn dogs,'" Eli's dad Phil Jacobson said. "And my wife said, 'Honey, you haven't eaten those in years. We don't have any.' And Eli said, 'I think you do.'"
The family now laughs at the memory. But last year, Phil and his wife, Susan, were too exhausted and scared to find it funny.
Their goofy, curly-haired boy -- who loves s'mores and dressing up with Yoda ears and a light saber -- was craving corn dogs as a side effect of cancer drugs. And the family was relying on clinicians at Children's Health to save his life.
"There's nowhere else I would have considered going to take care of him," Phil said.
'He's tough, very tough'
Eli was diagnosed with acute lymphoblastic leukemia at Children's Medical Center of Dallas, the flagship hospital of Children's Health, after he woke up crying one morning in February 2018 with a sore arm.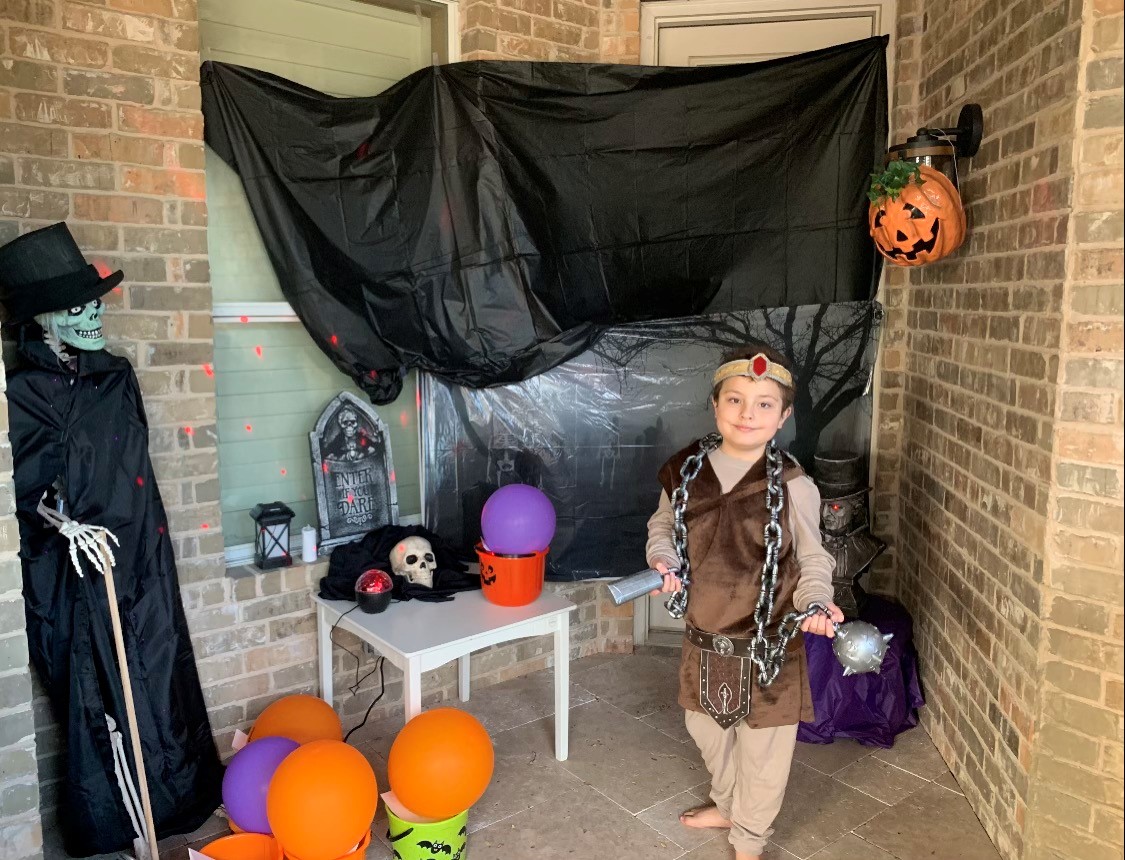 The disease meant a routine of chemotherapy medicine and steroids.
The drugs also brought on uncontrollable cravings for Eli to the point of tears. Corn dogs – middle of the night corn dogs. Garlic bread with every meal.
"He wasn't himself at all during that time. He was miserable," Phil said. "And if he wasn't miserable, he wanted to eat something."
One day, Eli came to Phil with a fistful of curly, light brown hair and asked to buzz off what was left.
Phil and Susan smothered the top of their son's shiny, perfectly round bald head with kisses.
"He's tough, very tough," Phil said. "That's been good for us."
A life-saving find
The diagnosis shocked the family. Phil and Susan initially thought when Eli woke up crying with a sore arm that maybe he had slept on it funny. Or maybe it was growing pains.
"You keep hoping maybe it's wrong," Susan said of the diagnosis.
When his parents first took him to Children's Health, doctors found a massive infection on Eli's right arm, surgically removed it and discharged him.
But a couple days later, an employee at Children's Health called, asking the family to bring Eli to the emergency room.
A pathologist, who had been out of town over the weekend, had looked at their son's bloodwork and noticed an abnormality.
"We think back now, and it was the thoroughness of that pathologist -- who wanted to doublecheck after all doubt had been removed -- that saved Eli's life," Susan said.
New kind of normal
A couple weeks after Eli's diagnosis, the family celebrated his 7th birthday at home, alone.
"We used to be a family who loved to go out to eat and travel. And suddenly, all of that was gone. You can't even go to McDonald's," Phil said. "Every weekend is something here at home."
They turned their Frisco home into a fortress against germs.
Family members and friends keep their shoes in a pile by the front door. At the entrance, there is a bottle of Purell hand sanitizer to rub on when entering the house.
Eli's older sister, Sara, 9, had to find a new home for her bearded dragon pet lizard -- a birthday gift from her parents the summer before -- because of the reptile's salmonella risk to Eli.
In the first couple weeks after Eli's diagnosis, Phil canceled a family trip to Aulani, a Disney resort and spa in Hawaii.
Every call to an airline or hotel was a blow, forcing him to relive Eli's diagnosis and his family's new reality.
"I just wanted to fast forward through that first year," he said.
Moving forward
The family is now in the second year of Eli's treatment.
Each night, Eli, now 8, takes chemotherapy medicine mixed with applesauce that his mom spoons into his mouth while he sits on the living room couch and watches a show on his iPad. For a week every month, he also takes steroids.
And once a month, he visits a Children's Health specialty center in Plano for a check up.
"We feel extremely comforted with the doctors at Children's and so well supported by the Child Life and nursing staff," Phil said.
Last year, Eli attended Camp Esperanza -- a summer camp for kids treated at Children's Medical Center of Dallas -- and plans to return this year. And last fall, the family participated in Children's Oncology Family Retreat, which brings parents, patients and siblings together to meet each other and share their experiences.
"That was such a healing moment for us," Phil said. "And we wouldn't have known about any of it if it wasn't for Children's."
The Jacobsons still must live under some restrictions. The family can't travel out of the country and can only visit places within an hour of a doctor-approved hospital.
In January, Eli returned to school at Hosp Elementary in Frisco ISD, where he is in first grade.
"I want Eli to have a normal life," Phil said, sitting on the couch with his family on a Friday afternoon in April. "And the only thing I want to be different about him is the scar on his chest, which is a badge of honor for going through what he did."
Then Eli whispered to Susan and asked her to cook him a corn dog for dinner.