Jul 1, 2022, 9:38:16 AM CDT
An adventurer and an athlete
Diagnosed with cerebral palsy, the team at Children's Health supported Edison to 'be the boy he wants to be'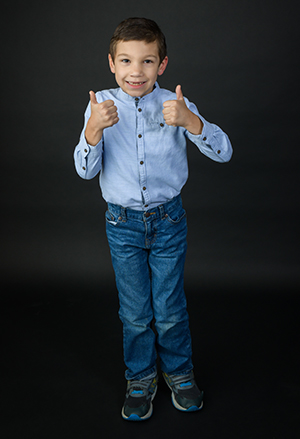 If you meet 7-year-old, Edison, he will likely test your knowledge of computer coding (he attends a STEM-focused elementary school) and share his most recent plans for Lego structures.
He probably won't mention that he has cerebral palsy, a neurodevelopmental condition that impacts his movement, posture and muscle control.
The diagnosis doesn't control his life. He's too busy playing soccer and football, scoring on the latest video game and dreaming of being a firefighter.
"Edison is all boy. He likes anything to do with sports, building and tools," his mom, Christi, said. "He's also very clever and social. He's never been afraid to meet new people. I love his confidence."
'The best hands:' Edison's mom turns to Children's Health
Edison was born at a local hospital at just 26 weeks. The doctors were unsure if his tiny lungs and heart were strong enough to make it on their own.
They debated putting him on extracorporeal membrane oxygenation (ECMO), a machine that takes over for the heart and lungs. He also had a virus that caused him to have pneumonia and a hole in his heart that eventually closed on its own.
In the NICU, where he was seen by several Children's Health specialists, Edison fought through the ups and downs like the strong-willed kid Christi would come to know. After a couple of weeks, he was stable enough to move to Children's Health.
"Children's Health is the best hospital in Dallas. I went there when I was a kid, too," Christi said. "And I knew I didn't want to take Edison anywhere else. He was in the best hands."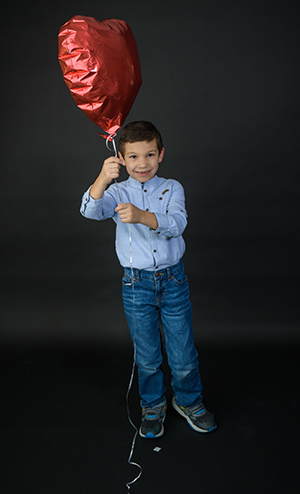 Edison's doctors find solutions to complex care needs
When Edison was 18 months old, Dr. Jan Brustrom-Hernandez diagnosed him with cerebral palsy. Right away, Dr. Brunstrom-Hernandez and the Children's Health team began intense physical and occupational therapy that would help Edison lead a fulfilling life.
"We went through a lot those first couple of years, but Edison is as tough as they come. If he was going to be tough, I knew I could be, too," Christi said.
Edison also was diagnosed with strabismus, a condition in which a person's eyes aren't aligned properly. Christi brought Edison to see pediatric ophthalmologist, Serena Wang, M.D., who eventually recommended Edison have eye muscle correction surgery. In January 2017, Christi brought Edison to the Plano campus, where Dr.Wang delicately detached and reattached the muscles in Edison's eye to be evenly matched.
"The team at Children's Health has worked with us as a family on every aspect of Edison's health from his eyes to his ability to move and even his emotional wellbeing," Christi said. "Edison does all of the activities that most little boys get to do."
Supporting Edison to 'be the boy he wants to be'
Once his eyes recovered, Edison's care shifted to focus on regular rehabilitation therapy. Before his first day of kindergarten, Edison counted more than 500 visits with Children's Health providers, who he views more as friends.
Especially his rehabilitation team.
"One of his occupational therapists has been one of the most consistent people in his life. Even throughout the pandemic, she would send us activities and projects to do at home and make sure he maintained all of his appointments," Christi said. "As his mom, that effort really stands out."
As Edison grew physically, so did his sense of adventure.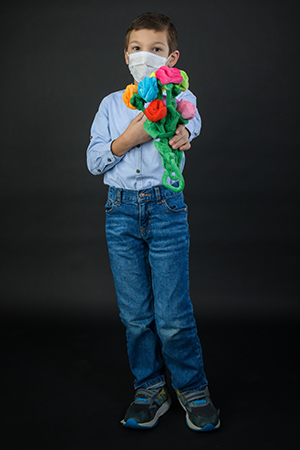 The physical and occupational therapists did as much as they could to keep up by equipping Edison with walkers, stretching and strength-building exercises. But eventually, it was clear that Edison had no barriers for himself. He was a kid on the move.
"From day one, Edison's amazing providers have supported him to be the boy he wants to be," Christi said. "And who Edison wants to be is an athlete and an adventurer."
Another one of Edison's all-stars is pediatric neurologist, Diden Inanoglu, M.D. An expert in muscle movement, she spent hours with Christi talking through options that would give him the most physical freedom possible.
"Dr. Inanoglu committed to finding a way for Edison to get around without a walker," Christi said. "When she came to me and said there's a surgeon in Houston who performs a procedure that might help, I knew I could trust the path she suggested because she wanted to see Edison run and jump as much as I did."
In May, 2018 Edison underwent a selective dorsal rhizotomy (SDR). The procedure involves cutting the nerve rootlets in the spinal cord that send abnormal signals to leg muscles, making them stiff and tight.
The procedure had risks, but the payoff would be that Edison could kick a soccer ball and pump his legs on the swings. He'd also have a lot less pain.
The surgery was a success.
"I can't thank Dr. Inanoglu enough for her support. She was the driver that made his surgery possible," Christi said.
Edison finds his stride
As soon as he was able, Edison was back at the Children's Health therapy clinic, working harder than ever.
"He's naturally resilient, and he was laser-focused on getting back to playing football," Christi said.
Looking back on the last seven years, Christi thinks about what it takes to give kids like Edison the compassion and expertise they need to live happily.
"My tiny baby now plays football, he plays soccer. We just went rock climbing. He can do it all because he can see and move," she said. "We have Children's Health to thank for everything."
Christi also knows that there are thousands of donors who give to make specialized care possible for every child who walks through the doors at Children's Health.
"Success stories like ours don't happen because of one person or one team," she said. "To everyone who generously gives because they believe in this hospital, from the very deepest part of my heart – thank you for believing in Children's Health."