Aug 25, 2020, 9:12:30 AM CDT
Dr. Pam Okada
Dr. Pamela Okada's job runs on uncertainty.
She's waiting for the call that a toddler has fallen off a piece of playground equipment at the park or had an asthma attack. She's waiting for the call from a paramedic, rushing a patient from a car crash.
As an attending physician in the Emergency Department at Children's Health℠, she's skilled at answering these calls.
But when a radiologist told her two decades ago that her oldest of five children had a brain tumor – "But it's a good kind. Don't worry!" she remembers him saying – Dr. Okada leaned against a wall and slid down.
In that sudden moment, she didn't know what to do.
"But the staff at Children's Health rallied around me. People ask me why I work at Children's: This is why I choose Children's," she said.
***
When Dr. Okada was a little girl, she wanted to be a pediatrician, and she wanted to cure cancer.
Her younger sister, Carolyn – who had a cute bowl haircut, always wanted candy and loved animals -- died of acute myelogenous leukemia when Dr. Okada was 6 years old. She wanted to help kids like her sister and families like her own.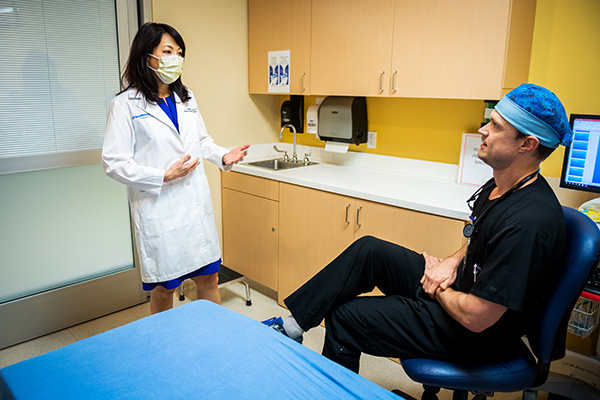 Dr. Okada worked on the oncology floor and briefly in primary care pediatrics before venturing into emergency medicine.
She was drawn to the fast pace and change of each day, and the opportunity to care for kids on one of the scariest days of their lives.
She still thinks about her sister and her family's story whenever she breaks difficult diagnosis news to patient families.
"For me, it is important to provide family presence, provide comfort and be empathetic, because that's what somebody did for my family," she said.
***
Her oldest daughter, Lauren, was 9 years old when she began to fall, sometimes for no reason. She'd be sitting on a chair at birthday party and suddenly be on the floor.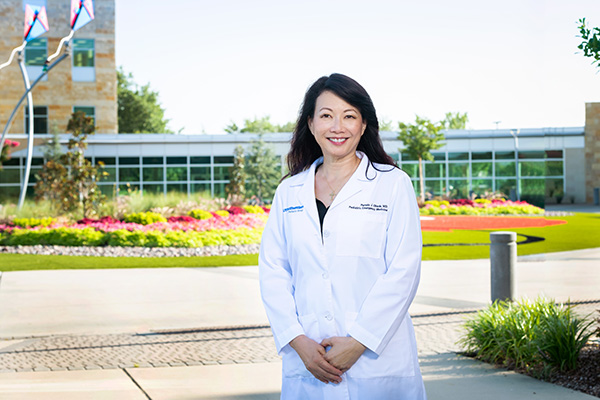 An emergency department physician, Dr. Okada didn't want to be a paranoid, pediatrician mom.
But then Lauren began complaining of headaches. Next, it was neck pain.
Maybe viral meningitis, a doctor told Dr. Okada.
For a couple weeks, Lauren seemed to be getting better. But the neck pain returned, along with nausea this time.
"I knew something was wrong," Dr. Okada said. "But I had just been taking care of children that week who had cancer diagnosis. I thought I was being overreactive."
She brought her daughter to Children's Health for a CT scan, where clinicians discovered a brain tumor. Dr. Okada was pregnant with her fifth child when a radiologist broke the news.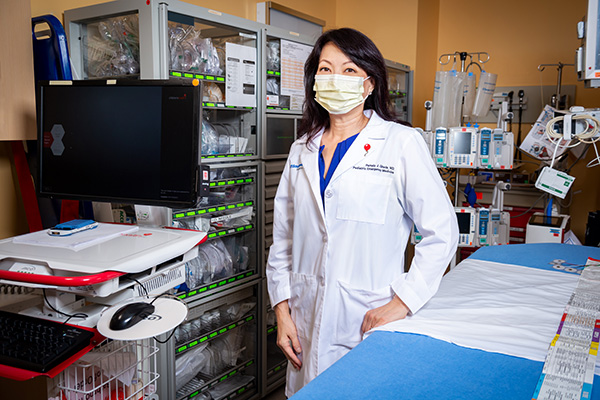 "I felt like the breath was taken out of me," she said.
Lauren had surgery to remove the tumor and was discharged from the hospital five days later. She even attended her last day of third grade.
"Because of Children's Health, it was truly a miracle," Dr. Okada said of her daughter, now a medical student with two young children of her own.
"It was not just one particular doctor. It was the continuum of care. Everybody was there for my child."

VOICES FROM THE EMERGENCY DEPARTMENT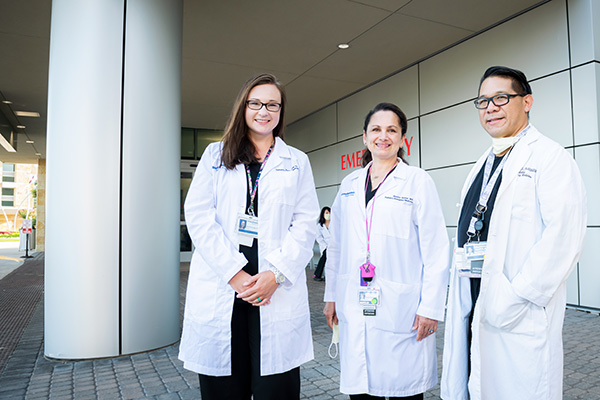 We've faced uncertainties, challenges and changes in our world this year, and you've stepped up in big ways to be there for our patients.
Dr. Pamela Okada, her fellow Emergency Department physicians and other care team members at Children's Health continue to care, serve and protect our patients during this time.
"People ask me, 'How do you feel working in the Emergency Department during this time?'" Dr. Okada said. "I tell them, 'Everybody knows the rules. Everybody wears masks and goggles. I feel safer at work.'"
We are grateful for the many ways you help Children's Health remain a trusted health care resource for the kids and families of North Texas.
You can continue to support our mission, patients and caregivers on Sept. 17 for North Texas Giving Day by visiting childrens.com/givingday.
"Now, more than ever, your dollars mean a lot to the wellbeing of our community," Dr. Okada said.
DR. NAKIA GAINES, pediatric emergency physician at Children's Health
I love kids. I love the challenge of coming in for a new day and not knowing what to expect. There are days when it's very calm. Then there are days when very difficult things happen and we're busy. That's the greatest part of it – you don't know what to expect.
It's an honor to serve. It's one of those things where you realize that you were called to a profession, and there will be times when you're called to that profession to do special things. It's really an honor to be part of this right now.
Some of my best memories are because of the kids that we see. One instance I can think of recently that made my day was a little girl had a sticker she received because she did well getting an X-ray. She took the sticker off the paper, stuck it onto my jacket and said hello to me. That was really sweet. It just brightens your day.
DR. CRAIG HUANG, pediatric emergency physician at Children's Health
I'm a little bit of an adrenaline junkie. With the Emergency Department, you don't know what's going to come in. We don't have emergencies on every shift, but when we do, there are some critically ill and injured children.
Everybody's heart rate and blood pressure are elevated. You have to think really fast on your feet, and you sometimes don't have all the information to figure out what's going on. It's a puzzle.
There are a number of children where you thought for sure there's no way this child is going to make it. But with the efforts of everybody on the health care team, you find out later, the patient walks out of the hospital and is doing well and thriving.
It makes everything we do here completely worthwhile.
We're emergency medicine physicians. We're prepared to handle almost anything. Being a caregiver in the midst of COVID-19, initially, there was some uncertainty. But it is the duty of the ER doctor to try to help and diagnose patients accurately and efficiently.
You quickly realize everyone that works here, all they want to do is make kids better. That's very clear from the top down and bottom up.
In order for us to complete that mission, we need folks to donate so we can carry on that mission.
DR. RACHEL LONG, pediatric emergency physician at Children's Health
The Emergency Room can be very hectic and have a lot of things happening all at one time.
Working in the Emergency Room during COVID-19 has definitely changed how we do things, but changed it for the better. We have been treating viruses in children forever, and this is another one. As pediatricians, we're some of the most prepared to take care of this.
Right now, in this time of great need, when lots of families are experiencing financial hardship, the children need your help.
The children need your support and your donations so they can live their best lives, and they can continue to get the medical care that they need.
DR. BEATRIX BANSAL, pediatric emergency physician at Children's Health
The Emergency Room is a place for people who have the ability to focus on many things at once, and totally different things at once.
In one room, you'll have a baby who is having feeding issues. In the next room, you'll have an asthmatic who's not able to breathe. And in another room, you may have someone who has been hit by a car. We have a team that works together to make that happen.
Initially with COVID-19, there was concern over the unknown. Thankfully, due to leadership here, we've gotten all the protective gear we need to keep us safe. One thing that's important to know is we've all trained for this. It feels like we're doing something important. It feels like we're doing a service.
I've been at Children's Health for 26 years, and it has been a resource for my family as well. The worse situation you can be in is your child being sick. That is when you realize you want to give back so other people can feel that security you felt coming to this hospital, knowing that the best people in the state are here to do what they need to do to take care of your child.

WHAT ELSE YOU NEED TO KNOW ABOUT OUR EMERGENCY DEPARTMENT
Children's Health emergency rooms tallied more than 172,000 patient visits in 2019.
Last year, Children's Health opened the first phase of its new emergency room at Children's Medical Center Dallas.
And there are plans underway to expand the campus at Children's Medical Center Plano, including a larger emergency room, to keep up with the growing patient population.