October 1, 2019
Dr. Andy McGarrahan is making life better for children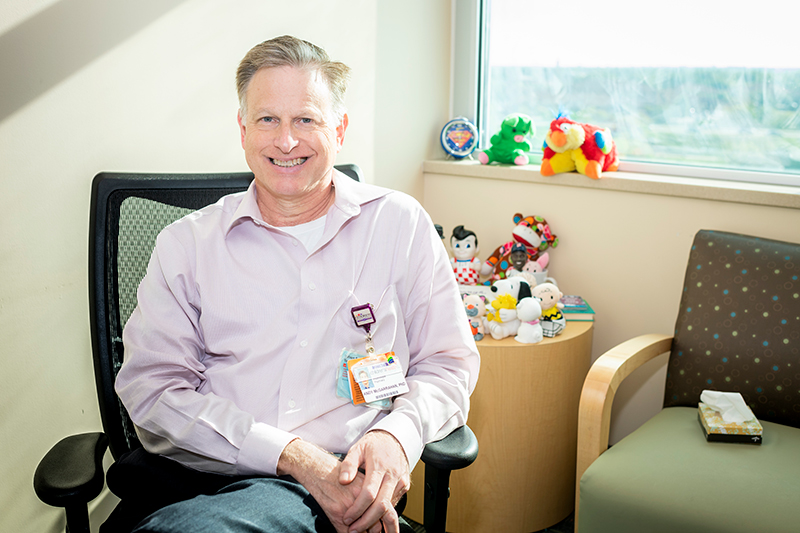 Dr. Andy McGarrahan, PhD, Pediatric Psychologist, Plano campus, leaned forward in his swivel chair, his gaze focused on the patient sitting in the chair next to his desk.
The teenager, who loves sharks and Broadway musicals, fiddled with a craft as she talked about wanting to be more than just "the anorexic girl."
"These are fun, cool, interesting kids, but their eating disorders are so strong that they get in the way of letting them live their lives," Dr. Andy said. "And that's hard to see."
Dr. Andy, as his patients call him, has built a career out of helping patients – and their parents – at the Center for Pediatric Eating Disorders find their way through what he calls "the perfect storm" of factors that contribute to kids' eating disorder struggles.
A corner of his office on the Plano campus is filled with stuffed animals – a colorful parrot, a green pig with a pink nose – books and a whiteboard to help kids express themselves as they talk about why they're in his office that day.
"Because it really isn't about the food. It's about what's going on with kids emotionally and how the emotions get handled through the food," Dr. Andy said. "Eating disorders can cut across anything and anybody, regardless of gender and race."
He said the mission of Children's Health to "make life better for children" drives his giving to the hospital system through organizing fundraisers, donations and participation in Red Balloon Run & Ride.
"The mission fits with my values," he said. "I know that there are kids that if they didn't come to Children's Health, I don't know where they would go for help."
Psychology is a second career for Dr. Andy, who initially set out to be a banker like his dad.
"I realized fairly soon – maybe not soon enough – that was not the place for me," he said, opting to attend graduate school and earn a PhD in clinical psychology. "My skills are more with connections with people and a desire to be helpful to people."
Several years ago, Dr. Andy started the Jerry Levias Psychology Internship -- named after a Southern Methodist University football player and the first black football player recruited into the Southwest Conference. The internship focuses on steering more minority college students into the psychology field so patients can see themselves reflected in the doctors providing them care.
About 86% of psychologists in the U.S. workforce in 2015 were white, according to the American Psychological Association. But the association also stated that the field is becoming more diverse as a growing number of minorities enter the workforce. Among early career psychologists in 2015, about 34% were minorities, the association states.
The internship, self-funded by Dr. Andy, has brought seven students throughout the country to Children's Health℠ for a four-week primer on the psychology field.
Over lunch this summer, three interns talked about how the experience had impacted their futures, with one saying he was interested in pursuing a career in psychology.
"If you give more people an opportunity to learn about psychology, then maybe more minority students will go into that profession," Dr. Andy said. "And if they go into the profession, then maybe one more kid will feel comfortable seeking help."
"And if this helps in some way with that, then I think that's a good thing," he said.