May 28, 2020, 9:02:34 AM CDT
Volunteers
"Oh my goodness," Dianne Howell silently mouthed, as she shut the hospital room door gently behind her. She closed her eyes for a minute, savoring the moment like a decadent chocolatey dessert.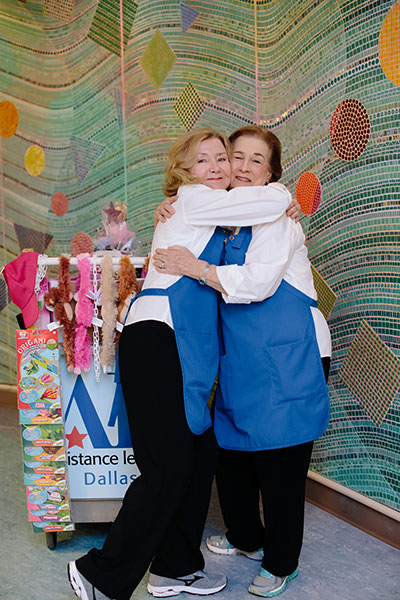 "Clara, Clara," she whispered excitedly as she gently squeezed her friend's arm, a signal to her compadre to peek at the sleeping baby in the hospital crib one room over.
"You just can't help but fall in love," Dianne said, as she searched the overloaded toy cart for a knitted blanket and plastic rattle.
She dug past the dangling stuffed animal monkeys that Clara pushes like a shoe salesman. She scooted aside the plastic frog that records your voice when you push a button. And she reminded a curious parent "not to touch" the disinfected toys as they reached for a book on the toy cart.
Best friends, the duo met volunteering at Children's Health through the Assistance League of Dallas.
"We help take kids' minds off of their pain, and it gives them that break they need from the needles, from the IVs," Clara said. "Amidst everything they're going through, this is a bright spot."
The organization has supported Children's Health through its Volunteer Services department for more than 50 years with volunteer teams wheeling carts of toys down hospital hallways, passing out coloring books, rattles and stuffed animals to some of North Texas' sickest children.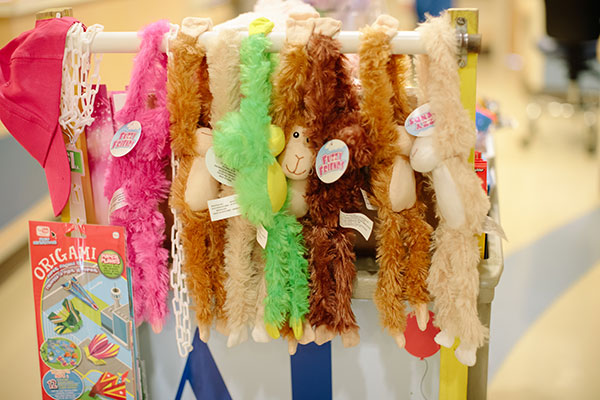 "It brings so much happiness to our hospital and to us and speaks volumes about who you are and who our community in Dallas is that wants to give back," said Susan Lakey, Director of Auxiliary Services, during the organization's 50th anniversary party last year. "You help us spread light, and we are so thrilled that we get to serve with you every day."
Strangers before they joined the Assistance League, these monthly volunteer shifts (followed by lunches of Mexican food) bonded a friendship between Clara and Dianne that has withstood decades and sent them and their husbands on adventures to Europe, Antarctica and South Africa – where the duo got into their first fight over whose turn it was to eat the last barbecue potato chip.
Clara will teasingly lean her head on Dianne's shoulder. They can tell what the other is thinking with only a glance. And Dianne will warn Clara not to bite into a slice of cake with fluffy pink frosting before a photo.
"We're more like sisters," Dianne said. "Sisters that love each other."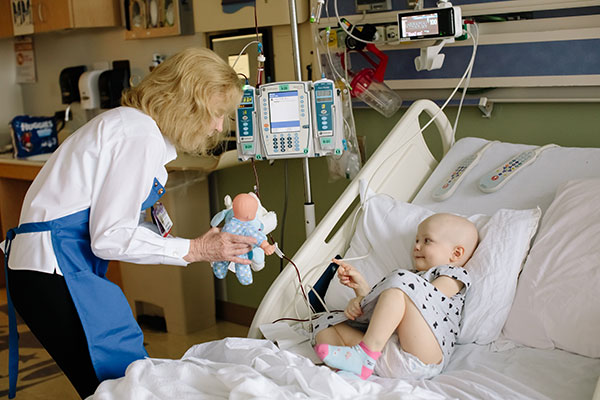 You can find them in their blue aprons and chunky walking sneakers wheeling their heavy toy cart down the halls at Children's Medical Center Dallas on the first Wednesdays of every month. Passing out free toys to patients like they're the Santa Claus of Children's Health.
Clara and Dianne have been peddling this wheeling "fun cart" – as they call it – up and down the hospital's hallways for more than two decades.
They enter patient rooms with a soft knock followed by a gentle "Assistance League, would you like a toy?" as they nudge the door open.
Once when a baby was asleep in its crib and her mom was resting on the neighboring couch, Clara left a pink beanie and socks on the bedside table as a surprise.
Another time, Dianne brought a stuffed white lamb and baby doll for 3-year-old Ella -- who was being treated for Neuroblastoma – to choose between.
The decision (Ella opted for the stuffed animal) is a small choice in a day where much is out of the little girl's control.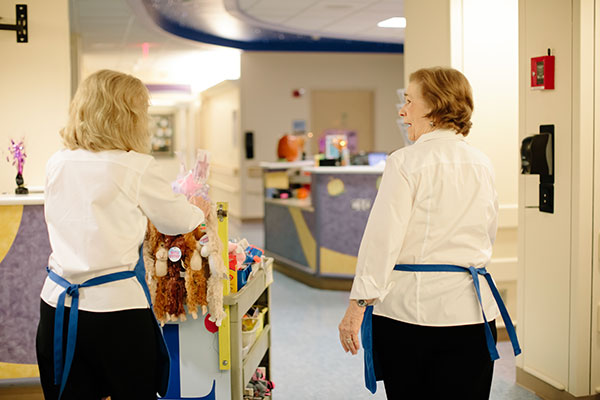 "For a moment, it doesn't feel like she's in the hospital," Ella's mom Abigail said. "They are a visit from someone who isn't going to poke her or cause her pain."
But the work isn't easy.
Clara and Dianne have cried together in corners of the hospital, overwhelmed by the circumstances of the children and families they encounter on their route.
They've prayed with parents at the foot of their children's beds.
"You don't become tough under any circumstances. You don't become callous to anything that happens here," Dianne said. "You just know that it's good for them, and it's good for you."
VOLUNTEER SERVICES BY THE NUMBERS:
Number of adult volunteers in 2019: 1,000
Total number of service hours: 132,418 hours
Age of oldest volunteer: 90
WHAT YOU NEED TO KNOW ABOUT VOLUNTEERING AT CHILDREN'S HEALTH
Our volunteer program for adults spans across our three hospitals: Children's Medical Center Dallas, Children's Medical Center Plano and Our Children's House. Volunteers, regardless of where they serve, must comply with the following requirements:
Applicants must be at least 18 years of age and not currently enrolled in high school.
Applicants must commit to six consecutive months of service.
Applicants may only apply to volunteer at one location.
Volunteers must commit to serving one three-hour or four-hour shift on the same day each week or one three-hour or four-hour shift biweekly on weekends.
Prospective volunteers also must complete an online assessment, interview, online training courses and a health check with Children's Health Occupational Health and Wellness Department.
To learn more about volunteering at Children's Health, visit childrens.com/get-involved/volunteer.