Sep 1, 2019, 10:30:45 PM CDT
Davion
He wasn't sure he'd live to see this day.
A muggy Friday evening in late May, wearing a polyester blue gown over a shirt and tie, is not the stuff of teenage dreams.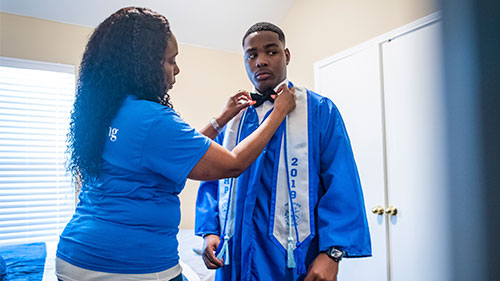 But this day was 18-year-old Davion's dream.
It was his high school graduation day. He'd fought for his life to not miss this moment: His name called over the microphone; his mom and family cheering above in the bleachers, signs and cell phones at the ready; his walk across the stage; his diploma.
A milestone passed in a few seconds. And he credits clinicians at Children's Health℠ that it was ever possible.
"In the last year, my thoughts have been all over the place, and I would wonder 'Am I going to make it to the next day?'" Davion said. "Making it to this day, I look at it like it's a huge blessing. I've been through a lot."
Early last year, Davion noticed a cyst on his lower back was slowly growing, not going away. Clinicians at Children's Medical Center Dallas removed the cyst, but the wound didn't heal.
Then, Davion developed a migraine that kept him up at night. His weight also dropped about 70 pounds.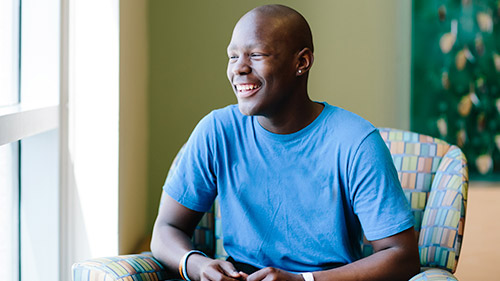 His mom took him back to the hospital, where he was diagnosed on February 2018 with Acute Myeloid Leukemia.
"When they told me I had leukemia, my mind automatically went to death," Davion said. "I was pretty scared about it, and my mom was crying. She never cries."
Davion was in and out of Children's Health for six months while he received chemotherapy treatment and was discharged in August 2018.
That fall, he returned for his senior year of high school at Dallas ISD's magnet School of Health Professionals at Yvonne A. Ewell Townview Center.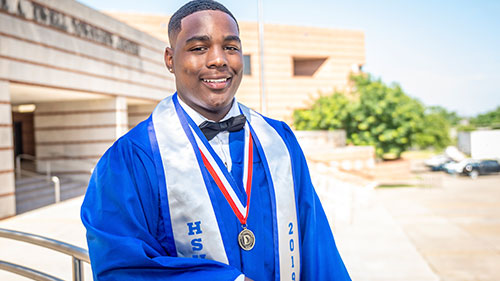 Now, he visits the hospital system once a month for check ups and will continue to do so when he begins his freshman year at the University of Texas at Arlington, where he plans to pursue a career as a nurse.
"A part of me didn't want to leave Children's, believe it or not," he said of when his treatment ended. "I met some of my best friends there. The staff, we grew so close with each other. … I knew at Children's, I was protected."
Support patients like Davion on North Texas Giving Day
Gifts made on Sept. 19 will have triple the impact. Learn more about getting involved and giving to the cause here.