Sep 9, 2019, 4:53:55 PM CDT
Camila
Camila dipped her brush in the palette, gliding it across a shimmery light blue shade. On her lap, she balanced a bag overflowing with powders and creams.
Her sister, Madeline, closed her eyes, legs dangling over the arm of a plastic chair next to Camila's wheelchair.
Like a painter, 9-year-old Camila colored her sister's eyelid in gentle but swift strokes, softly blowing when too much dust collected in the corners of her sister's eyes.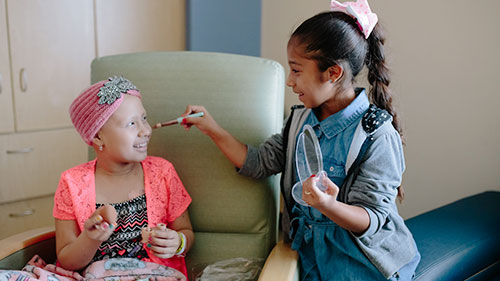 The two giggled.
A knock on the door halted the makeover. The doctor, a stethoscope slung over his neck, was here to check on Camila before she began her next round of chemotherapy.
"Want to listen to your sister's heart?" he asked, Madeline, holding out the stethoscope. She grinned and nodded.
Camila's aunt taught her how to apply blush to accentuate her cheekbones and eyeliner to brighten her eyes. But no one prepared Camila or her family on how to battle cancer.
"Cancer is a real hard word for anybody. It's a reality we were not ready to hear. There were days when we didn't sleep, when we cried a lot. We asked God why," Camila's mom, Patricia, said. "But for some reason, we were picked for this."
Clinicians at Children's Health diagnosed Camila with Osteosarcoma last fall, after a cyst developed on her right leg and became increasingly painful. Her parents didn't know how to tell her about the cancer.
"The doctor was really calm with my husband and I. Good bedside manner," Patricia said of when the family received the diagnosis. "We didn't want Camila to hear the news at that time, but he said, 'For this type of treatment, you gotta tell your daughter what she's up against so that she can know how to battle this disease and go through this journey.'"
Camila regularly visits Children's Medical Center Dallas, the flagship hospital for Children's Health, as part of her chemotherapy treatments. Because the cancer had infected part of the bone in her right leg, clinicians at Children's Health removed a section of her kneecap and implanted a rod, leaving a scar down her right leg.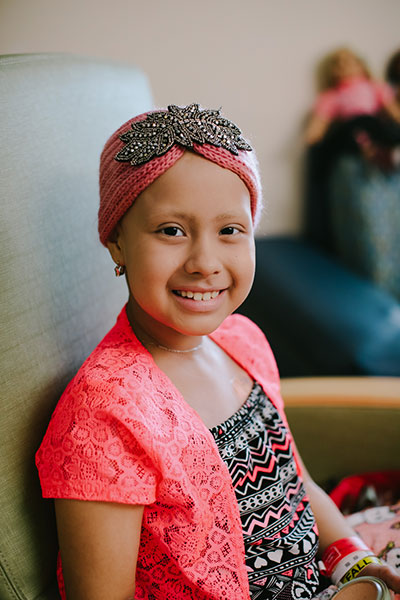 "We came to Children's Health because we knew it was a good hospital that gives us a hug and treats us as if we are family the minute we come through the doors," Patricia said.
When the phlebotomist draws Camila's blood, she practices her Spanish, pausing to say "verde" and look Camila's way for confirmation as she wraps a green bandage around the little girl's arm. Camila giggles and nods, clutching two dolls in her lap.
"I feel happy because I get to see my doctors again," Camila said of her visits back to the hospital. "They're nice to me."
Camila doesn't turn away when her nurse changes her intravenous bag. She asks questions when a technician performs an ultrasound during an echocardiogram test, pointing to the black and white images of her heart's valves and chambers on the screen. And she giggles when the physical therapist knocks on her hospital room door before her exercises to help her walk again.
Camila wants to be a doctor or a nurse like them one day.
"I want to help kids how they help me," she said.
Support patients like Camila on North Texas Giving Day
Gifts made on Sept. 19 will have triple the impact. Learn more about getting involved and giving to the cause here.