Jan 27, 2020, 11:31:53 AM CST
Arya
Arya sat in a plastic chair before the class of wide-eyed preschoolers. She wrapped her arms around the squishy teddy bear on her lap.
The yellow-haired bear looked like any other stuffed teddy – two eyes, brown nose and a thin-lipped smile – but with one exception.
"I see it's a special teddy bear," Arya's teacher said to the class during show-and-tell. "What is so special about him?"
"He's got a heart," Arya replied, pointing to the red cloth pinned to the teddy's chest. She squeezed the bear tight like the hug was their last and swung her legs.
Martha, Arya's nurse, explained to the class that teddy, like Arya, has half a heart – medically known as hypoplastic left heart syndrome, meaning the left side of her heart can't effectively pump blood to the rest of her body.
And like 4-year-old Arya, teddy needs his full heart to function.
"Her teddy bear has the full heart, the zipper and the stitches that she has," Martha said. "Arya, besides teddy bear, who has a zipper, too?"
Arya pulled down the front couple buttons of her navy polo dress, exposing the scar in the middle of her chest – a permanent marker left behind after three surgeries to repair her congenital heart defect.
A year ago, she would have been embarrassed for a crowd of kids to stare at her like this.
And she would have been ashamed of this mark that made her different.
But this time, she just grinned. She was proud.
---
Arya's birth was unexpected.
Her mother, Seher, already had twins and a six-month-old baby at home when she found out Arya was on the way.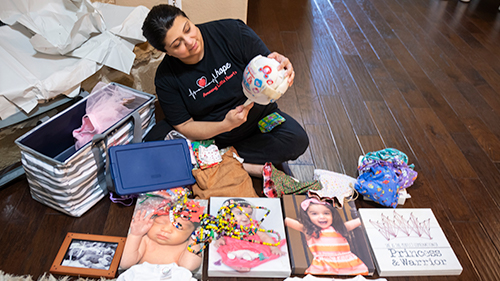 "We never anticipated having her. She literally came on her own," Seher said, sitting on the family's living room floor in Frisco with memorabilia from Arya's hospital stays – scrubs, photos, courage beads for every time she was poked and pricked – scattered around her.
And news that something might be wrong with Arya's heart hit her like a two-by-four at the 22-week sonogram.
"As of that moment, our lives would never be the same," Seher said. "I felt strongly that if God had chosen me to care for her, then my job was to do whatever it takes to do exactly that."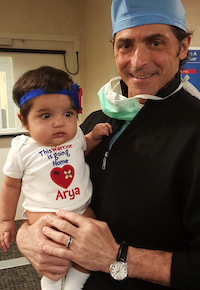 About three months later, Seher and her husband, Sayeed, met Dr. Eric Mendeloff, the pediatric cardiothoracic surgeon who would be performing heart surgery on their daughter when she was less than a week old.
The surgery was the first of three that Arya would receive under Dr. Mendeloff's care to create optimal blood flow in and out of her heart. It meant that she would spend three-quarters of the first year of her life in a hospital.
And it also would earn the spunky baby with silky, black hair the title of Warrior Princess Arya.
"It's not easy to hand over your 6-day-old to anyone," Seher said. "And somehow, Dr. Mendeloff has always been beyond humble and beyond understanding and comforting."
"He's the only man I wholeheartedly trust with a scalpel near my daughter," she said.
And when Dr. Mendeloff moved to practice at Children's Health℠ in January 2019, Seher and her family followed him here.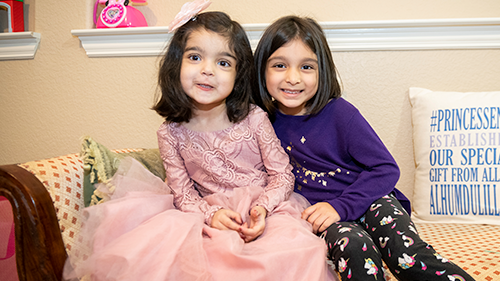 For Seher, that meant a new team of nurses and clinical staff to meet. A new maze to navigate.
But she said she quickly learned that Children's Health was the best place for her daughter and other cardiac patients because of its dedication not only to quality care but research and innovation.
And last year, as part of Arya's annual birthday donation drive, the family carted a carload of donations – blankets, socks and beanie caps – to the Cardiovascular Intensive Care Unit at the Children's Health Heart Center.
"Now I have Dr. Mendeloff -- the person that I wholly trust -- and a facility that truly cares about my child," Seher said. "Children's Health understands that it's not just important to keep your child well. It's about keeping them well and moving forward with a good quality of life."
---
It's almost bedtime, and Arya – dressed in a mermaid nightgown -- sits on the couch cuddled next to Martha, her home nurse.
A mask covers the little girl's mouth as the breathing machine hisses. The nightly treatment helps mitigate respiratory distress as needed for Arya's lungs.
Whoosh. Whoosh.
After three surgical repairs, doctors no longer describe Arya's condition as critical. Last year, she celebrated her fourth birthday. When she's well enough, she attends pre-school with kids her own age.
"She's doing really well," doctors tell Seher. "Enjoy your life."
But Seher still worries every day about Arya's future.
"I don't just pray for my daughter to live a long life. I pray for her to have a good quality of life as she grows up," Seher said.
She is an outspoken advocate for the Heart Center clinical team at Children's Health, saying they are an integral part of Arya's journey.
She wants clinicians to continue to receive vital funding that supports their pursuit of research and treatment advancements that help them care for her daughter and other patients with congenital heart defects.
"I'm her voice right now, but my dream is for her to be able to advocate for herself and others like her by always putting faith over fear," Seher said.