Dec 31, 2019, 1:28:54 PM CST
Amelia
Amelia is bright, articulate and has never met a stranger.
Looking at this bubbly 5-year-old, you wouldn't know she had a complex medical history, and that when she was a baby, the Children's Health℠ foster clinic saved her life.
Amelia was 4 months old when her now adoptive mother, Robin, met her. She'd spent the first 11 weeks of her life in a local NICU because she was born prematurely.
The baby wasn't the first child for Robin and her husband, Henk, to adopt or foster, having already fostered 16 children and adopted two after the couple became an approved foster home in 2008.
But a note from Amelia's birth mom worried Robin.
"It said that sometimes when Amelia ate, she stopped breathing," Robin said.
Quick intervention saves Amelia's life
Within 24 hours, Robin was on the phone with Elsa Alexander, RN, Clinical Coordinator at the foster care clinic at Children's Health.
As Robin described Amelia's respiratory and feeding issues, Elsa recognized that something was drastically wrong.
Robin soon received a call back from a physician at the foster care clinic. She told Robin to bring Amelia to the emergency room (ER) as soon as she could.
Robin said the family didn't know it at the time, but that intervention is what saved Amelia's life.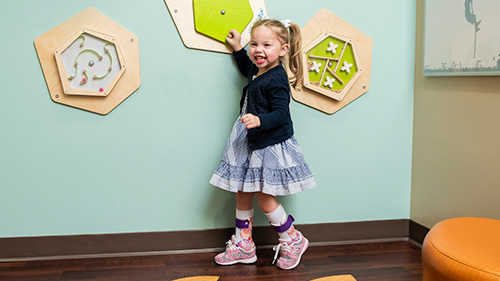 "I'm at a loss for words to try and explain the gratitude that we feel for the care she got, which was only made possible because of donors who recognized that there was a need," Robin said. "In this particular case, that need had a name. And she's as beautiful as she is today – and she's alive today – because somebody stepped up to support the foster care clinic."
At the ER, Amelia tested positive for respiratory syncytial virus (RSV). Recognizing the importance of continuity of care, the Children's Health foster care team recommended that Amelia be transferred to the NICU where she had spent her first 11 weeks of life.
The foster care team stayed in constant communication with the nearby NICU, advocating for Amelia.
That persistence made all the difference. The NICU was finally able to locate Amelia's original medical records, which were under a different name, and discovered that she had a patent ductus arteriosus (PDA) – an opening in her heart – and needed cardiac care.
Amelia underwent heart surgery, and 18 days later, she returned to Robin and Henk's home.
Multidisciplinary support for a cerebral palsy diagnosis
The foster care clinic team stayed by Robin and Henk's side as Amelia continued to face setbacks. She was a poor feeder and began to miss key developmental milestones.
Sara Moore, nurse practitioner, monitored Amelia's progress through weekly check-ins and ordered early interventions such as speech, feeding and occupational therapy. But as Amelia continued to miss milestones, Sara and the team suspected a neurological issue.
"She wasn't doing things that you would expect a baby at her age to do, even as a preterm baby," Sara said.
They ordered an MRI, and at 22 months old, Amelia was diagnosed with cerebral palsy.
Now, Robin said the diagnosis does not define or limit Amelia, and that is largely due to the level of care and interventions provided by the foster care team and Children's Health.
"If you look at Amelia, you would never guess that she has chronic health issues," Sara says. "It has been amazing to watch her grow and see her personality flourish."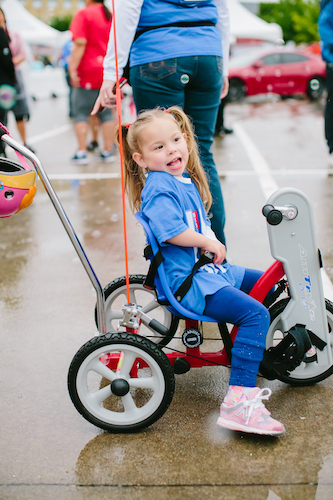 Amelia visits Our Children's House three days a week for therapy and Children's Medical Center Plano for specialist visits at least once a month. Robin and Henk are grateful for each and every provider Amelia has seen: Dr. Didem Inanoglu in Physical Medicine and Rehabilitation; Dr. Norberto Rodriquez-Baez in Gastroenterology; Kellye King and Danielle Mathews in Occupational Therapy; Franck Vautrin in Orthotics; Dr. Jeffrey Waugh in Neurology; Dr. Luis Umana in Genetics; Diane Rosics in Physical Therapy; Rachel Jeffords in Feeding Therapy, Dr. Laura Lamminen in Psychology – just to name a few.
Robin stresses that this team not only provides expert medical care for Amelia, but also constant encouragement and support for Robin and Henk – which in turn, makes them more confident caregivers.
In 2016, that confidence helped with the decision to make Amelia, and her biological brother and sister, permanent members of their family.
"What's done in the foster care clinic has such a huge impact on what happens in the lives of those children going forward. To the donors, 'thank you' cannot convey a story like Amelia's," Robin said. "When she becomes an adult, she can look back and think, 'Without these people, my story wouldn't look the way that it does.'"
Amelia's story inspires change
Looking back, Robin and Henk believe that without the foster care clinic, life would be much different for their daughter.
"A lot of things happened that very first day with Amelia that decided whether she would live or die," Robin said. "If the foster care clinic wasn't there, we wouldn't have been able to get care so quickly. To say that we have a debt of gratitude to Children's Health is an understatement."
Robin and Henk use that gratitude as fuel to help other children in foster care, serving on the Family Advisory Board at the Rees-Jones Center.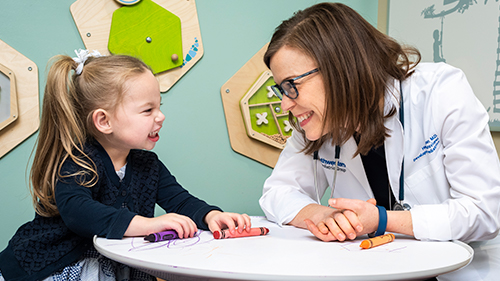 Amelia's story has also inspired change on a larger level. Her case led to a foster care consortium to help improve care for medically fragile children. This gave footing to legislative change: Children entering state custody are now required to see a physician within the first three days of entering care, rather than 30 days.
"It all started with one little girl and a phone call from a concerned parent," Sara said.
Robin is grateful that she at least knew who to call – and wants to spread the word to others.
"Amelia is a walking, talking example of the difference great medical care can make," she said. "As foster parents, we get very used to having to advocate for our children – and at the foster care clinic, it's not like that. They're leading us, not the other way around."