Oct 9, 2019, 9:33:28 PM CDT
Addison
Addison stood in the back corner and mapped the turn path across the dance floor in her head.
She hadn't attempted the one-legged pique turns on pointe since last year, when she heard a pop in her knee while mid-air in a leap and crashed to the floor.
She stretched her right foot forward and took a breath.
Months of rehab had led to this moment. Behind her stood her physical therapist at Children's Health℠ Andrews Institute for Orthopedics & Sports Medicine as her safety net.
One turn. Two turns. Three turns. Four turns.
The wooden toe box of the pointe shoe rhythmically thudded the ground with each spin across the floor.
"First time to do pique turns," Addison said, grinning, her curly hair swooped into a high ponytail, after she landed the last twirl.
A year ago, she thought a torn ACL and meniscus that required surgery to fix was the end of her ballet career.
***
Adopted at birth, Addison suffered from frequent ear infections and severe balance issues, which compromised her hearing and delayed her walking until she was almost 18 months old.
But when she turned 2 years old, she discovered a video series aimed at teaching young children the basics of ballet. The videos held her attention for hours at a time, her mom, Tammy, said.
And she begged for dance lessons, even when others told Addison that her hearing and balance issues would make dancing difficult – even impossible.
"Some kids hear it and learn it," Addison said. "But I see it. And once I've watched a dance routine, I can do it."
As a teenager, Addison competed against elite ballerinas, and in 2017, she received a scholarship to train with the Joffrey Ballet School. For the last four years, she also has been an ambassador for Brown Girls Do Ballet, which advocates for diversity in classical ballet.
Last year, Addison was fitted with hearing aids, and for the first time, she could hear her ballet teachers during rehearsal.
Since Addison's hearing loss is in her left ear, her right ear overcompensates by hearing too much. It means that every action in a dance room – the teacher's voice, the moving of dancers' feet on the floor, the beat of the music – all register at the same high-level decibel.
"Superhero hearing," as her audiologist at Children's Health calls it.
***
Last year, Addison auditioned for a Christmas-themed ballet show, competing with some of the area's most elite dancers for a spot in the production.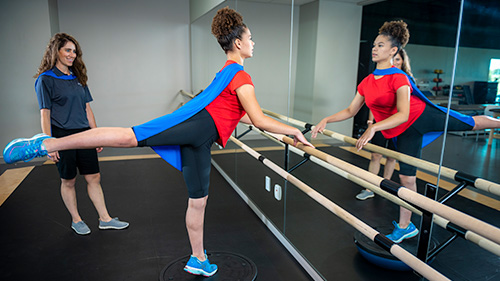 Known for her powerful jumps, Addison was asked during the audition to perform a Russian leap, splitting her legs wide while high in the air.
"I saw my leap in the mirror and remember thinking to myself, 'That looks so good,'" Addison said.
Then she heard the pop – what she guesses was the sound of her ACL tearing.
"People said I screamed, and I didn't even know I screamed," Addison said.
"Everyone screamed," Tammy said.
***
Tammy took Addison to the Emergency Room at Children's Medical Center Plano, where they took an X-ray of her leg. Initially, the care team thought it was only a sprain.
But an MRI a couple days later at the Children's Health Andrews Institute confirmed the family's worst fear: Addison had torn her ACL and meniscus in two areas and would need surgery.
"My stomach just dropped to the pit," Tammy said.
Addison's care team used a portion of her front knee tendon to form a new ACL. Four days later, she began physical therapy.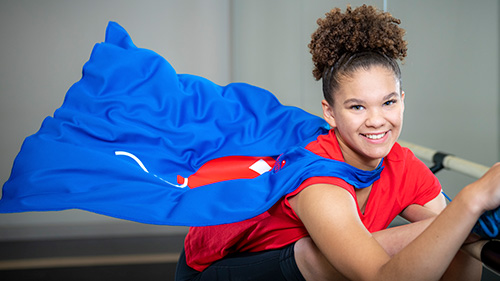 For months, Addison worked to rebuild her leg's strength through cycling, aquatic therapy, weight training and dry needling. And in February, she began an individualized dance rehabilitation program at the Children's Health Andrews Institute.
"We say that the people at Children's Health are my second family," Addison said. "When I ask them questions, they don't act like, 'Why do you not know that?' Their response is, 'Yes, we'll help you.'"
And in early September, she finished her yearlong rehab. Now, she wants to keep dancing to encourage other kids to not give up.
"There are so many things the world tells you that you can't do. I've heard many times that I can't dance, and I know how that makes me feel," Addison said. "In my dancing, I want to show kids that they can do anything."
Every superhero needs a sidekick.
Celebrate Cape Day by donating $20 to gift a cape to a patient or get a sidekick cape for yourself.