Aug 21, 2020, 3:00:00 PM CDT
Abby
Abby leaned forward and tucked her thick, wavy red hair behind her ear as she rubbed the dog's belly.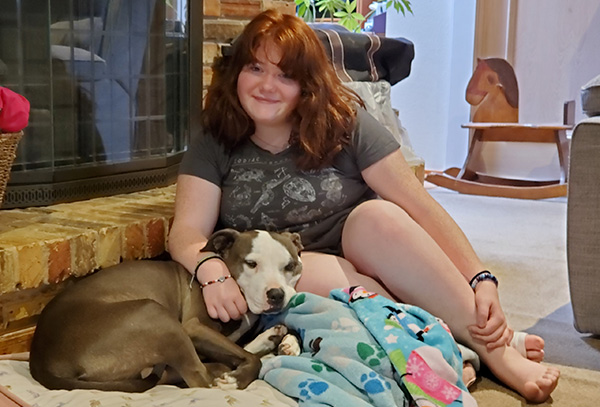 "You are my sunshine, my only sunshine," she softly sang as the pair lounged under the shade of a backyard tree. Her hands – polished in a bright yellow (a trick to keep from biting her nails) – stroked the dog's shiny brown coat and scratched behind its ears.
"You make me happy when skies are gray."
Named Sunshine, this rescue pit bull terrier was once recognized as Abby's reason for living to the next day.
Because by 13 years old, Abby had made her second suicide attempt.
She was angry. She was tired.
And more seriously, she was hopeless.
"I felt like there was nothing left," Abby, now 16, said. "And you know, at 12 or 13 years old, that's not a feeling you want to feel. I was done."


Abby was confused as she stared at the comments on her glowing phone screen.
"Oh my gosh, look at her hair," read one in piercing type under a smiling group photo of friends.
Followed by another – "the annoying redhead."
Hot shame washed over her as she scrolled past "likes," photos of smiling faces, cat videos and a snap of someone's breakfast.
She had friends. Or, she thought she had friends.
"They would be really juvenile comments, but it made me feel like, 'Wow, there are people who don't like me,'" Abby said. "It made me question my worth."
Abby has fiery red hair with bangs that skim her eyebrows and a spunky personality that greets you at the door.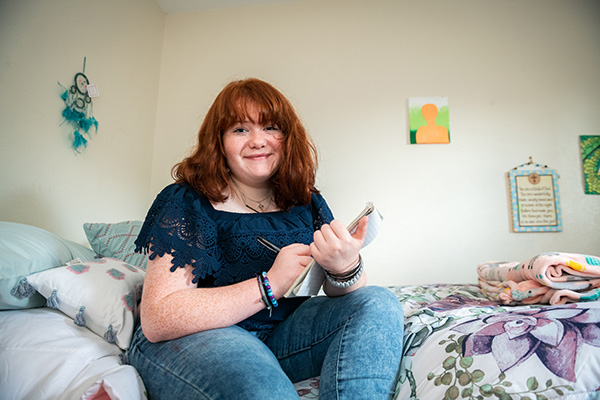 She talks with her hands and doesn't try to hide the freckles that sprinkle her nose and cheeks.
A self-proclaimed nerd, she loves to read – The Fault in Our Stars by John Green and Emma by Jane Austen are a couple of her favorites. And those who know her say she brings out the best in people, even when it's difficult to do that for herself.
But the online bullying coupled with family issues weighed heavily on the then-middle schooler.
Worn out from fighting, she withdrew to her room. Feeling alone, she lashed out at family.
"I thought a solution would be 'What if I wasn't here anymore?'" Abby said. "I thought that would make everything better."
Abby was 12 years old when she made her first suicide attempt.
Her family brought her to the Children's Health℠ Day Treatment Program, where she attended counseling and group therapy sessions and was taught coping skills to handle big emotions.
She began to improve, but then she relapsed.
After her second attempt, she was enrolled in the Suicide Prevention and Resilience in Children (SPARC) program at Children's Health. An intensive outpatient program, SPARC is specifically designed to target the risk factors for teens with suicidal behaviors.
In SPARC, Abby's life started to change.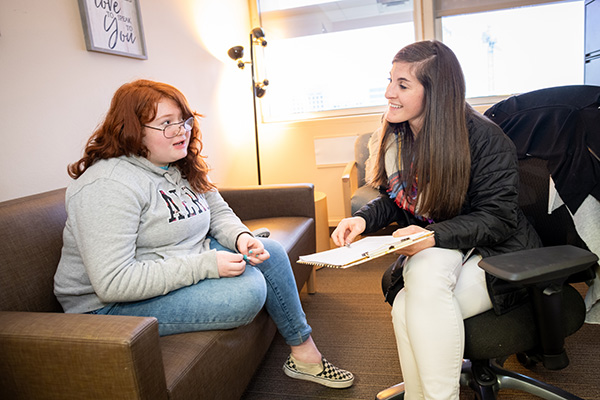 She met her longtime counselor, Jackie Matney, Licensed Professional Counselor at SPARC, whose energetic and positive outlook connected with Abby.
"Jackie understood that she wouldn't know exactly what I was going through, but she also understood that I needed somebody to talk to," Abby said. "She comes from an outside perspective, which I needed."
At SPARC, Abby met other teenagers grappling with similar difficulties. She found healing in expressing her feelings through poetry.
And for the first time, she didn't feel alone.
"I used to be so worried about what everyone thought of me," Abby said. "Then I realized, why am I trying to change myself to fit other people's ideals of me? I'm fine the way I am."
I look up from the ground and take a deep breath
I finally realized what I've found
I don't want to leave
I've found happiness.
And love, too. More or less.
When people yell boo
I feel a sense of self
Why was I changing
To match someone else?
***
Abby sat in front of the laptop screen as waiting room music chimed through the computer speakers. She swung her legs underneath the dining room table and fluffed her hair.
"Hi! How are you?" Abby said with a smile, when her counselor, Jackie, logged onto the Children's Health Virtual Care appointment.
"I'm well. How are you?" Jackie said, grinning on the other side of the video call.
Since March, the pair have been holding their counseling sessions virtually instead of in Jackie's office to safely continue meeting as the virus that causes COVID-19 enveloped the North Texas area.
On the other side of the screen, Jackie starts the call as she does every appointment: She asks Abby to name her highs and lows.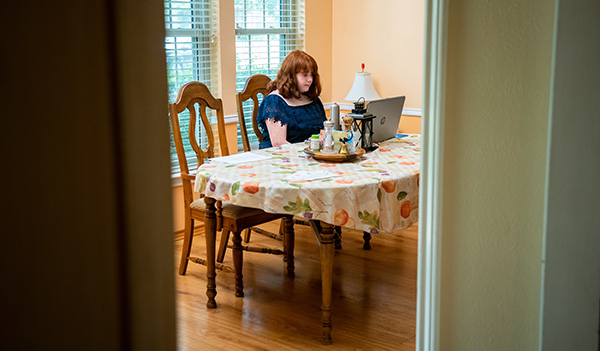 Abby tells her about an outing to the bookstore with her grandmother, an upcoming trip to the DMV to pick up her driving learner's permit and how she got sunburnt swimming the other day.
She tells Jackie about her throbbing headache and how she's anxious about her health.
"Through SPARC, it's been neat to see Abby's resilience develop," Jackie said. "Little things used to get to her. There will always be hardships, but she's able to manage those a lot better now."
This fall, Abby will enter her junior year of high school. She's taking advanced placement and college-level dual credit classes.
She has dreams of going to college and becoming a pediatric surgeon. She wants to help people.
"When I was 12, all I could think about was being 12. Now, I'm able to hope for the future," she said.
***
WHAT ELSE YOU NEED TO KNOW ABOUT ABBY'S STORY:
Abby isn't alone in her mental health struggles.
Despite rising youth suicide rates and an increase in online bullying, Texas ranks near last in the nation for child and adolescent access to mental health services, according to the 2019 Beyond ABC report published by Children's Health.
Suicide is the second leading cause of death among U.S. adolescents ages 15 to 24. In 2016, Dallas County saw adolescent suicides increase 27%, the report states.
As a response to COVID-19 and an increasing number of patient referrals, the Suicide Prevention Intensive Outpatient Program at Children's Health has been creatively adapting their programming, moving their group and individual therapy sessions online.
In the last five years, more than 50 donors have given more than $1.5 million to support SPARC and its initiatives. While generous donors have been instrumental in advancing this program, support still is needed to help more children in our community.
Look for Warning Signs
It's important for parents and other family members to recognize the signs of suicide and make sure teens get help. Warning signs include your child talking about wanting to die, expressing feelings of hopelessness or worthlessness, changes in mood and withdrawing from others.
If your child appears to be in crisis, don't hesitate to take him to a mental health care professional or even an emergency room. You can reach SPARC at 214-456-8899 or 214-456-3600 or the National Suicide Prevention Lifeline at 1-800-273-8255.