Oct 14, 2022, 2:09:22 PM CDT
2022 Red Balloon League Members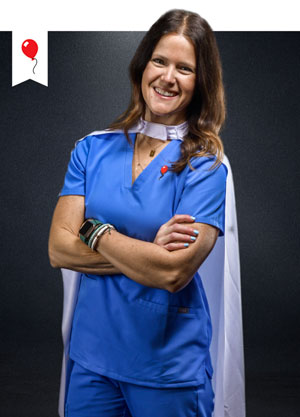 TEAM MEMBER: JULIE DAVIS, RN at Our Children's House
SUPERPOWER: Caring. Because I'm a mom, I can empathize with how our patient families might feel
For more than half a year, Julie Davis and a team of fellow nurses at Our Children's House have been caring for a patient so closely that they even know how he best likes his meals served – covered in hot sauce.
They know his family. They know what sports he likes. They know about who he was before his injury.
Paralyzed from an infection, he could not walk when first admitted to the specialty hospital, which provides support as patients transition from acute-care hospitals to home after life-changing health issues.
Now, after months of working with team members like Julie, this patient is using all his limbs, feeding himself, walking with therapy and no longer has a trach tube.
"When our patients come, we know they're going to be here awhile, and that means we have a great opportunity to make a difference because we're going to spend a lot of time with them," Julie said. "And we have this time to get to build a relationship with them that is going to influence their healing process."
Julie first got her start as a nurse in the neonatal intensive care unit, before transitioning to pediatrics and caring for patients at Our Children's House. There, she found patients and families confronted with different challenges who needed to be cared for in a unique way.
"When you have a child that has been healthy for 10 years, and suddenly, they have a traumatic brain injury or car accident, that flips your world upside down," Julie said. "They are in a new situation that is a different kind of pain and struggle than what I saw in the NICU."
Julie has known since high school that she wanted to be a nurse, after hearing about a friend's experience. And throughout college, this is the career she pursued, wanting a job where she could be there for others during difficult times.
As a nurse, she is the first line of defense for patients, since she and her fellow nurses are with the patients all the time.
"Most days, you feel like everything rises and falls on the nurse," Julie said. "You want to make sure you're providing the best care for families, and we put a lot of pressure on ourselves to make sure everything is done correctly."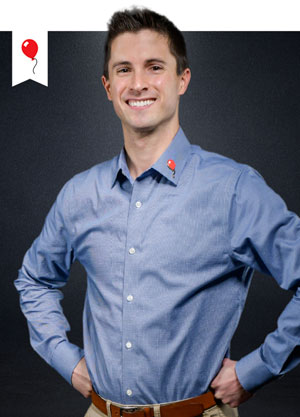 TEAM MEMBER: GRAHAM TORRES, Vice President of Facilities Operations
SUPERPOWER: Remaining positive and pulling the team together toward a common goal
In the fall of 2021, Graham Torres stood next to team members outside Children's Medical Center Plano, scooping dirt from a trough with a shiny, silver shovel.
The ceremonial groundbreaking was a milestone moment toward a major expansion of the Plano campus, with the planned addition of a more than 395,000-square-foot, eight-floor tower that is scheduled to be completed in 2024.
But for Graham, Vice President of Facilities Operations at Children's Health, this moment had been two years in the making.
Long before the public announcement, Graham has been quietly leading operations for expansion of the Plano hospital, which will increase total beds from 72 to 212 and expand access to physicians and specialty care programs for families who live north of Dallas.
"The project never lost its significance on me, but the groundbreaking was a reminder of how important the work we do is and what it's going to mean to the community," Graham said.
Since the Plano campus opened more than a decade ago, populations of North Texas counties have increased by more than 30%. And as more people moved to communities north of Dallas, it was critical for Children's Health to expand its Plano campus to provide care closer to where families live.
"If a family lives in Plano, Frisco, Allen or McKinney, we don't want them to have to drive past our Plano hospital to go to Dallas," Graham said. "But to make that happen, we must have more beds to respond to the growing community, and we need to know what programs are missing. My role is to understand what must be here from a physical standpoint to make that possible."
Graham isn't saving lives or treating kids. He's not a physician or a nurse. But his job is critical to ensuring clinicians can do what they do best – make life better for children.
"Whatever career path I took, I knew I wanted to be able to see how what I did made a difference," he said.
Now, he's using his background in industrial and systems engineering to determine how the expanded Plano campus will meet long-term clinical needs and create a healing environment for patients. He's thinking about the experience patients and families have as they move through the hospital and what could be implemented through amenities and aesthetics to make their stay easier.
Circadian lighting, for example, is being added to new patient rooms to change lighting throughout the day to help patients sleep. More sleep results in fewer pain medications and fewer pain medications results in shorter lengths of stay, Graham explained, adding that families don't want to be at the hospital longer than necessary.
"While we certainly want the building to look pretty, we put more effort in making sure the design and the layout would meet the clinical need because that is what's going to make a difference in the care for kids," Graham said.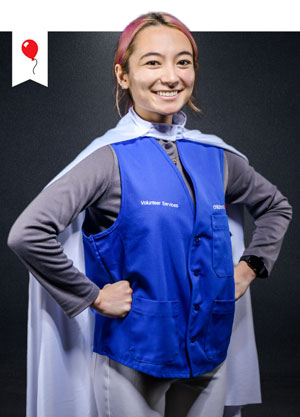 VOLUNTEER: RUTH JARVIS, Volunteer Services, Children's Medical Center Plano
SUPERPOWER: Unrelenting kindness and positivity
To build rapport with patients, Ruth Jarvis comes to their bedside armed with bright pink hair, a big smile and toys generously donated by the community.
A volunteer at Children's Medical Center Plano, Ruth will stop by a child's room to gift them a blanket or a book. And as soon as she knows what a child enjoys or likes to read, she's ready to play or put on her best voice for story time.
"Other times, I just sit with patients in their room and let them know that someone is here for them," Ruth said. "I see volunteering as helping children become the future."
More than anything else, Ruth is a master of patience. And time equals trust.
It could take a few days of volunteers like Ruth dropping by to say hello before a patient asks them to play. It could take an hour of coloring next to a child before they pick up a crayon.
For kids who have longer stays, she's a master at finding creative ways to inspire fun or give parents the opportunity to take a moment to themselves.
"As much as I'm here for the kids, I'm here for the parents, too. Sometimes they need to take a walk or spend time with their other children. I can help take some of that burden off them," she said.
Ruth began volunteering at Children's Health when she was thinking about becoming a pediatric nurse. She's currently a junior at the University of North Texas and, although she decided to pursue a career in education, she plans to stay on as a volunteer, even after she becomes a teacher.
"Anyone can volunteer. We all have the capacity to help people and bring joy," Ruth said. "Our volunteers are from all walks of life, and we're here with one purpose: to help kids."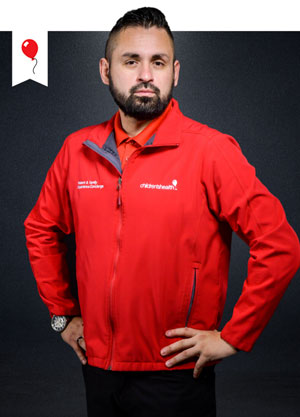 TEAM MEMBER: JOSE CRESPO, Concierge
SUPERPOWER: Quick thinking to make life better for children and their families
Jose Crespo knows what defeat and fear look like on a parent's face because he's seen it thousands of times. And he remembers one day that it was especially heartbreaking.
"A mom arrived at Children's Medical Center Dallas for her son's surgery, but no one had it on the schedule," Jose said. "We quickly realized her son's procedure was taking place at Children's Medical Center Plano – about a 40-minute drive away."
The single mom totted her three kids from Oklahoma for her son to have surgery. They stayed overnight with friends, and she borrowed money for a ride to the hospital.
"You could feel her pain, and you could see she was a mom who would go to the ends of the Earth for her kid," Jose said.
Jose calculated the quickest and easiest way to get to Plano while a Child Life specialist consoled the mom. As a concierge, Jose is a skilled problem solver. For 15 years, he's been smoothing logistics for parents so they can focus on taking care of their children.
Jose grabbed a phone, called a taxi company and told them he needed the closest driver to get to Children's Health. Then, he called the Plano medical team and told them someone needed to meet the mom and bring her to the care team.
"I couldn't imagine her walking into another hospital and trying to figure out where to go," he said.
Jose said that when someone comes to work at Children's Health, they're committing to a culture that thrives on compassion. And while many team members describe their Children's Health colleagues as family, they really are for Jose. His dad has been on the Environmental Services team for 20 years, and his sister is a nurse.
"Our family believes strongly in service and community," he said. "We can achieve both here at Children's Health."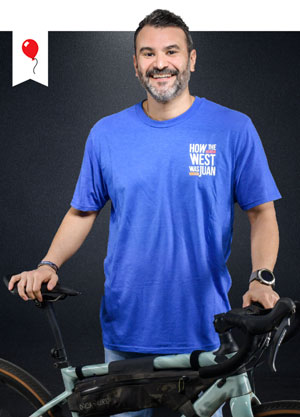 DONOR: JUAN GOMEZ, the Great TX Ride
SUPERPOWER: Racing to raise money with heart, spirit and humility
After a year of working through the pandemic, Juan Gomez was searching for a way to raise his employees' spirits. He pitched them on a team-building adventure: bicycling 800 miles from his house in Dallas to his childhood home El Paso.
To his surprise, everyone said yes.
Now, all they needed was a cause to support.
"Originally, the ride was for our team, but it shifted quickly to be in honor of Children's Health patients," Juan said. "It was a perfect motivation because every one of us who did the ride is a dad."
The six-man team started their seven-day ride on April 17, 2021. In front of them was 21,000 feet of elevation gain, sweat and blisters, muscle cramps, and lots of dust.
Despite the misery – or maybe because of it – each of them had moments of clarity and reflection as they rode and raised more than $9,500 for patients and team members at Children's Health.
"We all look at our healthy kids with a new sense of gratitude," he said. "This challenge was grueling, but it was nothing in comparison to what kids who are fighting for their lives go through."
Juan has two kids – Amelia and Joaquin – and, like many parents, he has been to Children's Health a couple of times. The biggest event was when Amelia needed a cast on her arm. He remembers how calm everyone was and how much they focused on Amelia.
"There's a reason everyone says this team cares for kids as if they were their own children. It's because they do," Juan said.
This year, Juan plans to repeat the ride, but he's mapping out a different course through Texas.
And he's raising the fundraising goal and hoping to bring his family along for the adventure.
"My wife and I want our kids to know how lucky they are to have their health," Juan said. "For those kids who are sick or injured, we need to be there for them."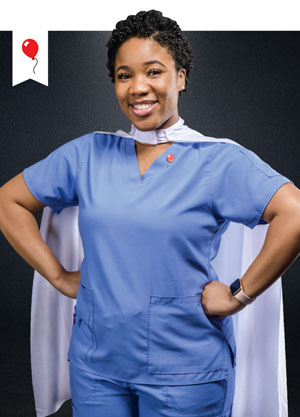 TEAM MEMBER: TREASURE DURU, Night Shift NICU Resource Nurse, Children's Medical Center Dallas
SUPERPOWER: Advocacy – being a voice for our tiniest patients
When a patient family that Treasure Duru spent months caring for was discharged, they handed her a basket filled with candy mementos -- wrapped in shiny cellophane and tied with a pink ribbon.
Inside, there were colorful Starbursts for her positivity.
There were tubes of Smarties for her wisdom and thoughtful words during tough times.
There were Hershey's kisses to remind her of the loving support she provided them.
And there were rolls of Lifesavers for the life-saving care she provided their premature daughter.
For weeks, these small tokens of sweetness were there for Treasure when she needed them most, while tired and hungry working the night shift as a resource nurse in the Neonatal Intensive Care Unit at Children's Health.
"Knowing that I played a role in that family's story and made a difference during hard times, that's what keeps me excited to come into work each day," Treasure said. "As NICU nurses, we treat patients as if they were our own family members."
The daughter of a nurse, Treasure grew up listening to her mom's stories about caring for others and knew she wanted to do the same.
In the NICU at Children's Medical Center Dallas, Treasure cares for some of our tiniest and most vulnerable patients.
"Few other units have patients as small as the ones we care for. For some of our patients, all the odds seem to be against them," Treasure said.
But she's not just holding and feeding babies. She's an advocate for her patients who don't have a voice and a support system for their families.
One of the most rewarding parts of her job is watching the evolution of her patients from tiny, 1-pound newborns that can fit in the palm of her hand to chunky, smiling babies that leave the hospital and grow up.
At home, Treasure keeps a box filled with photo updates and first birthday invitations from her patient families.
"I love seeing the progress of a baby transition from needing help to breathe and eat to doing it all on her own. I love knowing that I helped a life," she said.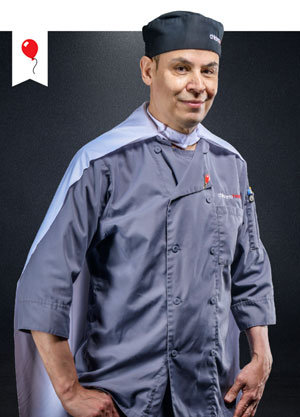 TEAM MEMBER: DAVID MARIN, Food Services
SUPERPOWER: Serving up smiles and positive energy through nutritious food
David Marin has spent the last three years chopping, cooking and making custom meals for patients and parents at Children's Health.
And with each dish, he makes the hospital feel a little more like home.
"Mealtime is a chance to take a break from the stress of being in the hospital," said David, who works as a cook on our Food Services team. "When you hear a kid laughing and blowing milk bubbles with their dad, or see the same nurse reading at their lunch hour every day, you know you've given them something they need that's much larger than food."
David's role is essential as Children's Health is a temporary home away from home for thousands of kids and parents each year. David sees this every day in the cafeteria – where birthdays are celebrated, kids work on their homework and parents offer rewards for finishing vegetables.
"For families in the hospital, the everyday little things – like a quick snack or pancakes – can go a long way toward improving morale," he said.
He said the Food Services team is always looking to expand their recipes and celebrate the hospital's international workforce and patients. From pork schnitzel to Cuban black bean soup to pastrami sandwiches, they've got something for everyone.
"Our patients and staff come from every corner of the world, and food is one of the best ways to celebrate that diversity," he said.
David is honored to be part of the Red Balloon League and insists everyone team in Food Services should be right there with him because they're just as dedicated as he is to making life better for children.
"The entire team holds itself to a very high standard," he said. "Nutrition is essential for health, for our kids, and for our providers."

But cooking food that is both nutritious and gets kids excited is no small task.
"Nothing beats a kid giving you a thumbs up after their meal," he said. "Our patients need to feel good every moment they can, and we're lucky to be able to help make that happen."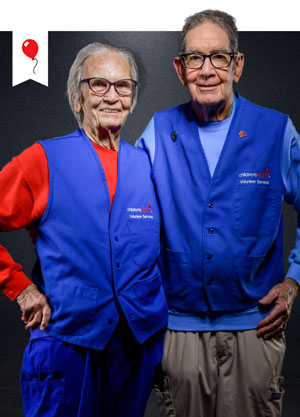 VOLUNTEERS: JANICE AND ERNIE HOLMES, Retired Volunteers
SUPERPOWER: Being a comfort to patients and their families
DONORS: STEVEN AND ANNE HOLMES, Legacy Giving Donors
SUPERPOWER: Empathy – understanding another person's experience and finding ways to help
The day before the end of 2021, Janice and Ernie Holmes made their final exit from Children's Health through a tunnel of cheering team members, waving farewell signs and shiny red balloons.
After decades of service, the couple was retiring from volunteering.
Combined, the duo amassed more than 26,000 hours of volunteer work at Children's Medical Center Dallas, the flagship hospital of Children's Health.
A volunteer for 53 years, Janice visited the hospital several times a week. She brought patients stuffed animals after surgeries. She pushed stretchers and cleaned beds. She sewed blankets for children and made banners for the chapel.
The daughter of a physician, Janice grew up around hospitals. For her, these buildings filled with patients, their families, doctors and nurses weren't scary places.
And when her 5-year-old daughter, Laurie, passed away from leukemia at Children's Health in 1968, the hospital was where she turned for comfort, signing up a few months later to begin her decades-long volunteer run. Years later, when Ernie retired from his professional career, Janice signed him up to volunteer alongside her.
"Starting with the worst experience in our lives, Children's Health became a lifeline – a reason to keep going," Janice wrote in her memoir.
The couple often shared stories of their volunteer work with others, inspiring friends and family to join them in volunteering at Children's Health and to enter the medical profession.
In 2015, one of their sons and daughters-in-law, Steven and Anne Holmes, gave $250,000 to Children's Health to establish the Janice and Ernie Holmes Endowment for Child Life in Memory of Laura Ellen Holmes.
"We miss Laurie every day. She was a fun, 5-year-old kid who liked to go to the movies and happened to get sick," said Steven, who was 9 years old when Laurie passed away.
"When making a gift to Children's Health, we wanted to do something that was meaningful and would honor Laurie and my parents. And because of the history my parents and I had at Children's Health, the institution is particularly special to us," said Steven, adding that their children – now adults – used to join Janice in wrapping presents for patient families for the holidays. And several years ago, Anne was inspired to sign up to become a volunteer, too.
"Plus, the staff at Children's Health are amazing, and it's important to know that the people who work there care the way they do about the patients they treat," Steven said.
The Holmes' generous gift provides funds for the Child Life department, an essential offering in the hospital that receives no external support aside from philanthropy. Team members in the department—which include child life specialists, child life assistants and music therapists— work alongside medical staff to ensure a positive hospital experience for Children's Health patients and families.
"Never did I think back in 1968 that Children's Health would become such an important part of my life and the life of my family," Janice said. "I started here as a grieving mother and Children's Health almost literally saved my life. What a great feeling it is to have been a part of this wonderful, amazing place."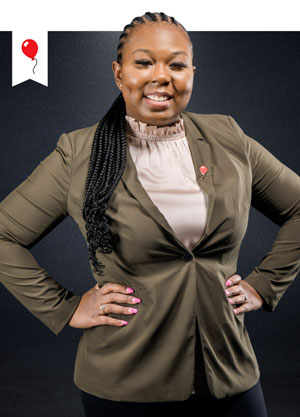 TEAM MEMBER: AMANDA TAYLOR, SPARC
SUPERPOWER: Fostering hope and resilience in teens who are struggling
When Amanda Taylor first sees a teenager who is struggling with suicidal thoughts and severe mental health issues, she focuses on helping them find reasons to live.
"Defining reasons to be alive allows them to start to reframe life, heal wounds and find hope in the future," she said.
Amanda is one of four clinical therapists on the Suicide Prevention and Resilience at Children's (SPARC) team. Together, they lead an intensive outpatient program for teens and young adults who have had frequent thoughts of suicide or made an attempt.
Amanda uses the reasons for living to help teens strengthen their connections to the present. One of her favorite ways to build those connections is through a Hope Kit.
Patients fill their Hope Kit with personal mementos – a ticket stub from a concert, a photo of their grandmother, a book or something connected to a goal.
"Hope Kits help teens see who they are and help us get to know them," Amanda said. "When something is stressful or overwhelming, they can go to that box and use those meaningful items to cope with their current feelings and start looking forward."
Each week, SPARC patients meet one-on-one with Amanda or another therapist. They also join group therapy sessions.
"The most gratifying part of my job is when a patient has a breakthrough moment," Amanda said. Maybe it's acceptance of a situation at home or a commitment to a goal, but nothing beats that achievement."
Collaborating with the core SPARC team are specialists from around the Children's Health system – psychologists, doctors, fellows, students and nurses. Amanda says the strength of the program is built on the multidisciplinary group bringing their expertise together.
"Our patients need the support of a range of experts who can help them work through complicated experiences and feelings," she said. "I'm proud to be part of a program that is providing truly comprehensive mental health care for some of our most at-risk kids."
Another critical piece of that comprehensive approach is the SPARC parent support groups. Similar to patient group therapy, parent groups give families a place to share experiences and talk through solutions.
"As clinicians, we want to help families communicate successfully and build trust in each other. Healing together is a powerful thing," she said.
Amanda said being a counselor for teens and young adults is the job she was meant to do.
"Success for me is instilling in our teens that by reaching out for help, they're demonstrating exceptional courage," she said. "For a teen who at one time questioned their interest in living to make a shift and recognize their own courage, that's a special thing to be a part of."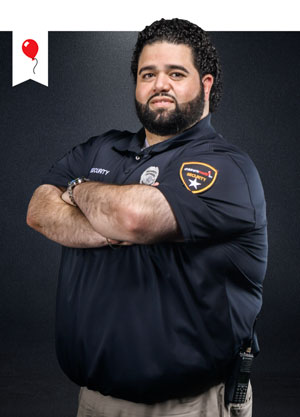 TEAM MEMBER: ISRAEL VILLARRUEL, Security Officer
SUPERPOWER: Bringing calm and patience to every situation
Every workday, Israel Villarruel waves from his desk at the hospital's main entrance to kids he's known since he started on the Children's Health security team almost a decade ago.
"I see some of the same kids all the time, and then one day, you notice they're not a toddler anymore – but a kid!" he said.
He also meets parents who are bringing their children to the hospital for the first time.
"A member of the Security team is often the first person a family sees, and it's important for everyone to feel welcome and comfortable. Smiles go a long way," he said.
As a Security Officer, Israel has built a career dedicated to keeping team members and patients at Children's Health safe.
Every child, parent and staff member is a priority for Israel. Most of his days are great. But some are heavy on his heart.
"Whenever you're called to help with a child who's at risk of harming themselves, it weighs on you," he said. "We're here to make sure that kids are healthy, and it's hard to see a child in that kind of pain."
There have been a few times when Israel has spent an hour or more talking to a teenager who was in crisis in their parents' car in the parking lot. He said their trust is not easy to earn. But he will never give up on them.
"They start out not wanting to be here. But this is truly the best place for them, and I know a mom and dad or a grandma is counting on me, and so are the psychologists," Israel says. "We are going to do everything we can to de-escalate a situation and have a kid walk through the doors themselves."
Besides the kids, Israel said the thing that keeps him at Children's Health is his team.
"The Security team is a family. We know who we are at work, and who we are as people," he said. "I tell everyone this hospital is the best place to work."
Because of that closeness and universal dedication, Israel said his team has strong relationships with everyone in the hospital and with patient families.
"Children's Health is where families come when they are in the greatest need," he said. "Our job is to make sure it's one of the safest places in the city for kids and parents."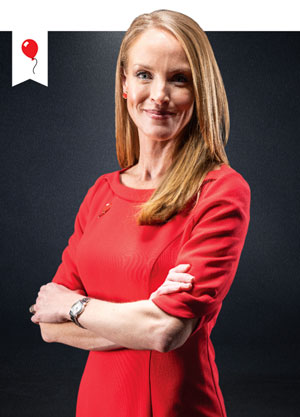 CORPORATE PARTNER: MANDY AUSTIN, Dallas Market President, Bank of Texas
SUPERPOWER: Kindness – You can change somebody's day with a little bit of kindness
Ever since her nephew was diagnosed with cancer in his abdomen last summer, Mandy Austin has been driving to the roof of the parking garage at Children's Medical Center Dallas.
She makes the one-hour roundtrip drive from her home so she can wave to her sister and 2-year-old nephew from outside their hospital room. Because of COVID-19 safety restrictions, Mandy -- like most patient families -- hasn't been able to visit her family in the hospital for the last year.
And even though she can't be there in-person, she knows her nephew is in good hands at Children's Health.
For many years, Mandy and Bank of Texas have been supporters of the hospital system, most recently as the inaugural presenting sponsor for Cape Day, which launched in 2018.
Bank of Texas returns as the presenting sponsor for Cape Day on April 28th, which encourages community members to help provide capes to our superhero patients as part of our Red Balloon League campaign. The campaign recognizes the band of team members, volunteers, donors, families and researchers fighting for and raising funds for patients at Children's Health.
"Bank of Texas was a supporter of Children's Health before this happened to my family," Mandy said. "But after living the experience firsthand, I see the critical importance of financial support to ensure Children's Health continues helping families going through some of the scariest moments in their lives."
Now, Mandy's family understands the impact of the life-saving treatments and procedures happening at Children's Health.
After six weeks of radiation and chemotherapy to reduce the softball-size tumor in her nephew's abdomen, a recent PET scan showed no signs of disease.
"We couldn't have asked for a better clinical team," Mandy said. "Children's Health has a very holistic approach of treating the entire family."