Dec 15, 2021, 10:36:28 AM CST
2021 Magic Makers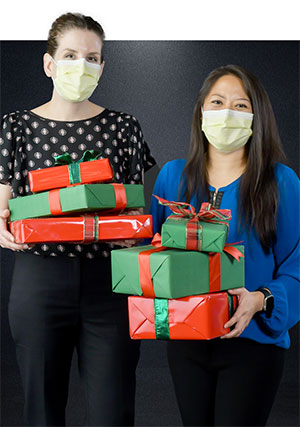 CAROLINE ROGERS AND JANE ZEPEDA
Physician Assistants, Gill Center for Cancer and Blood Disorders, Children's Medical Center Dallas
Caroline: We work in pediatric hematology, but most of our time is spent working with our outpatient sickle cell population during their regular appointments. I love this because you begin seeing these kids at birth until they're adults, so you get to watch them grow up and get to to know their families.
Jane: Working in the outpatient clinic, I love being an advocate for our patients. COVID-19 stopped a lot of things and changed life the way we knew it, but our patients still need us, maybe now more than ever.
Caroline: Our sickle cell kids have a disease that is not easy for the outside world to recognize because it's a blood disorder, meaning you can't tell by looking at them that they have sickle cell. Sometimes people misunderstand the degree of how this disease can affect their lives. You might not be able to see their pain, but they are certainly feeling it.
Jane: The holidays are always a special time of year in the hospital, especially the spirit of giving to support our patient families. People are especially generous and empathetic to each other during this time, and I love seeing that. I also love seeing all the twinkling lights strung everywhere. They represent hope, and we always need to have hope.
Caroline: Each year, our team also participates in the Adopt-A-Family program that Social Work hosts to help provide gifts during the holidays to patients and families who may not have another way of receiving any presents. That is such a meaningful program to our families and kids. It's one example of how donations provide the hospital with resources to care for patient families beyond the physical diagnosis.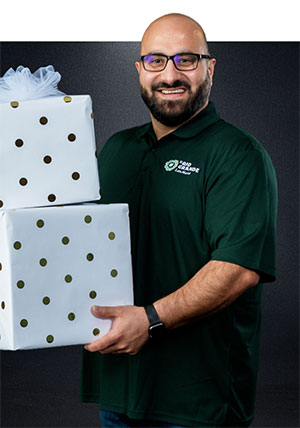 HAMDY SHALABI
CEO, El Rio Grande Latin Market
I own El Rio Grande Latin Market in a partnership with my family. Although we are Americans of Middle Eastern descent, there are many Latin American traditions in our family from our time growing up in Puerto Rico.
The menus on our dinner tables are as diverse as our upbringing. Meals can vary from a steak to a falafel wrap or a tropical ceviche.
The first grocery store we opened is on Maple Avenue, just down the street from Children's Medical Center Dallas. I remember patient families would come into the store because it was close to the hospital, and that's what inspired us almost a decade ago to give to Children's Health℠ through point-of-sale campaigns at the cash register. To us, the people who shop in our store aren't customers — they are neighbors, and we want to support them.
There's a real giving spirit during this season, regardless of your faith. The biggest thing we've learned over these last couple of years is that nothing is stronger or more beautiful than humanity.
People are looking for an outlet to give during the holidays. There's no one more in need than sick children and their families, and we are proud to partner every year with Children's Health.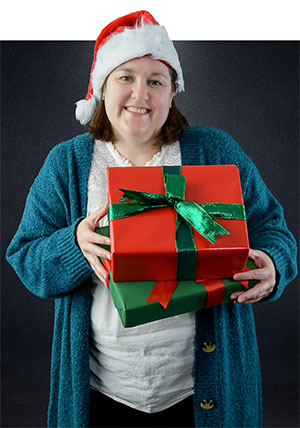 JENNIFER ROADY
Manager of Family Support Services, Children's Medical Center Plano
When I was hired more than a decade ago as a Child Life assistant, I was told that I'd have to work Christmas Day. And since then, I've fallen in love with working on Christmas.
We're there for families during some of their most stressful times, and able to bring some kind of joy and normalcy to a child when they're in the hospital and sad because they feel like they are missing out on Christmas.
At the Plano campus, about a week before Christmas, we set up our Christmas store so families can shop for free for gifts for the patient and siblings for whatever holiday they celebrate. And we have some really great gifts for parents and caregivers to choose from. Last year, we received several wooden dollhouses, and other years, we've had bikes we're able to offer. And the great part about it is families aren't expecting it, and it's nice to be able to provide this during a stressful time.
We wrap up the gifts and leave them at the nurse's stations on Christmas Eve and overnight, like Santa, they'll drop the gifts in the patients' rooms.
We always tell the families that this is possible because of donations from the community. Sometimes, we'll have families who were here during the holidays come back the next year and want to make a toy donation, and that's how the chain of giving continues.
When we say we make life better for children, it's evident in the little things like this that make a difference. In Child Life, this is how we make our mission come to life.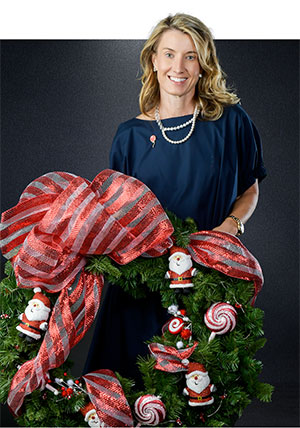 LISA ROCCHIO
President, Women's Auxiliary to Children's Medical Center Dallas
The Women's Auxiliary funds many critical programs for the hospital, but in addition to that, we oversee volunteer projects such as staff appreciation, family snack baskets, bringing food for families on Mother's Day and New Year's Eve and decorating the hospital for the holidays.
I love when you can see the work of our volunteers in the hospital during the holidays, particularly the hanging of the wreaths. Recently, I mentioned to a nurse that I was part of the Auxiliary, and she stopped what she was doing and told me how much the nurses enjoy the festive atmosphere we create during this time and that the patients love it as well.

Last year because of COVID-19, we pivoted to host virtual visits with the NorthPark Santa in the hospital, and I'm proud we're continuing that this year.
COVID-19 has brought a lot of challenges, but bringing Santa into patients' rooms and sharing the joy of the season with these special families is truly a bright spot.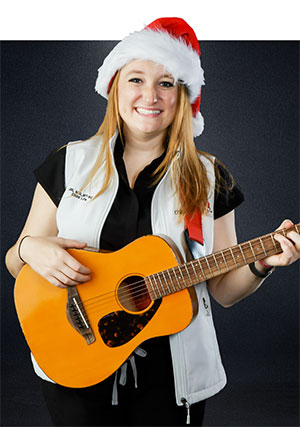 JILL POCIUS
Music Therapist, Children's Medical Center Dallas
Christmas Day is my favorite day in the hospital. We go from room to room and pass out presents and see kids' faces light up and say, "I didn't think Santa would find me here, but he still found me in the hospital!"
It keeps the magic of the holiday alive.
Throughout the year, we're always receiving calls and emails about people wanting to donate, but it explodes in September, October, November and December. We're regularly meeting donors at the front of the hospital with our big red carts to collect donations. People bring massive semi trucks of toys. It's a big hoopla and fun to get pictures. We have annual donors and past patients who do toy drives, and we store all of these gifts in "Santa's Workshop" in the hospital.
The generosity of people is incredible. Without them, we're not able to make the holidays happen for our patients or provide those gifts, which we also use throughout the year for kids' birthdays or when they celebrate a big treatment milestone.
One year, we filled the entire Therapeutic Arts Room at the Dallas campus to the ceiling with stuffed animals. It was insane. I love seeing the entire community come together like that.
We also have Amazon Wish Lists for each of our campuses, where we list high-need items like toys, musical instruments and infant items. Those toys are delivered to the Child Life offices and stored in our Christmas pile for when we shop for patients.
Donations are important all year round, but especially during the holidays because we can't make the joy and fun for patients without those donations. There's something about seeing a kid open up a present that they had been wanting and seeing their face light up because we were able to provide that gift because someone donated it.
And for a moment, they're taken away from the chemotherapy treatment they had that morning or the massive surgery they had recently, and they have a piece of joy that helps them cope with being in the hospital.
CHRIS KLEINERT
CEO of Hunt Investment Holdings LLC and Co-CEO of Hunt Consolidated Inc., Host of Reunion Tower Over the Top NYE
Fireworks on New Year's Eve are magical because it's about the excitement of what's to come. You reflect on the past, and you look to the future. For us, the fireworks show is our way of giving something back to the community that everyone can enjoy.
When looking for an organization to partner with for our annual New Year's Eve fireworks celebration at Reunion Tower, we knew we wanted to partner with the best, and there was no question that we wanted to name Children's Health℠ as the beneficiary of the show. Children's Health is all about positivity and potential, and that's what a fireworks show is about, too.
We're excited this year because we're adding an illuminated drone show to the fireworks celebration. We're going to have 225 drones doing incredible imagery in coordination with the fireworks, and then we will have the light show on the Reunion Tower ball with 259 lights. It's going to be a spectacular trifecta.
When you think about this season, what's magical is it's an opportunity to express gratitude to the people you love. After the hardships of the last 18 months, this time of year can still be magical if you think about what other people are going through because we're all in this together.
This season is about what Children's Health means to people and what it symbolizes, and that's positivity and magic.
CORNELIA LESEANE
Social Worker, Children's Medical Center Dallas
As a social worker, I cover patients in general neurology and neuromuscular. A lot of times, the kids I see were diagnosed when they were young, and we see them until they are adults.
I like being able to make that early connection with patients and their families, and help guide them throughout their life.
One of my favorite parts of being a social worker is participating in the Adopt-a-Family program that the Social Work team hosts each holiday season. We nominate families we have gotten to know through our work with them, and match them to donors who fulfil their Christmas wish lists.
A lot of times, these families have had unimaginable things happen to them throughout the year and feel like they can't catch a break. And for a lot of the families I work with, there is no treatment or cure for their children's diagnoses.
I remember one year I had a mother who'd had a stressful year. She initially did not believe me when I told her an anonymous donor was bringing presents for her and her family for Christmas. But she trusted me and showed up that morning with her car ready to be filled with gifts. As we loaded the presents into her car, she had the biggest smile and the biggest tears. She gave me the biggest hug. To this day, whenever she sees me in clinic, she gives me a hug.
To be able to see the parents and kids when they come in their cars to pick up the gifts — with presents swarmed around them and their little faces peeking through the cracks, knowing everything they've gone through and things that are to come — it's a great feeling to be able to help them like this. It's magical.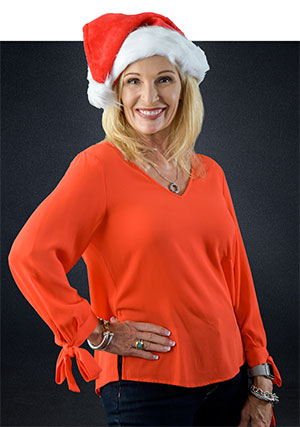 ALLISON DOYLE
President, Women's Auxiliary to Children's Medical Center Plano
I originally became connected to Children's Health 25 years ago when my friend's daughter was born with serious health problems. I went to the hospital frequently to visit them and remember thinking it was such a welcoming place.
Then, when they finished building Children's Medical Center Plano, many of my friends joined the Women's Auxiliary, and I wanted to get involved, too.
The Auxiliary is very involved during the holidays. We decorate the hospital with these big, beautiful wreaths. I always enjoy helping hang them around the hospital and hope they bring a smile to patients and their families, along with Children's Health team members.
We also have our traditional Santa's Workshop event. Because of COVID-19, we've pivoted and created a drive-thru event, and this year, the event features Christmas lights. I can't wait for the kids to see all the lights.
We know children and families who are in the hospital during the holidays are going through a tough time. Anything we can do to brighten their days and help their families is heartwarming for us. Giving to others is the most magical part of the season.