RE/MAX Miracle Home Program
The partnership between RE/MAX and Children's Miracle Network directly impacts the lives of patients and their families at Children's Health℠. When you give, it allows the team at Children's Health to make life better for children.
How The Miracle Home & Miracle Property Program Works
Participating in the Miracle Home (residential) and Miracle Property (commercial) programs give RE/MAX Associates and Offices the opportunity to make regular donations to their local CMN Hospital after each closed transaction.
Many local RE/MAX offices are so passionate about the Children's Health's mission that they go above and beyond. From organizing golf tournaments to hosting art auctions, their efforts prove the simple principle that actions speak louder than words.
How does it work: Anyone affiliated with a RE/MAX office can participate in the Miracle Home or Miracle Property program, either at the office-wide or individual level.
What home buyers and sellers should know
1. Ask your RE/MAX agent to make your home a Miracle Home, meaning participating agents will pledge to make a donation after the sale is final.
2. You can find Miracle Homes for sale on remax.com by sorting search results.
3. You can make a difference by learning about Children's Health and getting involved with the Children's Medical Center Foundation.
Miracle Home Impact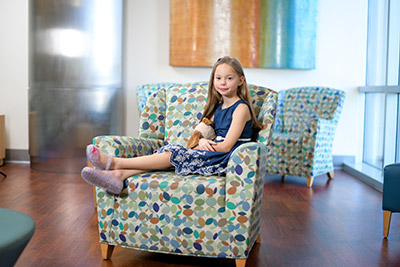 Children's Health patient Grace Vickers loves her daily pool time, boat rides, playing with her three siblings, and meeting new people. Grace also proudly serves as RE/MAX's Children's Health Champion, a local ambassador position through Children's Miracle Network Hospitals that helps raise money and awareness for Children's Health.
At six months old, Grace was airlifted to Children's Medical Center Dallas from a hospital in Cincinnati for close monitoring after coding in an Emergency Department due to an extreme buildup of lymphatic fluid in her lungs. At that time, Grace had already undergone two intensive cardiac surgeries, one of which lasted 15 hours. The team at Children's Health aided Grace in a speedier-than-expected recovery, and Grace was discharged after a combined 12 weeks in both hospitals.
Throughout the year RE/MAX supports patients like Grace through the Miracle Home and Miracle Agent Programs. These programs enable participating agents to donate a portion of each transaction to Children's Health to "help bring kids home."
For more information on the Miracle Home and Miracle Agent Programs, or to find a participating local Miracle Agent in one of the 47 RE/MAX offices across the metroplex, please contact Development Officer, Corporate Partnerships, Kendall Rowden at kendall.rowden@childrens.com or 469-616-9392.
Sign up for our newsletter
To receive the latest headlines and highlights of philanthropy at Children's Health, please sign up for our monthly digital newsletter.