Employee Giving on North Texas Giving Day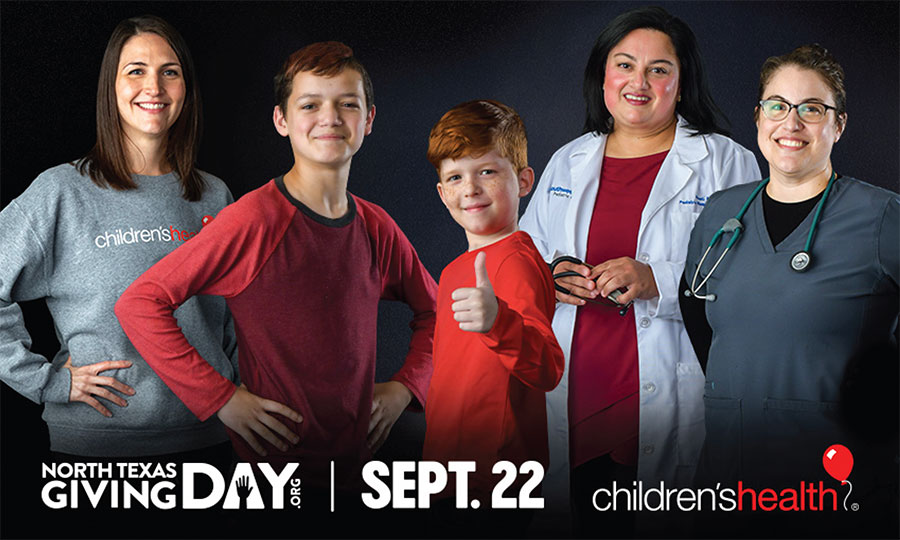 Thank you for your dedication to Children's Health℠ and your interest in giving back on North Texas Giving Day! We need the help of employees like you to make life better for children in North Texas. Please choose from one of the options below to make your gift today.
1. Give monthly by filling out our online form.
2. Give a pre-tax gift that gets deducted directly from your paycheck. Set up your payroll deduction by filling out this form.
3. Make a one-time donation by clicking the button below.
*If you sign up for monthly giving or payroll deduction, you may pick up your limited edition t-shirt in person at the North Texas Giving Day pop-up celebration at the Dallas and Plano campuses. If you are not able to pick up your shirt at that time, your shirt will be mailed to you.
Please contact Madison Myers at madison.myers@childrens.com for any questions regarding employee giving.
What is North Texas Giving Day?
Every year at Children's Health, we treat nearly 300,000 patients battling cancer, heart disease, trauma and more. As a nonprofit, we depend on the generosity of the community to help us provide world-class care.
North Texas Giving Day is an annual day of giving for nonprofits in our community. When you choose Children's Health on North Texas Giving Day, you ensure that kids in North Texas receive the best care when they need it, help researchers continue their search for cures and keep kids healthy where they live.
Questions about North Texas Giving Day?
Call us at 214-456-8360 or email giving@childrens.com.