Oct 9, 2019, 9:34:25 PM CDT
Leo and Reagan
Reagan sat in the dugout saying a prayer.
It was the bottom of the last inning in his baseball's team's championship game against their archrival. The score was tied. There were two outs, and the winning run was on third base.
Then-9-year-old Reagan was the next up to bat.
"You want to be a hero?" his coach asked him.
Standing against the fence, his mom, Jaimee, closed her eyes, unable to watch. She knew her son ran slower than the other boys because lifelong pain in his body had weakened his legs.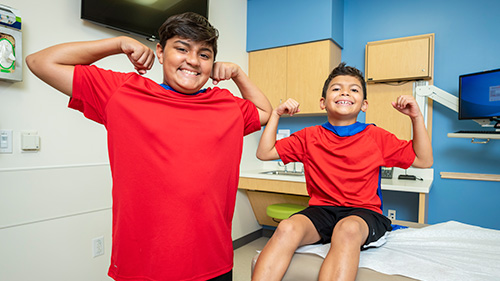 Instead, she listened, holding her breath until she heard the crack of the bat, gasps from the crowd and an eruption of cheers as Reagan stepped safely onto first base and his teammate crossed home plate.
Diagnosed with sickle cell disease as a newborn, Reagan -- now 12, who loves Batman and playing catcher and pitcher on his baseball team -- has learned to live life in pain.
His younger brother, Leo – the token family comedian who wants to be a fireman or policeman when he grows up (but his mom is convinced he'll join the circus) -- also was diagnosed with the genetic disease at birth.
Since they were babies, the boys have sought treatment at Children's Health℠ to help manage the condition – the most common inherited blood disorder in the United States, affecting about 70,000 to 80,000 Americans.
"I asked our pediatrician if there were other hospitals to go to, other choices," Jaimee said. "And he just shook his head and said, 'Children's Health is the best one. Don't waste your time.'"
Sickle cell, which has no cure, causes red blood cells to become rigid and contort into a crescent moon shape. The disease can manifest through repeated infections and varying degrees of episodes of pain when the inflexible red blood cells get caught in the body's tiny blood vessels.
The brothers aren't hooked up to machines; they're not moaning in agony.
And because of this, occasionally they've been accused of faking their pain.
But even though the disease is invisible, the pain is real.
"They're so used to being in pain that they don't always act like they're hurting," Jaimee said. "It's nice to have Children's Health as a place where the boys know they're going to be taken seriously – because being believed is such a question mark for people living with sickle cell disease."
The disease and the pain that follows it is a uniquely binding experience for the brothers, who also have a 9-year-old sister named Mariana.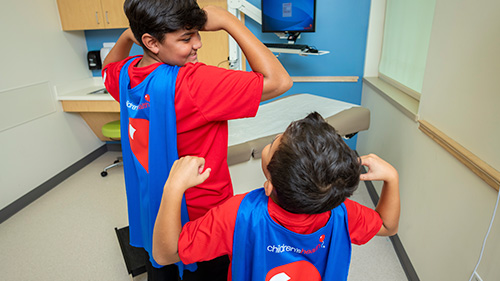 When one is hurting, it's their brother they turn to for comfort. Reagan encourages 8-year-old Leo to take the medicine when he doesn't want to, and Leo makes silly faces and plays doctor to make Reagan laugh through the pain.
"It was hard for me to deal with the pain so I teach Leo ways to deal with it, so he won't have to hurt like I did," Reagan said.
For Reagan, the pain – a "deep in the bones pain" that manifests differently in each patient – is like pulsating stabs throughout his body and a building of pressure that feels like his veins are going to explode.
Leo's pain is more like a nagging itch, causing him to stomp his feet on the ground as if to drive the feeling from his body.
The impact of a typically more benign illness like a respiratory infection can be exacerbated in someone with sickle cell disease, since the infection lowers the blood's oxygen levels and causes the red cells to sickle. Sometimes the impact is so severe that the boys have had to be hospitalized.
"A complication can be anywhere the blood flows," Jaimee said. "So really, it can be everywhere."
For Reagan, repeated pain has weakened muscles in his right arm – the arm he uses to throw a baseball – and his left leg. He also has seen a psychologist at Children's Health to learn mental tactics to help ignore the pain.
Swimming in cold water is a top trigger for pain as it lowers the body temperature. When they were younger, Reagan and Leo took swim lessons. Now, they only swim outdoors when the temperature is above 100 degrees and the water is warmer.
Jaimee and her husband encourage the boys to live life as if they don't have the disease – "life without limits" is their motto.
Both play baseball – Leo is learning to pitch as a lefty and Reagan crouches at home plate as a catcher. Leo also is a competitive gymnast.
"And they go to school in pain. I don't keep them out. One day, they're going to grow up and be adults that have jobs, and they're not going to be able to miss work all the time," Jaimee said.
"This is how they live life – they push through it."
Every superhero needs a sidekick
Celebrate Cape Day, presented by Bank of Texas, by donating $20 to gift a cape to a patient or get a sidekick cape for yourself.